Salon App

Development Company

Try proficient salon app development services offered by our professionals. We provide you with salon app development solutions comprising advanced features and technologies to generate high revenue.

Get A Demo
Diverse Salon App Development Services for Your Business
Experts at our company offer exclusive salon app development services that are supportive to gain new customers and also, suitable to your diverse business needs.
Salon Booking App Development
Don't make your customers wait in a long queue. Let them book their appointment easily and quickly with our offered salon appointment app development services.
Beauty Salon Application
Whatever services you want to provide to your clients, be it booking an appointment for makeup or beauty therapy, we make it possible with beauty salon app development.
Hair Salon Application
We provide hair salon app development solutions to offer customers ease with getting haircut, hair spa & wash or other hair treatments from expert and professional hairstylists.
Spa Delivery Apps Development
Enhance the customer base by having our spa app development services that offer customers the flexibility and relax by having body and hair spa treatment at home.
Nail Salon Application
With our developed nail salon app, customers can get an amazing experience by painting their nails in different colors or getting nail extensions at a reasonable cost.
Salon Scheduling Software
Salon booking app development solutions will help you to handle all your business operations with just a few taps. Make your salon working smoothly and fast with this one.
Stand Alone Beauty Salon
As a salon application development company, we always try to provide different services including booking appointments, personalized solutions, and so on, in a single app.
Beauty & Salon Aggregator
Be it barber and salon app development services or beauty care app development services, we provide a shared environment by bringing all the services under one roof.
Hire Salon App Developer
We are giving you a chance to hire professional and skilled salon app developers from us to build the best salon application for your business at a reasonable price.
To deliver the best experience for users, admin, vendors & experts
we created 4 different panels with customer-centric features
Signup/login via social media
Plan/book appointments
Different payment gateways
Order history and repetition
Subscription packages
Tracking expert's path
Call or chat with the booked person
Requests after the appointment
Rate & reviews
Neighboring salon & services
Stylist management
Real-time analytics and reports
Accept/reject registration request
Discounts and offers
Payment management
CMS management
App monetization
Marketing activities
Email Id registration
Manage catalog
Handle user requests
Stylist schedule management
Service price management
Integrate chat module
Observe earning a check
View ratings and reviews
Social media signup/login
Calendar management
Payment tracking
Discounts and offers
Communication channels
Report generation
Call or chat to users
Marketing tools
Features You Will Get
SemiDot Infotech provides both salon Android app development services and iOS app development services with prominent features to make them more interactive and able to produce more leads.
Onboarding
In the onboarding process, we make sure users put fewer inputs as we retrieve their information from their social media while they sign-up for the app. It comprises an introduction, authentication, personal data, & data verification process.
In-app Payment
This feature is on top of the list while having on-demand beauty salon app development services. It helps the app users to make online payments with full transparency. We provide different payment gateways into the developed application.
Services Scheduling
In our offered salon app development solutions, users have the option to book salon services for a specific time slot as per their flexibility or expert availability. It keeps things sorted for both users and salon staff by not booking more than one slot.
Beauty Packages
We provide online beauty salon app development services comprising all kinds of beauty services to select by the users. Several beauty packages offered by salons will be available in the online application for better reach and engagement of users.
Calendar Management
Users have to put lots of effort while booking slots to get salon services from experts. That's why as a top-notch salon app development company, we provide calendar integration in the app so that there will be easy slot management by the salon experts.
Booking History
Our hired skilled salon app developers integrate this feature for users to see the services availed by them in the past. They can see all the booking details including the service, paid payment, date & time, and the expert's name to repeat the booking.
Push Notifications
Our provided barber booking app development services and beauty salon app development services are enabled to send notifications to users, in case of a booking confirmation or a reminder, and also when there is any discount or offer by a salon.
Service List and Prices
We ensure to include each service of the salon with their price into the app by discussing with clients in detail. It provides benefits to users while looking for needed services and paying for them before calling out the professional to their home.
Loyalty Programs
Maintain your loyal customers by providing them bonuses, offers, discounts, and loyalty programs. Being a top beauty and spa app development company, our solutions include services like gift vouchers, loyalty points, redeemable points, etc.
Real-time GPS
A beauty expert can use this feature to find out the address of the customers and deliver their services. Customers can also use the real-time GPS to get the salon's exact location where they have booked their appointment to reach there conveniently.
CRM
Enable your customer to have a great experience by asking them what type of services they want. Keep your communication clear with them as they can turn to the support staff in case of a problem and find out their needs to offer them facilities accordingly.
In-app calling & chatting
Our salon and barber booking app development solutions provide this feature to allow users to contact their booked expert via call or chat just by tapping on the screen. It is more helpful for those who don't feel ease sharing their number.
Pre-reservations
With this feature, customers are allowed to book any of the services in advance. Whether it is their special day or some other day, they can have an advance appointment months or days before that day, it will help them to be free from any hassle.
Feedback & Reviews
Every service provider wants to know the customer's views about their services if they liked it or not? They rank on top and get more customers because of these ratings and reviews. This is why we integrate this feature into our salon app development solutions.
Catalogue Management
We provide an on-demand beauty salon app development solution to make salon experts able to update their service catalog easily. They can also put pictures of their previous work samples for the clients to review their services and book accordingly.
Guide Help
It is a must-have feature to integrate into a beauty salon application as this comprehensive user guide will help the app users to find out and get an understanding of all the features of a salon application without missing any of the important ones.
Our Recent Works
Some of the esteemed projects we worked upon, to give you a glimpse of the way we work.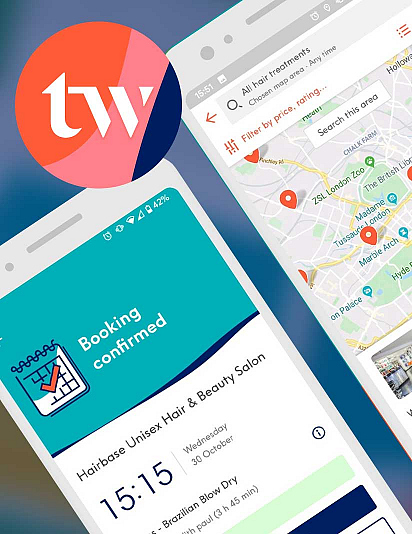 Treatwell
Hair and beauty Services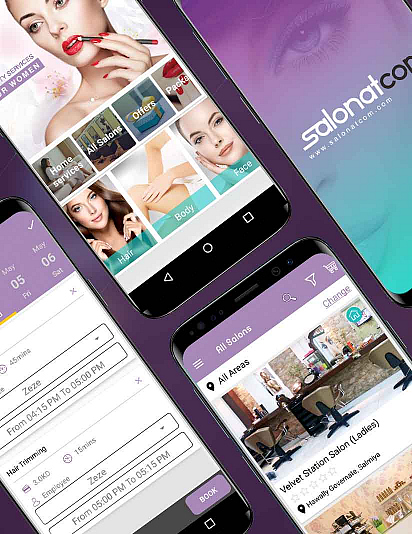 Salonatcom
Salon Booking App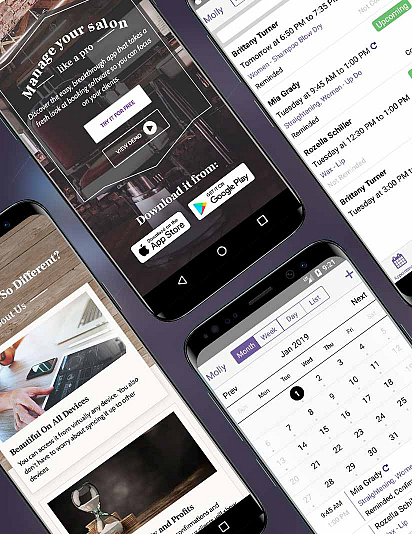 Let's take this growing relationship to the next level.
View All Work
Why Choose SemiDot for Salon App Development Solutions?
SemiDot Infotech provides impressive on-demand salon app development solutions developed by our dedicated team of developers who have done hundreds of projects. Our built app solutions help you to attract customers by providing them different kinds of salon services with ease.
Quality Work
Our skilled developers believe in providing high-quality solutions to clients and use the newest technologies to serve you with the best solutions.
Result-Oriented Solutions
We strive to provide you with such salon app development solutions that can help you to generate leads and high revenue with latest features.
Delivery On-time
We have dedicated developers who understand the value of time and therefore, we have specialization in on-time project delivery with feasible services.
NDA Security
With the legal framework NDA, we provide security to the client's confidential and sensitive data by not to leak it or give it to any third party from our side.
Quick Support
We offer 24*7 flexible technical supports to our clients; they can instantly get their issues solved with the continuous support provided by us.
Source Code Authorization
We provide all essential source code authorization to clients after project completion to help them, if they want to do any modification to the app in the future.
Affordable cost
We make every effort to provide high-quality solutions integrated with ultra-modern technologies and salient features at a lower cost.
Skilled App Programmers
Our salon app developers have rich experience and are much dedicated to their work. Their skills and knowledge make the solutions more exciting.
Cross-platform Solutions
We provide all kinds of services, be it salon iOS app development or Android app development, or hybrid app development to get a better reach of audiences.
ENGAGEMENT AND HIRING MODEL
Our presented engagement and hiring model will help you to get an idea about the overall price according to the service type you required.
Onsite
Clients can have onsite salon app development services to get customized app solutions building right in front of them from scratch, at their workspace.
Offsite
It is your choice if you want to outsource the project and we assure you to provide offsite development services at a minimum price.
Hybrid
It includes the combination of both onsite and offsite engagement model that provides affordable development cost and quality services easily.
Fixed Price
In this, the project development cost and the time of the project delivery will be fixed as pre-fixed things provide clear communication between parties.
Dedicated Hiring
By hiring dedicated salon app developers, you can have custom salon app or white-label solutions. It completely depends upon you what kind of development you want.
Hourly Basis
Hire skilled programmers who work on an hourly basis for whatever work you want to be done. They do it at minimum rates with full transparency.
Discuss Your Project with Our Specialists
We are interested in a long term partnership. When you hire SemiDot Infotech, you get a reliable partner for all your software development needs.
Let's Talk
FAQs
Most popular questions by our clients, we decided to make a list for easing things at all ends.
The cost estimation of a salon app development solution will be around $10,000-$25,000. But there are various factors to differ the solution's cost comprising the hired team, app platform, features, location, etc.
Of course, our efficient salon app developers are here to serve you with every type of solution. We provide customized business solutions as per your requirements at the right time with impressive features.
We suggest that you should go for cross-platform app development which include both Android and iOS app solutions to get a large base of audiences. It is also more beneficial for future perspectives.
It depends upon the development team and the project requirements we are working upon. Although, generally salon app development takes 60-90 days to get complete. It can take more time as well based on the project complexity.
Definitely! We assure our clients to support them at every step of the development and even, after the development. We provide them post-development maintenance and support for a particular period.
Client Testimonial
I was pretty skeptical about outsourcing my project to a different country, but SemiDot proved to be even better than some of the companies I have worked with, within Europe. The prices they quoted were pretty decent, so I took the leap, and they delivered perfectly, and in time, what they promised.

Muhanad
Me and Harry (Business head of SDI) clicked instantly, thanks to our common passion towards Blockchain. They are currently working on a blockchain-based game for our company. Overall, Semidot Infotech is a complete package, low prices combined with top quality.

Carol
A Great design requires a team of enthusiasts, and these guys delivered exactly what I hoped for. Looking forward to continuing my partnership with Semidot Infotech. Give this company a try, as soon as you see their portfolio, you will know exactly what I had been talking about.

Bobby
Outsourcing a multi-million-euro project to a small company in India? You guys must be thinking I am joking. Well, I am not, Semidot Infotech is the complete package you would want for your project, they are truly client-centric, something which is very hard to find in today's world.

Neil Degg
We are doctors, and passionate about what we do, so one fine day, we decided to get an app for pregnancy needs. We came across Semidot through a friend who had previously worked with them, they delivered the app in just 2.5 months, which is something truly incredible.

Jamil & Idries
So, I came up with a one of a kind idea, and when most web development companies told me that's impossible in your budget, these guys proved to be my saviours. They not only made the web app per the requirements, but also scaled it, to be used by millions of users, and did all of it, in my budget.

Siegfried Gretzinger
The primary goal behind my project was to take my business online, and I really didn't expect or anticipate this much response from my customers. I have dealt with many web development companies in the past, and I can easily say that they have the expertise and resources to develop a good application.

Mario Thaler
My idea was brought to life with the help of these guys, it is all thanks to them, that my business could take off so smoothly. SemiDot has proved to be a great business partner, and Kapil (CTO of the company) has proved to be one of the greatest mentors I have ever come across.
Benjamin Buren
Our Featured Blogs
Want to know about the latest technology trends? You can find all of them here.
Interested in working with us?
LET'S TALK AND GET STARTED