Taxi App development Solutions
Taxi app development solutions seems easy to create, and they are, but are difficult to develop. Our readymade Taxi solutions ensure minimum wait time, for both the riders and the drivers, to ensure maximum feasibility and higher customer adoption.
Audio and video streaming
We can include audio and video streaming capabilities in your app mirrored on a screen fitted in the car, to entertain passengers.
Car categorization
Users will be able to see and choose the particular car, or type of car, they are looking forward to, to ensure maximum customer satisfaction.
Superior match algorithm
Our algorithm works both ways, collects different aspects and preferences of users and drivers, to match them for rides.
Document storage and verification
Our admin panel will let you verify the documents of both the drivers and the passengers, so you will have every detail in case the authorities need it.
Emergency services integration
The app will come with highly advance features like dialing an emergency number in case you feel something is not right, a must for safety.
Rating system
Our state of the art in-app rating system ensures maximum transparency, along with choosing the best driver for every passenger.
To deliver optimum experience for users and drivers
We created 3 different panels with customer centric features
Driver Management
User management
User verification
Driver verification
Fare calculation
Live location access
Wallet & payment gateway integration
Chat management
Fleet management
Schedule and edit rides
Easy profile creation
Profile management
Connectivity with passengers
Review facility
Map integration
Payment information
Car condition setting
Availability setting
Easy registration
Choice from a list of fleets
Live tracking on map
Reviews and ratings
Panic mode for emergency
Payment options
Fair breakup
Multiple filters
Features you will get
All our Taxi app solutions comes loaded with features, they will ensure maximum ease of use, while ensuring maximum manageability.
Multi-Language support
The multi-language support in the taxi app we make for you has more than 60 languages to choose from, one for every user.
Multi-time zone support
A taxi service needs multi-time zone support, to make sure that the user always sees the ride according to his time zone.
GPS integration
Each of our on-demand taxi app is equipped with every location-based feature, to give you on the spot live updates.
Simple interface
Allow users to 2 touch book the cab, the app we create for you could be completely user-focused and easy to use if you want.
Sharing Documents
Cloud storage and on the go document verification through integrated databases, is one of the specialties of our apps.
Audio Streaming
We can directly connect the app to a screen and speakers of the car of the driver, so the user can indulge in entertainment.
Bug reporting
Our shake to give feedback about any application crash or error is one of a kind, feedbacks will be solved on utmost priority.
Notifications
Push notification is but a must in taxi apps, as they are time-sensitive in every aspect, we ensure maximum focus.
In-app calling
The easiest way to mask phone numbers of either the user or the driver, in-app call and message facility is included.
Analytics
On-demand applications generate a lot of metrics and data, it would be a complete waste if quality data analysts do not use it.
Easy CMS
Our team of taxi app developers will make an exclusive CMS for you to deploy anything you want in the app, and to fetch all metrics by ease.
Payment Integration
Payments are essential for any Uber-like taxi app to ensure a smooth flow of services, we integrate and build custom wallets.
Optimization
A highly optimized app would be created for every platform, which you wish to target, optimized for that particular OS.
Rating Track Algorithm
This algorithm ensures the most compatible users and drivers are matched, based on multiple filters and ratings.
No internet booking
With the app we create for you, users would be able to book even when there is no internet, through SMS and coordinates.
Advance booking
Users can book the taxi in advance, if they wish to, our advanced algorithm will take care of how everything would be managed.
Our Recent Works
Some of the esteemed projects we worked upon, to give you a glimpse of the way we work.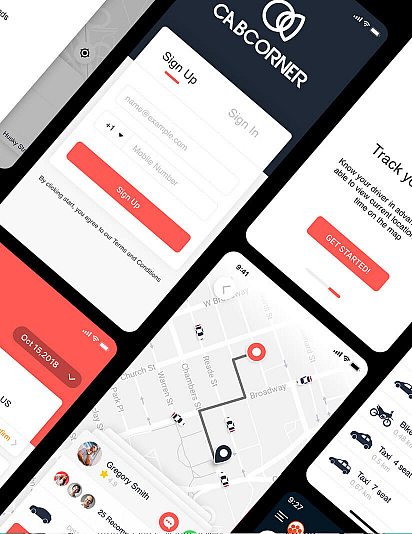 Cab Corner
Taxi Booking App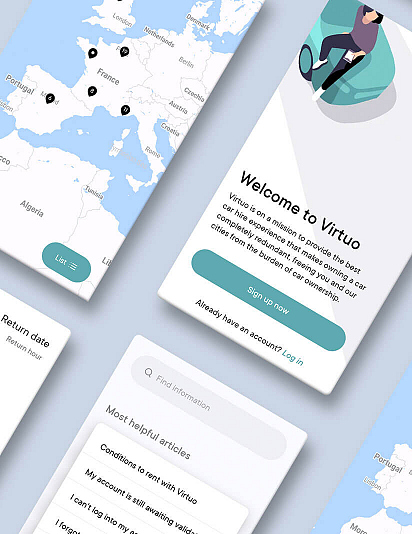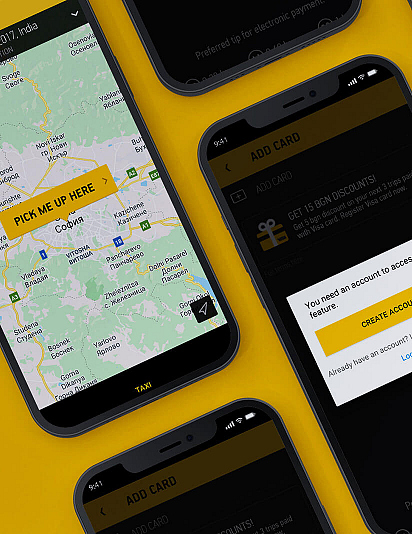 Let's take this growing relationship to the next level.
View All Work
Why Choose SemiDot for Taxi App Development Services
With the help of our taxi app developers, we can build an Uber like app for less than a fifth of what it usually costs, thanks to the demographics of our India office.
Innovative Designs
Our team of proficient UI/UX designers create immersive, attractive, and engaging apps, customized the way you want.
Effective Communication
We assign a dedicated project manager assigned to every project, he will be sharing all the updates directly.
On-Time Delivery
You can stay assured about timely delivery, we can achieve it through our one of a kind Hybrid Agile model.
Creativity
We can implement everything you wish for, we can make an Uber app clone, all depending on your requirement.
Flexible Hiring Models
We offer various distinct hiring models for you to choose from, they vary a lot, to make it work for everyone.
NDA
Our team is highly professional in keeping everything confidential. You can have an NDA signed, just how you require.
Engagement and Hiring Model
We offer various hiring and engagement models, to keep the prices and the development time in check while fulfilling all your requirements.
Onsite
Every customization, or if you want the app to build from scratch, will be done right in front of your eyes, at your head office.
Offsite
You have to option to simply outsource the project to us in India, we will ensure the prices are kept to the minimum for everything.
Hybrid
This is the best of both worlds engagement model that we offer, both peace of mind and the low development costs can be achieved easily.
Fixed Price
Both the time of delivery and cost to develop will be fixed at the beginning, so there would be complete peace of mind for you.
Dedicated Hiring
Hire dedicated taxi app developers to customize our white label solutions, or to get a custom Uber like taxi app developed, all per your choice.
Hourly Basis
Hire taxi app developers charged on per hour basis, for components they work for in your taxi app, complete transparency and lowest costs assured.
Discuss Your Project with Our Specialists
We are interested in a long term partnership. When you hire SemiDot Infotech, you get a reliable partner for all your software development needs.
Let's Talk
FAQs
Most popular questions by our clients, we decided to make a list for easing things at all ends.
Our taxi app developers are able to provide the clients different types of apps as well that include limousine services, car rentals, fleet management, corporate taxi business, air taxi and many others.
There are various benefits businesses can get through taxi booking app development that comprise accelerating the ROI, lesser the operational costs, automation processes, enhancing driver efficiency, customer satisfaction, real-time connectivity, and many more.
When you hire taxi app developers from SemiDot, you will always get a quality solution with useful components. These key components include simple sign-up process, scheduling rides, payment modes, push notifications, ride history, rating system and reviews.
Our developed taxi booking apps are beneficial for large-scale businesses to small-scale businesses as well. If you have a small business, this app will provide you better services to the customers and huge chances to expand your business. It will also permit you to automate each process rather than doing it manually.
Of course. It is a part of our app development services. Right from developing the taxi app to deploy it on such stores from where your targeted customers can download it easily, we take care of everything.
We are a leading taxi app development company that prioritizes customer satisfaction and security. We develop apps compliant with the coding standards to prevent from data breaches anyway. We also provide source code encryption, data security provision on servers, and also, make sure the code is bug-free and clean.
Client Testimonial
I was pretty skeptical about outsourcing my project to a different country, but SemiDot proved to be even better than some of the companies I have worked with, within Europe. The prices they quoted were pretty decent, so I took the leap, and they delivered perfectly, and in time, what they promised.

Muhanad
Me and Harry (Business head of SDI) clicked instantly, thanks to our common passion towards Blockchain. They are currently working on a blockchain-based game for our company. Overall, Semidot Infotech is a complete package, low prices combined with top quality.

Carol
A Great design requires a team of enthusiasts, and these guys delivered exactly what I hoped for. Looking forward to continuing my partnership with Semidot Infotech. Give this company a try, as soon as you see their portfolio, you will know exactly what I had been talking about.

Bobby
Outsourcing a multi-million-euro project to a small company in India? You guys must be thinking I am joking. Well, I am not, Semidot Infotech is the complete package you would want for your project, they are truly client-centric, something which is very hard to find in today's world.

Neil Degg
We are doctors, and passionate about what we do, so one fine day, we decided to get an app for pregnancy needs. We came across Semidot through a friend who had previously worked with them, they delivered the app in just 2.5 months, which is something truly incredible.

Jamil & Idries
So, I came up with a one of a kind idea, and when most web development companies told me that's impossible in your budget, these guys proved to be my saviours. They not only made the web app per the requirements, but also scaled it, to be used by millions of users, and did all of it, in my budget.

Siegfried Gretzinger
The primary goal behind my project was to take my business online, and I really didn't expect or anticipate this much response from my customers. I have dealt with many web development companies in the past, and I can easily say that they have the expertise and resources to develop a good application.

Mario Thaler
My idea was brought to life with the help of these guys, it is all thanks to them, that my business could take off so smoothly. SemiDot has proved to be a great business partner, and Kapil (CTO of the company) has proved to be one of the greatest mentors I have ever come across.
Benjamin Buren
Our Featured Blogs
Want to know about the latest technology trends? You can find all of them here.
Interested in working with us?
LET'S TALK AND GET STARTED