Courier Delivery App

Development Company

Take your courier delivery & order management to the next level with our courier mobile app development solutions. We guarantee you to strengthen your courier network via our provided efficient parcel delivery app development services.

Get A Demo
Courier Delivery App Development Solutions
Our skilled app developers build courier mobile app development solutions integrated with modern technologies and impressive features to empower your courier business. All the customer deliveries can be managed timely with these solutions.
Carriers
Carriers can enable their customer to enter their pick and drop-off locations with this courier tracking app development solution. It will help the users to find out the estimated courier costs, and track the delivery status.
Freight Forwarders
We provide peer-to-peer courier service app development services for freight forwarders. This app makes the courier organizations able to handle their supply chain services very easily and appropriately at all stages.
Haulage Services
Unveil an amazing online on-demand package delivery app development solution to streamline your transport operations. It is also beneficial for users who want to carry their heavy and bulky imports conveniently.
Online Courier Marketplace
Being a leading online courier marketplace development company, we provide amazing solutions with up-to-date features to business persons and courier companies to start a venture or courier delivery marketplace.
Single Courier Company App
We are known as a white-label courier app development company that helps you to perform your enterprise operations. You can satisfy more customers by taking services from a single courier app development company.
Courier Delivery Chains
We provide on-demand courier app development services so that you can handle all your courier delivery offices with just one unified dashboard. This courier solution also helps to keep the sales record of every branch.
To deliver optimum experience
We developed 3 different panels with customer centric features
Booked parcel list checking
Live tracking
In-app payment
Real-time ETA
Electronic signature
Cancel booking
Easy onboarding
Book parcel
Simple registration process
View parcel details
Connect to customers
Earning records
Navigation
Customer ratings
Pick-up and drop details
Task history
Admin dashboard
Secure login to the browser
Customer order management
Driver management
Notification alert
Category management
Vehicle tracking
Trip tracking
Online Courier Service App Development Features
We have efficient courier delivery app developers who create amazing courier app solutions with remarkable features for every type of user.
Easy Onboarding
Our courier delivery solutions have a simple login process in which users can register easily via mobile number, email, and other social accounts.
Live Tracking
We provide live tracking into on-demand parcel delivery app development solutions comprising GPS that helps to track the parcel.
In-app Payment
We offer on-demand courier delivery app development services that provide customers ease to pay via different options such as cash, cards, or e-wallet.
Electronic Signature
Our experienced courier app developers provide this feature and get the e-signature of customers after the parcel's delivery to alleviate the invoicing issue.
Cancel Booking
Customers are always our priority; therefore, we provide them flexibility via this feature to cancel their booking anytime due to any reason.
Rating and Reviews
Customer can provide their valuable feedback about the firm or its courier services and can also choose a high-rate company for courier service.
Notifications Alert
Being a top courier app development company, we include this feature for customers to alert them for shipping via SMS or email.
Book parcel
Users can choose the pickup and drop location to book their parcel for delivery. It makes things easier for them as they can also track their parcel.
App Color & Logo Change
Modify your app theme as per your business needs with the help of the panel admin. Our provided custom-made app color and logo modification will help your enterprise to create a unique identity.
Currency Change
Our courier delivery app developers include this feature to provide flexibility of currency change for business expansion across the world. It also improves the currency rate management in courier deliveries.
Language Change
Make your courier delivery network wider with the multi-language facility provided by efficient developers at SemiDot Infotech. Business owners can change the app language as per the user's requirements.
Set Referral Sharing
Referral sharing integration in peer-to-peer courier service app development makes the business promotion smooth and quick. Users will get a specific bonus once they share the referral code with their acquaintances.
Multi-Country Support
Broaden your courier delivery business globally in diverse cities with our developed on-demand courier delivery app development services. It also helps the admin to handle and regulate all the business activities.
Revenue Statistics
This feature provides facility to store vendors to outlook their revenue statistics along with delivery data that include all types such as pending, completed, etc. It helps the owners to keep up-to-date about deliveries.
Efficient Navigation
Courier delivery person can easily find the address of the particular locations via Google map to deliver the parcel to the respective person on time. Customers can also use this to track the root of the parcel delivery.
Security & Transparency
Our courier delivery app developers provide secure app solutions that provide all the updated information in-depth and included courier tracking procedure makes it a transparent and reliable solution.
Our Recent Works
Some of the esteemed projects we worked upon, to give you a glimpse of the way we work.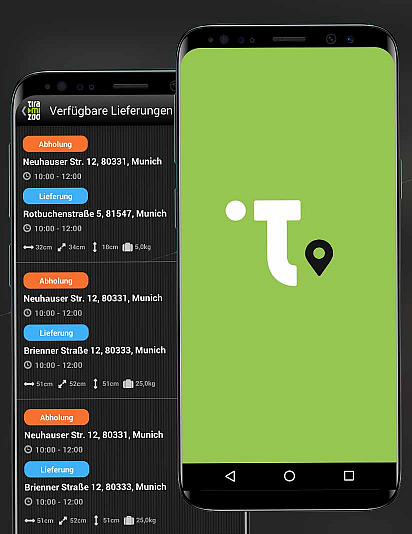 Tiramizoo
Leading TMS for Urban Logistics
GoShare
Logistics Platform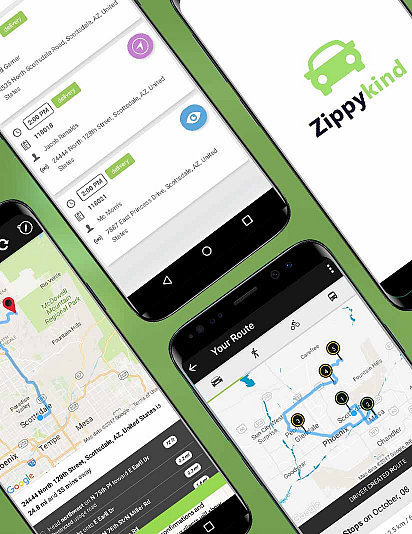 Zippykind
Delivery Management Platform
Let's take this growing relationship to the next level.
View All Work
Why Choose SemiDot Infotech for On-demand Courier App Development?
Being a renowned courier delivery app development company, our development procedure comprises transformational actions which are a mixture of creativity and development strategy with the right technology stack.
Developing Tailored Apps
Our proficient developers always consider the client's requirements at first, so they provide peer-to-peer package delivery app development services with amazing features as per the client's demand.
100% Customizable
We deliver ready-to-use courier delivery app solutions that are fully customizable along with their courier app source code according to the needs. It takes less time and effort to customize the app.
Interactive Interface
Considering both the customer and delivery person panel, we provide a feature-rich interface that is more responsive. This on-demand app helps both to navigate the address with ease.
White-Label Solutions
Our courier delivery app developers offer white-label courier app development services that provide flexibility to company owners to put their company name, logo, and other things on these solutions.
Latest Tools & Technology
With the right development strategy, our developers use modern tools and technology to make the solutions compatible with every device. Our solutions also provide an amazing user experience.
Best Price Guaranteed
We provide scalable and impressive peer-to-peer courier app development services comprising latest features at a reasonable price in comparison to other courier app development companies.
Mission-Driven Solutions
Every business has some specific mission to accomplish for their growth and we will leave no stone unturned to provide you with an efficient solution to fulfill your mission since the day you join us.
Secure Infrastructure
Our online courier service app development solutions have a secure and robust infrastructure followed by strong IT security policies so that you don't need to worry about network security.
Round the Clock Support
We provide support for all three stages including pre-development, development, and post-development. Post-development support is provided so that you don't go through any of the technical issues.
ENGAGEMENT AND HIRING MODEL
Don't let the budget be a big concern anymore while having on-demand courier service app development services. We are offering six different models combined in the engagement and hiring model.
Onsite
In this model, business owners can hire experience courier delivery app developers from a leading app development company, and ask them to work at your location.
Offsite
The offsite model provides you the flexibility to outsource the app development services if you don't feel comfortable calling the app developers at your office premises.
Hybrid
Try the combination of both onsite and offsite hiring models with their amazing benefits that provide you the best services.
Fixed Price
As a business owner, if you want to get on-demand courier app development services within a fixed price or budget, it will be a perfect match for you.
Dedicated Hiring
Don't miss out on this model if you are finding appropriate and agile binding app development done by experienced and dedicated app developers.
Hourly Basis
Hire developers and designers according to your choice on a per-hour basis with an average hourly cost for their app development services.
Discuss Your Project with Our Specialists
We are interested in a long term partnership. When you hire SemiDot Infotech, you get a reliable partner for all your software development needs.
Let's Talk
FAQs
Most popular questions by our clients, we decided to make a list for easing things at all ends.
Of course, our courier delivery app developers have developed numerous on-demand courier delivery apps at SemiDot Infotech for freight forwarders, carriers, and many others. We will provide you some demo links to get an idea about our development services once we get your query.
We strive to deliver you futuristic courier delivery app solutions; hence we leverage our solutions with the latest technologies that can provide you a competitive edge. We use Android SDK Emulator, MobiOne for Android apps, and Xamarin, Appcelerator, and RhoMobile for iOS apps.
Various factors determine the cost of online courier delivery app solutions. It includes features, tools and technologies, location, and many more. Thus, the cost estimation of courier app development will be around $10,000 to $25,000. However, this cost can differ based on these diverse factors.
Yes, client satisfaction is our priority; hence, we provide courier development solutions according to your targeted market and business requirements. Our customized app solutions provide an amazing experience to customers and widen the network.
We are known as a top on-demand courier delivery app development company because we never compromise with the quality. Our built courier app solutions are up-to-date with the latest tools and technologies to empower your business in the overall market. We provide astounding app features to make it popular among users as well.
Client Testimonial
I was pretty skeptical about outsourcing my project to a different country, but SemiDot proved to be even better than some of the companies I have worked with, within Europe. The prices they quoted were pretty decent, so I took the leap, and they delivered perfectly, and in time, what they promised.

Muhanad
Me and Harry (Business head of SDI) clicked instantly, thanks to our common passion towards Blockchain. They are currently working on a blockchain-based game for our company. Overall, Semidot Infotech is a complete package, low prices combined with top quality.

Carol
A Great design requires a team of enthusiasts, and these guys delivered exactly what I hoped for. Looking forward to continuing my partnership with Semidot Infotech. Give this company a try, as soon as you see their portfolio, you will know exactly what I had been talking about.

Bobby
Outsourcing a multi-million-euro project to a small company in India? You guys must be thinking I am joking. Well, I am not, Semidot Infotech is the complete package you would want for your project, they are truly client-centric, something which is very hard to find in today's world.

Neil Degg
We are doctors, and passionate about what we do, so one fine day, we decided to get an app for pregnancy needs. We came across Semidot through a friend who had previously worked with them, they delivered the app in just 2.5 months, which is something truly incredible.

Jamil & Idries
So, I came up with a one of a kind idea, and when most web development companies told me that's impossible in your budget, these guys proved to be my saviours. They not only made the web app per the requirements, but also scaled it, to be used by millions of users, and did all of it, in my budget.

Siegfried Gretzinger
The primary goal behind my project was to take my business online, and I really didn't expect or anticipate this much response from my customers. I have dealt with many web development companies in the past, and I can easily say that they have the expertise and resources to develop a good application.

Mario Thaler
My idea was brought to life with the help of these guys, it is all thanks to them, that my business could take off so smoothly. SemiDot has proved to be a great business partner, and Kapil (CTO of the company) has proved to be one of the greatest mentors I have ever come across.
Benjamin Buren
Our Featured Blogs
Want to know about the latest technology trends? You can find all of them here.
Interested in working with us?
LET'S TALK AND GET STARTED