A Customized POS Development Solution for your Business
Semidot Infotech is a top-rated POS software development company that can help create smart and scalable retail solutions for your business. We have a dedicated team that has immense experience in creating customized Point of Sale solutions for both small-scale and large-scale retail businesses. Apart from POS system development, we can also help you in successfully offering POS management services that can help you effectively manage and organize your inventory and customer bills.
In the past couple of years, we have successfully created highly robust POS solutions for industries like retail and eCommerce, healthcare, food and restaurant, and many more. Our solutions are compatible with both online and offline businesses. Our team of POS developers is always available to solve any of your concerns via email, calls, or Skype. We are known to offer the best POS development services in the USA and other parts of the world.
Going for POS system development can help you in a lot many ways, especially during customer billing. By opting for custom POS software development, you can easily manage your business operations. Our POS solution also helps in increasing efficiency by facilitating an automated process and yet they offer you a full control over your business. So, if you are looking to automate your business by integrating ERP solutions, POS is the first step.
Our Custom POS Software Development Services
We house some of the best POS software developers that offer below-mentioned services:
Customer Billing
Generating invoice for every purchase is one of the main reasons why businesses opt for POS system development and we have experts who can create a robust solution for this purpose.
Reporting and Analytics
We also provide sales reporting and data analysts POS development services so that you can easily manage your store's sales and can also find the best-selling product of your stores.
Data Management
Our POS software solutions are highly capable of collecting data from various sources and across multiple stores. This data is then combined to give you a collective report of your store.
Inventory Management
Managing the stock and inventory can be quite cumbersome, but our POS system developers can create a customized solution that can help you in easy management of your inventory and stock.
Third Party Integration
Our POS developers are highly experienced while integrating third-party APIs like PayPal, e-wallets, and other payment methods to ensure smooth and secure payment transfer.
Accounting Software
Integrating various accounting software like Quickbooks, SAP, Sage, and many more is very much important if you are looking for hassle-free, easy, and smooth management of your business.
CRM Software
CRM software is what most businesses look for and being a POS software development company we offer customized CRM so that you can get to know everything about your customer.
Employee Management
At Semidot Infotech, we offer a customized POS development solution that can not only handle sales and reporting but is also good when it comes to effectively managing your employees and staff.
Loyalty Software
Our POS developers are highly skilled in creating POS software where you can create deals and discounts to offer your customers. These software solutions help in increasing user engagement.
To offer hassle-free experience
We created 3 different panels with customer centric features
Staff management
Category management
VAT/GST management
Sales Report
GST Reports
Password Setting
Order Management
Profile Verification
Inventory Management
Easy to manage dashboard
Order Management
Easy to use Dashboard
Manage Store Inventories
Manage Customer Orders
Menu Management
Get Notified for Orders
Notify when the Order is Ready
Push Notification
Table Management
Dashboard
Order Management
Notified when the Order is Ready
Notified to prepare the Check
Push Notification
Sales Report
GST Reports
Features of Our POS Solution
At Semidot Infotech, we believe in creating innovative and easy to use POS systems for restaurant and other businesses.
Table Management
Our POs solutions facilitate easy table management so that your customers neednot wait for their turn.
Fast Interface
We are known to create a POS system that offers a fast and speedy interface to meet all your business requirements.
Easy to Manage
We believe in developing a user-friendly interface that allows you to do your work with much ease and convenience.
Accurate Billing
Accuracy is one of the first things which POS software offers and one of the main reasons why business owners opt for POS.
Quick Checkout
No one likes to stand in those long queues for paying their bills and integrating POS software ensures quicker checkouts.
Inventory Control
POS software for restaurants are not only good for accurate billing but also help businesses in managing their inventory.
Menu Management
With a POS system you can easily create multiple menus for your business and can also change the rates accordingly.
Deals and Discounts
Best Restaurant POS Software facilitates businesses to create the best deals and discounts and inform their customers.
KOT Management
At Semidot, we create easy to use KOT management software to easily notify the kitchen about the customer's order.
Chain-Wide Operation
For businesses having more than one store in multiple locations, POS software lets you manage all the data in one place.
Accurate Reporting
While preparing reports manually, there are chances of error but when using a POS system, you can do accurate reporting.
Payment Integration
While using a POS, customers need not pay just via cash but can use various other payment methods to pay their dues
Thermal Printer
We have expertise in creating thermal printers to print quality images that lasts much longer and also helps in reducing costs.
Contactless Payment
This is a great option that POS solutions offer that using EMV cards customers can opt for contactless payment options.
Cloud Integration
A cloud-based POS system is of great help when it comes to storing a large amount of important data for your business.
Cash Drawer
To keep your cash safe and handy, we have experts who create highly secure and safe POS cash drawers for your business.
Our Recent Works
Some of the esteemed projects we worked upon, to give you a glimpse of the way we work.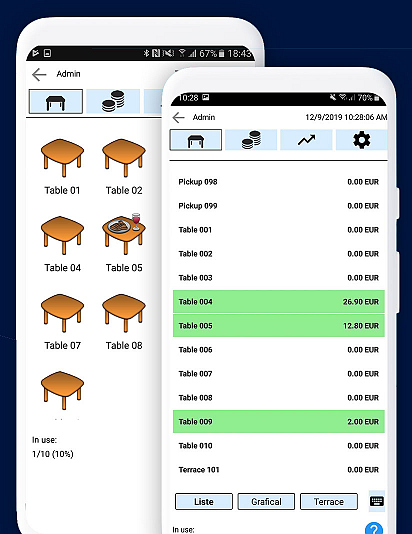 SmartCafe Professional POS
The Popular POS software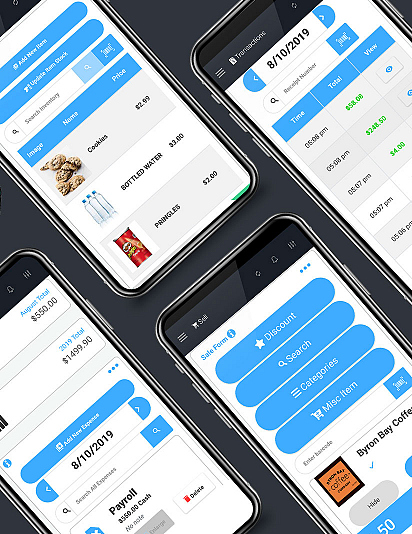 M&M POS
The Customizable Point of Sale System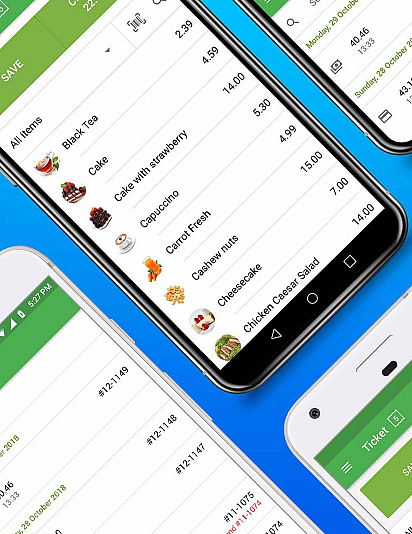 Loyverse POS
Point of Sale & Stock Control
Let's take this growing relationship to the next level.
View All Work
Discuss Your Project with Our Specialists
We are interested in a long term partnership. When you hire SemiDot Infotech, you get a reliable partner for all your software development needs.
Let's Talk
Why Point Of Sales?
Integrating a Point of Sale solution into your business can completely transform the way you were doing it. From easy management of inventory to managing your staff, to easy customer billing to customer services, everything seems too easy.
Inventory management
POS solutions facilitate hassle-free management and tracking of your inventory and stock.
Easy Reporting
Using POS software solutions businesses can easily manage their sales reports at one place.
Payment Integration
Instead of paying via cash Point of Sale solutions let customers pay via other methods also.
All-time Support
Customers can now avail 24/7 customer support services for any of their issues and problems.
Quick set-up
Point Of sales solutions are quite convenient to set up as no additional tools are needed.
Integrations
You can integrate your eCommerce store with POS solution and can avail of the benefits.
Industries We Serve
We have created PWAs for various business types, a few of the industries are listed below.
Education
Healthcare
Entertainment
Banking
Travel
Transport
Food
Real Estate
Dating
Sports
POS Integration
You can integrate POS software with myriads of technologies to reap the maximum benefits out of it.
Integrating with CRM Software
POS CRM Integration services are highly popular as most businesses prefer integrating their POS with their existing CRM software. Doing this the whole process of customer management is simplified and businesses can easily see every single detail of their customers.
Integrating with AI
POS Solutions, when integrated with Artificial Intelligence, can help collect customer data and analyze this data to predict future trends, most popular selling items, and many more. It can help increase customer engagement and the overall sales of your business.
Integrating with Predictive Analysis
Apart from predicting total sales and future trends, POS software are highly used to maintain the overall security of you business. Using predictive analysis, data can be tracked and any suspicious activity could be tracked down to prevent any unfortunate situation.
Integrating with Accounting Software
Most retailers and business owners hire POS developers to integrate their existing accounting system with the POS solution. By doing this they can easily automate their accounting process and can manage everything quite easily, especially the calculation of tax.
Integrating with Third-party API
Third-party API integration is one of the biggest benefits that POS development solution offers. Using this business can avail of a secure payment process and apart from cash other payment gateways can be integrated like PayPal, Amazon Pay, Google Pay, and more.
Integrating with Inventory Management Software
By incorporating your existing inventory management software into your POS solution, you smooth out the way toward controlling and keeping up your inventory. If the inventory levels go down, it will inform you about it. You can also automate the process of stock purchasing.
EPOS software solutions
EPOS software solutions are highly used in industries like restaurants, ecommerce, and healthcare. These days rather than making a payment via cash, people prefer paying via their debit or credit card and EPOS facilitates that. It ensures that the payment made is safe and secure.
Integration with eCommerce Platforms
These days online business can bring more business and turnover than the offline store and this is because people love shopping online at their own leisure. Businesses now can integrate their POS with their online store and keep a track of everything quite easily.
Integrating with Employee Management Software
In large organizations, it sometimes gets difficult to manage staff and employees. Now you can integrate your employee management software with our Point of Sale solution and can effectively manage all your employees and staff for better productivity and efficiency.
FAQs
If you have any doubts, here are a few set of questions that can help clear them:
Hiring a POS software development company can be a great choice, especially when you are looking for business automation. It eliminates the need for a human to manage petite tasks like billing, and inventory management, which not only brings accuracy but also bring efficiency in what you do. If you are struggling with managing your employees to managing your accounts, you must opt for proficient POS development services as it can really help you in simplifying everything.

Yes, once we deliver what you need, we are always available for you to help. Our POS software solutions are highly secure and reliable, and we do offer support and management services as and when required.

Yes, being a pioneer POS development company, we understand the need to create scalable and robust solutions so that they can be compatible with your growing needs. Our POS developers use the best tools and technologies and try to integrate all the latest features, per your business requirements. As and when you plan to expand your business, you need not require to get a new solution developed.

Yes, you can hire POS developer from SemiDot Infotech, if you are in need of custom POS software development. Based on your business requirements, our experienced team will create a fully customized solution that can help you in taking your business ahead.

POS system development cost depends on the kind of solution you are looking for in your business. There are various factors that are considered while determining this cost. However, if you are looking for something basic, and for a small-scale business it may cost around $5,000 to $20,000 and for a large-scale business, the price may go beyond this.

Point of Sale solutions are not only beneficial for a business but even customers love shopping from a place where the whole process is streamlined and automated. The stores using POS software offer hassle-free checkout and a better customer experience as customers need not wait in those long queues to get their billing done manually.

Yes. You can hire POS developers to get an accounting software developer. This software will help you in bookkeeping and effectively managing all records for sales and customer billing.
Client Testimonial
I was pretty skeptical about outsourcing my project to a different country, but SemiDot proved to be even better than some of the companies I have worked with, within Europe. The prices they quoted were pretty decent, so I took the leap, and they delivered perfectly, and in time, what they promised.

Muhanad
Me and Harry (Business head of SDI) clicked instantly, thanks to our common passion towards Blockchain. They are currently working on a blockchain-based game for our company. Overall, Semidot Infotech is a complete package, low prices combined with top quality.

Carol
A Great design requires a team of enthusiasts, and these guys delivered exactly what I hoped for. Looking forward to continuing my partnership with Semidot Infotech. Give this company a try, as soon as you see their portfolio, you will know exactly what I had been talking about.

Bobby
Outsourcing a multi-million-euro project to a small company in India? You guys must be thinking I am joking. Well, I am not, Semidot Infotech is the complete package you would want for your project, they are truly client-centric, something which is very hard to find in today's world.

Neil Degg
We are doctors, and passionate about what we do, so one fine day, we decided to get an app for pregnancy needs. We came across Semidot through a friend who had previously worked with them, they delivered the app in just 2.5 months, which is something truly incredible.

Jamil & Idries
So, I came up with a one of a kind idea, and when most web development companies told me that's impossible in your budget, these guys proved to be my saviours. They not only made the web app per the requirements, but also scaled it, to be used by millions of users, and did all of it, in my budget.

Siegfried Gretzinger
The primary goal behind my project was to take my business online, and I really didn't expect or anticipate this much response from my customers. I have dealt with many web development companies in the past, and I can easily say that they have the expertise and resources to develop a good application.

Mario Thaler
My idea was brought to life with the help of these guys, it is all thanks to them, that my business could take off so smoothly. SemiDot has proved to be a great business partner, and Kapil (CTO of the company) has proved to be one of the greatest mentors I have ever come across.
Benjamin Buren
Our Featured Blogs
Want to know about the latest technology trends? You can find all of them here.
Interested in working with us?
LET'S TALK AND GET STARTED