Fantasy Sports Software and App Development
Ready to get an exceptional fantasy sports app and website developed? SemiDot Infotech is a renowned fantasy sports app and website development company, known to create reliable solutions that are not only innovative but also capable of making their place in the existing market. We offer an extensive range of Fantasy sports app development services for those who are looking to venture into this business. From fantasy sports app development, website development, and design to launch your app or website, we take care of everything and ensure the utmost quality.
We have an extensive team of skilled fantasy sports app developers that are highly experienced in developing all kinds of fantasy sports apps, software and websites including fantasy cricket app development. With our years of experience, we deliver both, customized and white-label fantasy sports app development solutions, that take your business to new heights and generate a good amount of revenue. Our fantasy app developers use cutting-edge technology to create solutions that are in sync with the current trends. We pay special attention to users' demands and requirements. Our fantasy sports apps are easy to use and navigate and loved by users of all age groups.
Fantasy Sports App Development Solutions
We offer a wide range of striking and ingenious fantasy sports app and web development solutions for sports fanatics and league players that offers exceptional user engagement.
Fantasy Sports Web App
Our proficient team of developers has immense experience in creating feature-rich and scalable fantasy sports web app development solutions.
Fantasy Sports Mobile App
Being a top-rated fantasy sports app development company, we have expertise in developing solutions for businesses looking to target variety of users.
Social Fantasy Sports App
Not just web and mobile apps, we also create social media apps that keep all sports fanatic well connected with brands, start-ups, and businesses.
Fantasy Scoring System
There is no point in playing a game without a proper scoring system. We have various scoring systems to keep your users interest up and intact.
Fantasy Analytics Software
Being a top fantasy sports platform development company, we create appealing and easy to use analytics software to keep track of everything.
Fantasy Sports AR Solution
To attract the interest of young gamers, our experts prefer to integrate AR into the games and create innovative fantasy sports AR solutions.
OUR FANTASY SPORTS APP DEVELOPMENT SERVICES
Being a pioneer in fantasy app development, we deliver highly scalable & quality services covering all types of sports.
Fantasy Cricket App Development
A sport that everyone loves. Our fantasy cricket app developers create both customized and white-label fantasy cricket software for popular leagues. With all those critical bouncers, turns and twists, and that fine pitch, cricket is a game of exciting spirit with billions of fans across the globe. Today, we have a chance to take you to the fantasy world of cricket with our fantasy cricket app solutions.
We provide fantasy sports app development services that can help you get scalable apps for boosting your gaming business. Our app solutions are integrated with the most advanced and unique features that offer a real-time playing experience. We as an experienced fantasy cricket app development company build the solution with an appealing user interface to attract players while addressing all your business requirements.
Fantasy Soccer App Development
Soccer is a fun, strategic, and hasty game played by all age groups, be it men, women, or children. The Fantasy soccer app is the solution to keep their game spirit going on. Over time, we have also gained immense skills in fantasy soccer app development. We have come up with fantasy app development services that also include soccer app development covering major soccer leagues taking place globally. We build fantasy soccer app solutions that meet all your business requirements. While providing fantasy soccer app development services, we ensure to consider all the user security & privacy concerns.
We have a renowned name in the fantasy soccer market with years of experience and are capable enough to create a fantasy soccer site in a limited time with utmost accuracy. If you hire SemiDot Infotech as your fantasy soccer app development partner, then, you don't need to worry about any sort of customization or modification as per your business requirements.
Fantasy Baseball App Development
We have an experienced team of fantasy sports app programmers that understands the need of baseball lovers and create feature-rich fantasy baseball apps. Baseball is one of the best sports ever invented. This game has 162 games in one season which makes it too interesting for the viewers or the fans. Even the combined number of the NBA and NFL games is no closer to this number. We provide you with fantasy baseball app solutions that cover all the baseball games running across the globe while helping to make a strong community of all baseball fans.
SemiDot Infotech is a leader in the fantasy baseball app development industry as we have a team of experts and professionals that create fantasy baseball apps for its clients where users can play games, win prizes and money, and can enjoy all the games virtually with the application. To build your dream app, you can hire us, a prominent fantasy baseball app development company and we can help you earn considerable profits by building scalable solutions for you.
Fantasy NBA App Development
Do you enjoy the NBA leagues? We are known to create immersive fantasy NBA apps that are developed to offer the best user experience. It is a widely popular winter sport and has been one of the fastest-growing sports with billions of fans worldwide. Several new basketball leagues keep coming up and one more reason behind its increasing popularity is being designated as an Olympic sport.
The game is too entertaining, hence, there is a massive demand for fantasy NBA app solutions that can gather all the basketball fans on a single fantasy sports platform. We provide a reliable fantasy basketball app development solution to our clients so that they can make online basketball gaming more enjoyable and can earn huge revenue too. Being a trustworthy fantasy basketball app development company, we try to meet all the requirements of our clients.
Fantasy Tennis App Development
The interest in tennis is growing rapidly and to enhance that passion for the game, our fantasy tennis app developers strive to create fantasy tennis apps for users who love playing this sport. Tennis is one of the most entertaining sports to both play and watch. The fantasy tennis app solution covers all popular matches in one app with an amazing UI gaming experience.
We are one of the best fantasy tennis app development companies that offer excellent backend support to our clients. The passion seen in the tennis community continues to amaze all of us and to meet the expectations, our developed solutions offer a smooth & seamless experience for millions of simultaneous users without facing issues of technical interruptions. And to meet the increased demand for fantasy sports apps, you can hire us as we provide best-in-class fantasy tennis app development services to help you earn a competitive edge.
Fantasy Football App Development
Not just cricket, we have a solution for our Rugby lovers too. Our team creates powerful Fantasy Rugby Apps that can generate high revenues. SemiDot Infotech builds business-oriented fantasy football app solutions to help your gaming business reach new heights. Football is a sport with huge fan interest and massive global appeal. And no matter, what part of the planet a football fan is in, at the time of the match, the football fans always remain too enthusiastic about the game.
And, to make it more interesting and appealing for the audience, there come the fantasy football app solutions. We have a team of dedicated fantasy app developers who have hands-on experience in providing fantasy football app development services to global clients. To get a fully customized, readymade, and scalable fantasy football app, you can hire SemiDot Infotech as it is one of the best fantasy football app development companies in the industry.
Panel-wise Fantasy Sports App Features
Registration / Sign-Up
It is the most common feature of a fantasy sports app where the user needs to register by providing an email address or contact number. Users can also link their social media accounts.
Live Score & Updates
It allows users to check the live score and all the recent updates of the game. To make the fantasy sports app more appealing, there are live scores and real-time streaming of the matches.
Selection of Team
The user can create their team with certain players. Also, there are provided the real-time stats of all the players to guide users on whom to select while following the selection guidelines.
Joining Game
With this feature, the users can join any game that they have scheduled. Also, the users have the option to join any ongoing game. If the user wants, he/she can also create the contest.
Push Notification
With these push notifications, the users are sent notifications for daily offers, player performance, proposed events, match opening/closing dates, live scores, the latest updates, and many other things.
Analytics & Stats
With this feature, users can check the data of all the matches played. They can even track their rewards, awards, and results. There are stats and reports for the individual player journey.
Sign-up/ Login
Registration or signing up is a must-feature for admins to maintain the security and privacy of the fantasy sports app. Admin can log in via contact no or email id.
Managing Contests & Results
It allows the admin to organize and manage various contests. They can also keep a track of the results and points earned by the users from the matches.
Reward Management
With this feature, the admin can keep a record of all rewards, prizes, and money earned by the users. They can check their total earnings from all the games played.
Analytics Report
It helps to create and maintain real-time information and database such as players' earnings and ranking reports. It gives access to the admin to check all the app activities.
Notification
This feature is used by the admin to send notifications and alerts to app users for upcoming events, any updates, renewals, payments, invites, new offers, and deals.
Merchandise Sales
With this feature, the admin can generate revenues by collaborating with various ventures & brands and selling promotional items such as t-shirts, custom drinking bottles, etc.
Build Contests
This feature let the users create their contest where they can decide all the parameters such as no. of contestants, whom to select, rewards, duration, etc.
Referral Bonus
There are referral bonuses for the users who refer and invite their friends to join the contest. Additional points are also given to them with every new user they refer.
Score Prediction
To earn more, the players can predict the scores and the winning team before the actual start of the match or the competition. It enhances user engagement.
Commentary Feed
Users can get incessant commentary about their favorite sports with this feature. It offers a better user experience while helping to get an extended user base.
In-app Chat
In-app chat allows users to chat or message their friends while playing the game. Also, the users can chat with other players across the globe.
Creating Groups
App users can create and select their private groups to play fantasy sports. These groups can be made with co-workers, family, friends, and known ones.
Fantasy Sports App Development Features
To bring out the best in our fantasy sports solutions, we have multiple features to offer.
Live Score and Updates
Businesses get fantasy game app development solutions to enable users with viewing the live scores & updates of any sport.
Third-Party API Integration
Being a top fantasy software development firm, our developers are experts in integrating third-party APIs swiftly.
CRM integration
Smooth CRM integration is the feature that you can find in our fantasy sports app solutions for easy management.
Push Notification
Now get notified within the app via push notifications whether it is for a new league or for your earnings.
Real-time Analytics
We incorporate a simple and easy-to-use analytical dashboard to track all your activities on a real-time basis.
GPS Location Tracking
Using our GPS location tracking feature, users will always get notified about the nearby leagues and tournaments.
Custom Mail Reminder
If mail notifications are missed, our fantasy sports apps have this feature to remind users about their important emails.
Payment System
Our app developers have integrated various payment options like e-wallet, net banking, etc.
Fantasy Sports Leaderboard
There is no fun in playing when you cannot see who is on top. The leaderboard is what we offer in all our solutions.
AR Integration
To offer an immersive gaming experience, our fantasy app developers have seamlessly integrated AR.
Loyalty Program Integration
We have integrated loyalty programs to attract a large user base while ensuring better user experience & satisfaction.
Social Media Integration
Let your users share their experience and wins with their friends via fantasy sports social media integration.
Fantasy Sports Ad Module
For you to earn extra, we have integrated Ad modules to attract sponsor deals and Google Ad revenue.
Multiple Sports Integration
For those who enjoy playing multiple sports at a time, we can integrate as many as you want in your app.
League Creation
Not that users can join the already created leagues, they can now enjoy by creating their own tournaments.
Easy Withdrawal
Withdrawing your earning and rewards can be difficult and our developers have paid special attention to it.
Our Recent Works
Some of the esteemed projects we worked upon, to give you a glimpse of the way we work.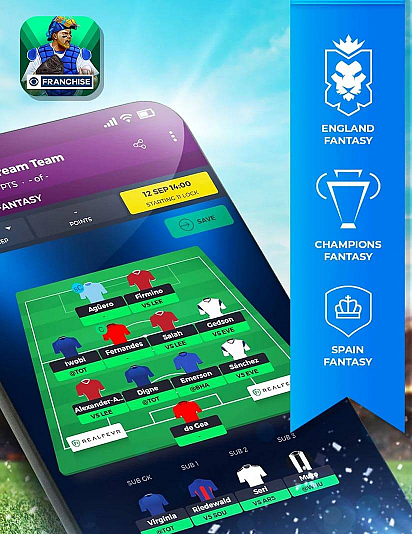 RealFevr - Fantasy Sports 2021
Enjoy The Best Fantasy Football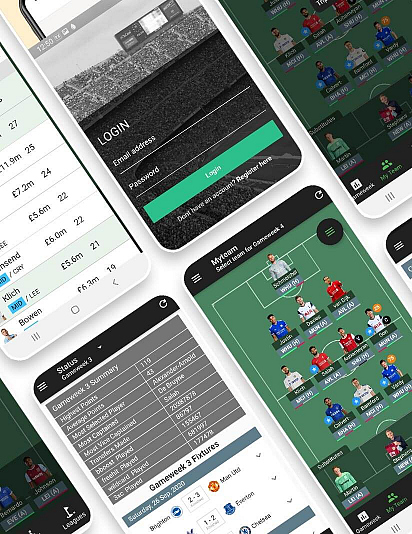 FPL - Fantasy Football for Premier League
Fantasy Football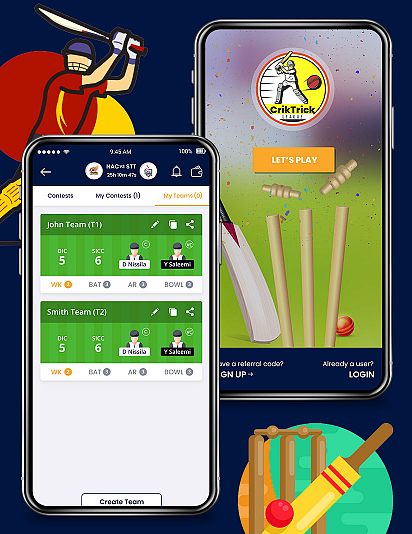 CrickTrick
Fantasy Cricket App
Let's take this growing relationship to the next level.
View All Work
85% of fantasy sports players prefer playing games via apps
What are you waiting for?
Contact Us Now
Most Popular Fantasy Sports Games
Not just fantasy cricket app development, we have expertise in creating scalable and powerful solutions in the following games.
Baseball
Cricket
Hockey
Football
Tennis
Rugby
Basketball
Hurling
What makes SemiDot Different from Others
Being a reliable Fantasy sports app development company, we ensure Our fantasy sports app developers use the latest technologies to provide intuitive and trending fantasy sports solutions.
Data Integration and Migration
When planning to integrate structured or raw data, or while migrating data into a data warehouse, we ensure maximum security & privacy.
Blockchain-based Fantasy Sports
Nothing goes better than developing blockchain-based customized fantasy sports applications when it comes to utmost data security & privacy.
Fantasy Stock Market Software
For the users who are not here just to play, but earn a good amount, we ace in integrating the stock market software in apps to reduce the risk of losing money.
IoT based Fantasy Apps
IoT is the latest technology used to create advanced fantasy sports app solutions. Our IoT-based fantasy sports apps help in capturing useful user data.
AI-based Fantasy Apps
Our experts integrate Artificial Intelligence in fantasy app solutions to enhance the overall user experience to attract more audiences to the application.
eCommerce Integration
We integrate eCommerce into our fantasy sports apps to improve user interaction while providing the option to buy their favorite sports merchandise.


FAQs
Most popular questions by our clients, we decided to make a list for easing things at all ends.
The cost of getting a fantasy cricket app developed depends upon various factors like:
Number of platforms (Android, iOS, or Both)
Features you plan to integrate
Third-party integration
Complexities involved
Hourly rate of fantasy cricket app developers
Development team size
Based on these factors, the cost to develop a fantasy cricket app and even a website differ. If you want to know the exact cost, you may reach out to us with your requirements, and we will be happy to help.
SemiDot Infotech house some of the best fantasy sports app developers and has immense experience in developing various kinds of immersive and scalable solutions for all kinds of platforms. Keeping in mind what users want, our developers use the best methodologies and integrate the latest trends and technologies to offer an unmatched user experience. We offer extensive support not only during app development but also after the launch.

We provide fantasy sports app development services for Cricket, Basketball, Football, Hockey, Soccer, Baseball, Tennis, and many more. At SemiDot, we create various kinds of fantasy sports app development solutions, for all kinds of platforms. Be it creating a website or an app, we have experts who can ace it all.

The work of our fantasy sports app developer does not end with the development of your app. We offer 90 days of free post-development support and maintenance services to all our clients. To get support beyond that, you may hire our expert team at a nominal cost.

Being a popular fantasy sports software development company, we pay special attention to our client's requirements. If you want a similar kind of app with the exact same feature, we will surely do that for you. Also, we have some of the best and highly skilled developers who can create a completely customized solution and develop from scratch.

Commonly, it takes around 4 to 8 months to develop a fantasy sports app. Further, the development time can vary due to the specific requirements such as the number of features & platforms.

At SemiDot, we have expert developers who build scalable fantasy sports apps using Unity Game Engine. For the app database, we use MongoDB. The integrated server is AWS, and socket.io and Node.js are used for Backend development.

Client Testimonial
I was pretty skeptical about outsourcing my project to a different country, but SemiDot proved to be even better than some of the companies I have worked with, within Europe. The prices they quoted were pretty decent, so I took the leap, and they delivered perfectly, and in time, what they promised.

Muhanad
Me and Harry (Business head of SDI) clicked instantly, thanks to our common passion towards Blockchain. They are currently working on a blockchain-based game for our company. Overall, Semidot Infotech is a complete package, low prices combined with top quality.

Carol
A Great design requires a team of enthusiasts, and these guys delivered exactly what I hoped for. Looking forward to continuing my partnership with Semidot Infotech. Give this company a try, as soon as you see their portfolio, you will know exactly what I had been talking about.

Bobby
Outsourcing a multi-million-euro project to a small company in India? You guys must be thinking I am joking. Well, I am not, Semidot Infotech is the complete package you would want for your project, they are truly client-centric, something which is very hard to find in today's world.

Neil Degg
We are doctors, and passionate about what we do, so one fine day, we decided to get an app for pregnancy needs. We came across Semidot through a friend who had previously worked with them, they delivered the app in just 2.5 months, which is something truly incredible.

Jamil & Idries
So, I came up with a one of a kind idea, and when most web development companies told me that's impossible in your budget, these guys proved to be my saviours. They not only made the web app per the requirements, but also scaled it, to be used by millions of users, and did all of it, in my budget.

Siegfried Gretzinger
The primary goal behind my project was to take my business online, and I really didn't expect or anticipate this much response from my customers. I have dealt with many web development companies in the past, and I can easily say that they have the expertise and resources to develop a good application.

Mario Thaler
My idea was brought to life with the help of these guys, it is all thanks to them, that my business could take off so smoothly. SemiDot has proved to be a great business partner, and Kapil (CTO of the company) has proved to be one of the greatest mentors I have ever come across.
Benjamin Buren
Interested in working with us?
LET'S TALK AND GET STARTED