Healthcare App Development Services
SemiDot Infotech intensifies telemedicine to level up the healthcare infrastructure. Our Experts offer healthcare mobile application development services utterly for connecting patients to healthcare providers safely.
Healthcare Mobile App
Our healthcare app developers build healthcare mobile app solutions compliant with HIPAA. Features such as EHR syncing, IoT enabled activity tracking, diagnosis and others ensure to provide safety to patient's data and physicians.
Technology Implementation
We use advanced tools & technologies for healthcare applications, websites, EHR solutions, healthcare CRM, cloud migration, legacy system modernization, process automation, and many more to make the solutions more efficient.
mPrescription Application
Our developed E-prescribing apps are useful to reduce medication errors and modernize prescription management. It comprises web, iOS, or Android mHealth app development to view, and share the patient history, and so on.
Medical Appointment App
We provide doctor appointment or scheduling apps with rich features secure payment options, in-app calendars, and others to clinics, individual practitioners, and hospitals to step up the appointment process.
Laboratory Managing App
Medical app developers at our firm understand the need for healthcare solutions for diagnostic labs to handle various operations like sample gathering, patient appointments, push notifications, share lab results, and many others.
Healthcare Web App Development
Our offered healthcare development services involve robust performance, dynamic, user-friendly, and mobile responsive web apps that are beneficial for operations like appointment booking, doctor and patient portal, helpdesk, CMS, and so on.
Medical Chatbot Support
AI-powered virtual assistants are getting popularity due to their ability to provide support to the user's query. There are also some beneficial features integrated into it, such as automated patient outreach, reminders, registration, and others.
Mobile EHR Solution
All our provided mobile healthcare software solutions are approved by HIPAA and FDA. EHR also allow efficient cooperation among organizations, doctors, & patients, and help in sensitive data protection, view & share the prescription, and so on.
Digital-led Transformation
Digital-led transformation in hospital app development services is followed by patient-focused marketing strategies covering social media campaigns, email marketing, reputation management, branding, lead generation, and others.
Leading Healthcare Mobility Solutions
The Healthcare industry is getting a transformation with all new upgraded technologies. Our Mobile medical app developers are also offering ultra-modern and affordable healthcare app solutions integrating with the latest technologies.
AI-powered Healthcare Solutions
AI-enabled healthcare solutions are beneficial for clinical decision-making and used to detect diseases and decrease errors in patient tests effectively. It provides a smooth experience to patients and makes their healthcare journey efficient by guessing their health concerns before they take place. Sometimes, the AI potential is also used to advance medical data analytics, automate and predict procedures like ICU transfers, clinical workflows, and others in healthcare.
IoT Integrated Solutions
We provide IoT mobile health app development services that help in, right from tissue monitoring to vital sign awareness. IoMT (Internet of medical things) is progressing at every stage and its solutions are used to get real-time notifications and smart alerts and to control the humidity and environment temperature. Apart from it, IoMT apps provide benefits to families, patients, hospitals, physicians, and others in terms of monitoring blood pressures & heart rate.
Healthcare Wearable
Healthcare wearable like Google fit integration and iOS health kit is proof of technology advancement. These assets are used to remotely observe the patient's body data through sensors to avoid unwanted health issues and downfalls. It is also useful for real-time daily routine monitoring and check pulse, BP, heart rate, and so on. Patients can wear these smart electronic devices with micro-controllers close to their skin's surface to get accurate detection of any risk.
Blockchain Solutions for Hospital
Our app developers are taking a step further by providing Blockchain mobile healthcare app development services for protecting medical record access by any third party. Blockchain solutions also improve the interaction between doctor and patient and defend the integrity of pharmaceutical products. It allows patients individually to share their medical data with someone else via a shareable private key. It also helps in making the HIT more collaborative and interoperable.
Our Recent Works
Some of the esteemed projects we worked upon, to give you a glimpse of the way we work.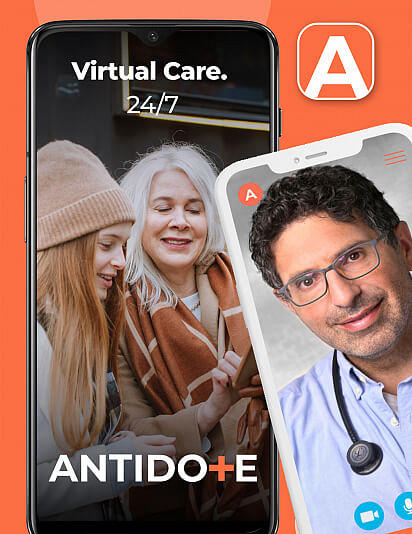 Antidote Health
Telemedicine App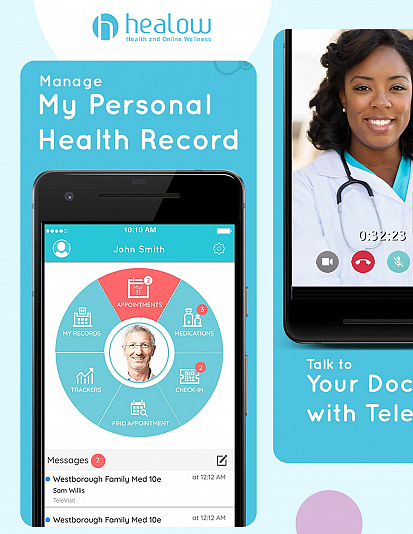 Healow
Health and Online Wellness
SkyMD
Your Online Dermatologist
Let's take this growing relationship to the next level.
View All Work
Features Included in Healthcare Tech Solutions
Right from automating all the processes to monitor patient's health, our innovative healthcare IT solutions have ultra-modern features to help the patients and hospital management.
Cost Management
Our Healthcare software developers provide the feature of maintaining the details of hospital resources along with hospital bills in hospital software. It is necessary to manage the overall cost that gets affected by irregular maintenance.
Medicine Alerts
This feature is essential for patients who often forget to take their medicines on time. It records the medicine name, time, and dose to be taken and sends a reminder to the patient at the exact time to make their health routine easier.
Payment Gateway
Being a top-notch medical app development company, we provide excellent payment gateway integration services. While booking doctor appointments from the medical app, users can pay via different payment gateways.
Analytics & Insights
We ensure to add this feature in our mobile healthcare software development services to track the patient's health. It is helpful to predict health issues as per the recorded data, and manage the disease by care & early diagnosis.
Automated Process
Our mhealth app developers integrate this feature to strengthen the health providers to monitor the patients and offer services like improved patient management, better efficiency, faster billing, and recovery of patient's data.
Integrated Email & SMS
Integration of SMS & Email enables patients to respond via text that is automatically directed to a particular email address. These text and email services are also useful to inform patients about vaccinations, appointments, and so on.
Wearable Devices
Being the best healthcare software development agency, we focus on providing wearable device connectivity such as smartwatches, fitness trackers, and others within our solutions for remote monitoring of patient's health.
Notifications & Alerts
As a leading healthcare app development company, we provide this feature in healthcare apps to inform the patients about their upcoming appointments or related medical details via sending a notification or alert tone.
Online Appointment
With online appointments, patients can find the doctor and can book their appointment in the most convenient way. It also takes the patient's additional information so that doctor can get prepared before the patient arrives.
HIPAA/HITECH Compliant
Our experienced medical app developers always build solutions that are abide by the HIPAA/HITECH act, following the standards of sensitive data protection. We are also stick to the certified medical-industrial standards.
Interoperability
We incorporate Interoperability in our healthcare applications that directly refer to the latest technologies adoption for patient care via enabling data sharing to accomplish the purpose of conveying personalized care.
Health Management
Population health management feature is used to integrate the information across all digital healthcare systems and collect the patient's data for analysis. The purpose is to predict diseases and managing them before they occur.
Want to revolutionize your business in the healthcare sector?
Get Customized Healthcare Solutions from Us
Let's Connect
Benefits to Get from Healthcare Software Solutions
Being a well-known healthcare mobile app development company, we offer the best possible healthcare services across diverse areas within the industry so that every healthcare provider and patient can get benefit from it.
Improved Clinical Accuracy
Healthcare apps provide clinical accuracy at a better level that comprises accurate diagnostic performance, receiving and processing patient feedback, medical record accuracy, and others.
Great Patient Experience
Patients get a better experience via online scheduling, appointment reminders, & confirmations as these make their life easier. We use patient satisfaction to a balanced extent, not as a driver for results.
Patient Documentation
Being a prominent medical software development company, we assure that the patient documentation covers the patient's diagnosis, their medical history, given treatment & care, and many other things accurately.
Paperless Work Process
Paperless work operations enable hospitals, patients, and others to keep all records online to save space, money, and easily transfer the data. It takes less time to maintain the data and boost the security.
Better Productivity
Our mhealth app developers provide healthcare apps that are helpful to raise productivity at hospitals with less effort. It identifies more chances to regulate healthcare spending growth and patient outcomes.
Clinical Care Results
Improved results imitate the impact of the healthcare services on the patient's health status. It includes three aspects to get improved outcomes that are- quality services, ease, and treatment environment.
Diverse Areas Who Get Benefits with Our healthcare Solutions
Being a top healthcare app development company, SemiDot Infotech aims to provide healthcare IT solutions not only for hospitals but for entire medical staff, doctors, patients, and many others.
Healthcare Institutions
Life Science Organizations
Individual Doctors & Practitioners
Hospitals & Clinics
Patient Care
Pharmaceutical Companies
Medical Stores
Health Insurance Companies
WHAT MAKES US DIFFERENT FROM THE COMPETITION
At our company, we focus on delivering you premium-quality healthcare app solutions to make your business the leading one in the healthcare industry. Our developers provide the essence of uniqueness in the developed ideas and elaborate it with the related features.
Mobile UX Proficiency
While providing mhealth app development services, we ensure to include impressive UX to provide you with responsive and multi-screen solutions that are also easy to use.
Healthcare Domain Understanding
We have experts who have years of experience to develop EHR, hospital & healthcare systems. These systems operate the complete organization and help in daily processes.
Experience in Big Data & BI
Our healthcare app developers have expertise and adeptness in big data & BI and they use it to get back heterogeneous data to custom dashboards available to healthcare providers.
Data Security & Privacy
We are a top healthcare development service provider who ensures full data security and compliance with the industry norms and standards including FDA, HIPAA, and many others.
Full Transparency and Reliability
Client satisfaction and get their trust is our priority and our experts make sure by following heath data privacy norms and executing biometric authentication, SSO, and other things.
Dedicated Working Environment
Being a healthcare application development company, we provide a well-protected and friendly environment to our developers for their productivity and proficiency enhancement.
Discuss Your Project with Our Specialists
We are interested in a long term partnership. When you hire SemiDot Infotech, you get a reliable partner for all your software development needs.
Let's Talk
FAQs
To take the confusion out of the air, we decided to make a short list of the most popular FAQs by our clients.
Cost estimation for mobile healthcare app development depends upon various components like app complexity, platforms, features, and many others. However, rough cost estimation will range between $20,000-$1,00,000, but it can vary based on these components.
There are various benefits to get from mobile healthcare software development that provides solutions for real-time and on-demand patient care, enhanced cost efficiency and time, and establish a direct connection between stakeholders.
SemiDot is renowned as a top custom healthcare software development company with an efficient and skilled team of designers and developers. We believe in quality services and have delivered over 300 healthcare apps that are successfully providing services to the healthcare industry.
There are several things to consider while designing and developing a mobile health app. We design the app including responsive and interactive UI/UX designs to help the medical staff to connect better. Our tech-advanced solutions have smooth functioning and the latest features that are beneficial to decrease efforts by healthcare providers.
Our efficient team of healthcare app developers builds all kinds of applications comprising ERP, CRM, patient care, hospital, mhealth, health monitoring, appointment booking, surgery, and many others to provide different services in the healthcare industry.
Skilled developers at our firm comprise cutting-edge technologies such as blockchain, artificial intelligence, virtual reality, and chatbots within the built healthcare software solutions to make things easier for patients and healthcare professionals.
Client Testimonial
I was pretty skeptical about outsourcing my project to a different country, but SemiDot proved to be even better than some of the companies I have worked with, within Europe. The prices they quoted were pretty decent, so I took the leap, and they delivered perfectly, and in time, what they promised.

Muhanad
Me and Harry (Business head of SDI) clicked instantly, thanks to our common passion towards Blockchain. They are currently working on a blockchain-based game for our company. Overall, Semidot Infotech is a complete package, low prices combined with top quality.

Carol
A Great design requires a team of enthusiasts, and these guys delivered exactly what I hoped for. Looking forward to continuing my partnership with Semidot Infotech. Give this company a try, as soon as you see their portfolio, you will know exactly what I had been talking about.

Bobby
Outsourcing a multi-million-euro project to a small company in India? You guys must be thinking I am joking. Well, I am not, Semidot Infotech is the complete package you would want for your project, they are truly client-centric, something which is very hard to find in today's world.

Neil Degg
We are doctors, and passionate about what we do, so one fine day, we decided to get an app for pregnancy needs. We came across Semidot through a friend who had previously worked with them, they delivered the app in just 2.5 months, which is something truly incredible.

Jamil & Idries
So, I came up with a one of a kind idea, and when most web development companies told me that's impossible in your budget, these guys proved to be my saviours. They not only made the web app per the requirements, but also scaled it, to be used by millions of users, and did all of it, in my budget.

Siegfried Gretzinger
The primary goal behind my project was to take my business online, and I really didn't expect or anticipate this much response from my customers. I have dealt with many web development companies in the past, and I can easily say that they have the expertise and resources to develop a good application.

Mario Thaler
My idea was brought to life with the help of these guys, it is all thanks to them, that my business could take off so smoothly. SemiDot has proved to be a great business partner, and Kapil (CTO of the company) has proved to be one of the greatest mentors I have ever come across.
Benjamin Buren
Our Featured Blogs
Want to know about the latest technology trends? You can find all of them here.
Interested in working with us?
LET'S TALK AND GET STARTED