Social Media App

Development Company

Streamline the way of interacting with people worldwide with the help of advanced social media app development solutions by SemiDot Infotech. Our app developers are committed to design and build potent social media platforms to endow your business.

Get A Demo
Social Media App Development Solutions
SemiDot Infotech offers custom social media platform development with a wide range of diverse solutions that boost customer engagement for business evolution.
Custom Social Networking
Every business wants to have a large base of audiences and user engagement by applying customized social networking web and mobile applications. Custom social networking will provide you better ways to connect with the outside world and grow your business rapidly.
Customized Facebook Applications
Being a top Facebook app development company, we offer completely customized Facebook apps along with broad-range service development and execution to have a huge user base. Through it, businesses will be able to get niche businesses on different Facebook sites easily.
Social Networking Analytics
Our social media site developers develop analytics tools to make you able to have information about your social campaigns that are collecting resources and data from different social media apps and websites. This collected data is used to make business decisions and strategies.
Messaging Apps
Various businesses are looking for WhatsApp clone app development solutions. We provide them Instant messaging apps with unlimited fun features like calling, emojis and GIF's sharing, easy messaging, and more. Our solutions take their social media app experience to the next level.
Image/Video Sharing
We are providing you with similar image/video sharing social media applications like Instagram, WhatsApp, or Snapchat including all the attractive features to grab your attention. Not even all these, our company also provides some advanced features and great application design.
Social Publishing Platforms
Augment your experience with our social publishing platforms comprising the latest features. We have social media app developers who will develop apps for micro-blogging and blogging sites so that you post your content there. Users can also make new friends and do chat with them.
Online Polling & Reviews
Businesses always prefer polling to collect any kind of data or information through research. People also like to engage themselves with online polls. Our delivered polling and reviews web and mobile apps make the user experience even more amazing with stunning UI/UX designs.
Social e-commerce
We offer social e-commerce app development services to provide users an ideal place to purchase things at lower rates. It is also called collective buying where a group of buyers buy a thing, seller sells it at a lower price. Our app solutions take it to the next level with great design.
Q&A Platforms
SemiDot Infotech develops cutting-edge Q&A app development solutions that perform well for people who are in-search to find answers to their questions and also, for those who want to increase their online presence via giving answers to other's questions and sharing their knowledge.
To make things hassle-free
We created 2 different panels with customer centric features
Signup or login
Profile setting
Post content
Edit or delete content
Create groups
Chat with friends
Add or search a friend
Newsfeed
Login
User management
Content management
Format management
Handle pages and groups
Backend support
Social media interactions
Badges management
Features You Will Get
We are known as a leading social network app development company because we provide salient features into our developed social media apps.
Newsfeed
We want all our audiences or app users not to miss a single update about anything, be it their friends, movies, sports, politics, gossips, and many more. That's the reason we provide a built-in news feed in all social apps.
Story Sharing
If you want to share your memorable moments with your friends or closed ones, do it with the 'story sharing' that lasts for 24 hours. You can also hide it from the people you don't want to show your story.
Hashtags
Social media Platform development solutions are all about providing a better reach to your content. Hashtags will help the users to search for relevant content by entering the popular hashtags on social media networks.
Filters & Emojis
Let's make boring conversations more fun by using amazing filters, stickers, GIFs and emojis that can be applied to images, text, live sessions, videos or stories to make them more interactive and attractive.
Live Streaming
Live streaming sessions are the best way provided by our social media application developers for users to interact with each other. You can go live with just one simple click and all your connections can see and hear you.
Voice Recording
No more interested in typing? Use this 'voice recording' feature by keep holding the button, and let the other person hear your voice. You can share your voice note with a specific person or with the group.
Profile Linking
What if you forget your account credentials? Don't worry we provide you another way that is linking your account with other social media network apps so that you can log in anytime anywhere via those accounts.
Push Notifications
Get notified or alerts whenever someone tagged you or mentioned you at some post or has sent you something or there is any other activity on your account. These activity notifications will alert you about everything.
Chatbots Integration
Chatbots or virtual assistants are useful to integrate in social networking apps as they provide a highly spontaneous and modified user experience that makes them feel someone is there to help at every stage.
Blockchain Integration
We offer users more secure social media portal development solutions integrated with Blockchain technology. Our website and app development services provide fair reward systems and reliable money transactions to users.
AI Integration
Applying Artificial Intelligence to social apps is supportive to make the stage more collaborative and communicative for users and other brands in real-time. Users will interact with your app for long if they will get a seamless experience.
AR Integration
Increasing the user activity rate at the social media app is the top priority of the owners. Augmented reality is very helpful to improve the user's activity and engagement rate by providing attractive camera effects.
Privacy Controls
Nowadays, Social network Development Company ensures to provide full privacy to the users. Hence, they incorporate strong authentication constraints and security to provide advanced safety and make the site reliable.
Image & Video Editing
Users always want to share good pictures of them; therefore, social media apps are providing various tools for image and video editing to attract more users. These tools include funny emojis, filters, and many others.
Real-time Messaging
Messaging is an integral part of social media development; thus, our offered innovative app solution includes direct message service between users in real-time to boost the user experience while using social networking apps.
Marketplace
At SemiDot Infotech, we provide social media app development services to get users to benefit from the social selling drift. It will let them endorse their services by providing them enlarged social media platforms.
Our Recent Works
Some of the esteemed projects we worked upon, to give you a glimpse of the way we work.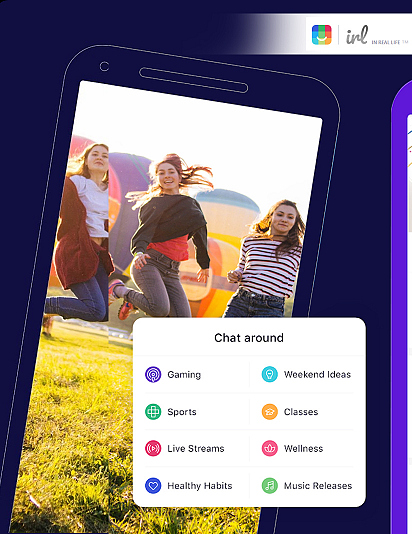 IRL
Social Media Platform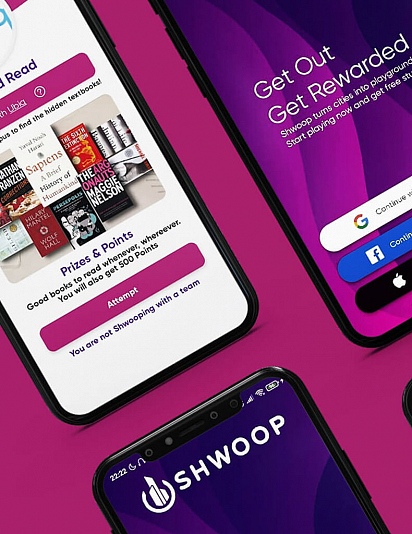 Shwoop
Interactive Adventure Platform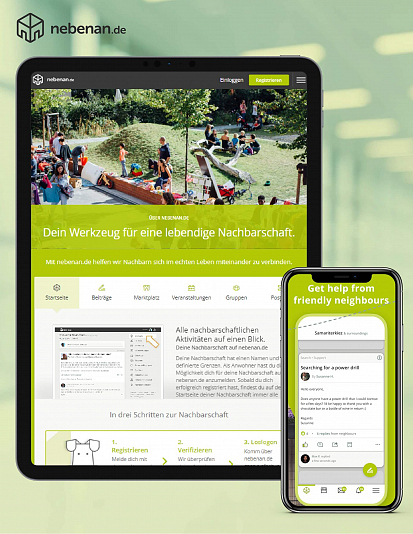 Nebenan.de
Connect with your neighbors
Let's take this growing relationship to the next level.
View All Work
Why Choose SemiDot for Social Media App development?
Enlarge your enterprise and boost customer satisfaction with our provided customizable social networking app development services including up-to-date development tools.
Convenient Solutions
As a prominent social media app development company, we aim to provide you with manageable and competent social media development solutions that reduce business challenges.
Professional Team
At our firm, we have a team of dedicated and skilled social media app developers & designers who provide high-end social networking solutions to clients to make them more advanced digitally.
Multichannel Methodology
Our Social media site developers make sure to provide the solutions with multichannel approach to enterprises to widen their service range to different platforms such as iOS, Android, IoT, and many more.
Latest Tools & Technology
Our developers keep up-to-date with the cutting-edge tools and technologies involving cloud computing, AR, VR, blockchain, and others to offer highly advanced solutions.
Quality Assurance
We guarantee our clients to deliver them with high-quality services and app solutions. Hence, our QA team tests the products to make them error-free and smooth-functioning before handing over it to you.
Best Price Guaranteed
Our company provides rich-featured and quality solutions at affordable prices in comparison to other app development companies to maintain long-term relationships with the clientele.
Extensive Support
We always stand by our clients to provide them assistance and clear all their doubts. Our developers leave no space for any problem and provide an amazing user experience.
Secure Infrastructure
We follow all the security compliances while developing social networking apps. Our all solutions are strengthened with reliable tools & technologies to make them trustworthy for business use.
Scalability
SemiDot Infotech completely understands the significance of growth chances and continuous variation in the businesses. Hence, we provide scalable business solutions to help you.
Engagement and Hiring Model
Don't let the budget impede the way to get reliable and advanced social media app development services. Go with one of our six different models.
Onsite
This model provides you a chance to hire social media app developers from us who can develop personalized social media apps from scratch, at your workplace.
Offsite
In this, we provide offshore social media development services to clients who want to outsource project. This model is flexible and inexpensive as well.
Hybrid
It is known as the best model as it comprises advantages of both onsite and offsite models to provide clients whatever they require.
Fixed Price
If clients have a limited budget and don't want to go beyond that, we offer them a fixed price model with pre-decided app development services.
Dedicated Hiring
Venture holders who need rapid and agile social media app development can go for this one as it is the best suit as per their requirements.
Hourly Basis
The 'Hourly basis' model is for those who prefer to hire social networking app developers and pays them as per hour. This model is beneficial and adaptable to them.
Discuss Your Project with Our Specialists
We are interested in a long term partnership. When you hire SemiDot Infotech, you get a reliable partner for all your software development needs.
Let's Talk
FAQs
Most popular questions by our clients, we decided to make a list for easing things at all ends.
The exact social media app cost depends upon various components right from features set, location to the technology stack. Hence, the development cost can be estimated around $20,000 to $50,000 depending on these aspects.
At present, people are fond of social networking applications as it is the best way to promote any product worldwide. It also provides you a chance to stay connected with your friends, so having the right social media development is always a good investment.
Being a leading social network app development company, we have completed 200+ projects successfully with the support of our experienced and proficient developers. We also provide scalable app solutions at an affordable price.
In social networking app development, multiple advanced features can be added such as chatbot, a news feed, live streaming, more privacy, profile customization, in-app chat and calling, multiple account access, etc.
Our social media application developers follow the development steps like research & analysis, wireframing, prototyping, features & functions, development & design, testing, and launch. We improve the app step-by-step and provide clients a quality solution in the end.
Client Testimonial
I was pretty skeptical about outsourcing my project to a different country, but SemiDot proved to be even better than some of the companies I have worked with, within Europe. The prices they quoted were pretty decent, so I took the leap, and they delivered perfectly, and in time, what they promised.

Muhanad
Me and Harry (Business head of SDI) clicked instantly, thanks to our common passion towards Blockchain. They are currently working on a blockchain-based game for our company. Overall, Semidot Infotech is a complete package, low prices combined with top quality.

Carol
A Great design requires a team of enthusiasts, and these guys delivered exactly what I hoped for. Looking forward to continuing my partnership with Semidot Infotech. Give this company a try, as soon as you see their portfolio, you will know exactly what I had been talking about.

Bobby
Outsourcing a multi-million-euro project to a small company in India? You guys must be thinking I am joking. Well, I am not, Semidot Infotech is the complete package you would want for your project, they are truly client-centric, something which is very hard to find in today's world.

Neil Degg
We are doctors, and passionate about what we do, so one fine day, we decided to get an app for pregnancy needs. We came across Semidot through a friend who had previously worked with them, they delivered the app in just 2.5 months, which is something truly incredible.

Jamil & Idries
So, I came up with a one of a kind idea, and when most web development companies told me that's impossible in your budget, these guys proved to be my saviours. They not only made the web app per the requirements, but also scaled it, to be used by millions of users, and did all of it, in my budget.

Siegfried Gretzinger
The primary goal behind my project was to take my business online, and I really didn't expect or anticipate this much response from my customers. I have dealt with many web development companies in the past, and I can easily say that they have the expertise and resources to develop a good application.

Mario Thaler
My idea was brought to life with the help of these guys, it is all thanks to them, that my business could take off so smoothly. SemiDot has proved to be a great business partner, and Kapil (CTO of the company) has proved to be one of the greatest mentors I have ever come across.
Benjamin Buren
Our Featured Blogs
Want to know about the latest technology trends? You can find all of them here.
Interested in working with us?
LET'S TALK AND GET STARTED