Robust Digital Wallet App Development Services
If you are thinking to embrace digital wallet app development solutions, nothing can be better than choosing SemiDot Infotech. We own a skilled team of eWallet developers and designers that have vast experience in providing secure and first-class digital wallet app development services. To date, our company has already facilitated a number of institutions and entrepreneurs with our full-featured and protected digital wallets helpful to lead their specific niche market. Our provided amazing wallets have been proven to be a real-time companion, coupled with a modern tech stack, flawless payment management features, high-standard security, and others.
Witnessing the continuous growth in the eWallet app market worldwide, we also strive to deliver efficient readymade, and white-label digital wallet solutions as per industry standards. Our team integrates cutting-edge technologies and best practices to make eWallet solutions worth using and create a cashless world. Being an experienced eWallet app development company, we will help you to obtain different online wallet apps such as banking eWallet solutions, standalone eWallet, in-vehicle payment wallets, and so on. We ensure to assist you throughout the development process to create a solution that will match your specific business requirements. Reach out to us to get an estimation of the online wallet app development cost.
End-to-End e-Wallet App Development Services
At SemiDot,we offer competent eWallet app development services to build advanced apps. Be it white-label or on-demand mobile wallet app development solutions,we ensure the use of modern-edge technologies at their best to create them.
Prepaid Mobile Wallet App Development
We have a top-notch team of proficient eWallet app developers having immense expertise & experience in prepaid mobile app development solutions. Our skilled developers build the solution with immense expertise while adding security features like ISMS, Burp Suite, soap, rest protocols, & so on.
Custom Mobile Wallet Programming
Being a reliable digital wallet development company, we have professionals to create custom mobile apps while integrating useful features into them. These features can be loyalty card tracking, receipt archiving & generation, reward points, & digital ID management comprising advanced security.
Cryptocurrency Wallet Development
SemiDot Infotech is known to offer the best Bitcoin wallet app development services along with other cryptocurrency wallet app solutions for different purposes such as trading and liquidating. We also provide amazing hardware wallets to store cryptocurrency offline securely and effectively.
Mobile Wallets for Merchants
We build customized mobile wallets specifically for merchants to help them manage different tasks easily. These business-focused solutions include features such as cost splitting, generating an invoice, ACH (automated clearing house) interfacing, time tracking, etc. compatible with multiple platforms.
Mobile Wallet Integration
Under mobile wallet integration services, we integrate open-source third-party APIs with mobile apps to make them more user-friendly. These APIs include Apple Pay, Google Play, Venmo, Samsung Pay, & others. Our team also integrates digital wallets along with POS software solutions.
Cross-platform Wallet
We offer native and cross-platform mobile wallet services comprised of user-friendly designs. Our cross-platform online wallet app development solutions contain multi-card management, social media management, and push notifications for near-field communication (NFC) transactions.
Closed Wallet Development
Creating a feature-rich closed wallet is one of our specialties. We have professionals who are looking forward to providing cloud-based private wallets integrated with POS and eCommerce. It helps customers to transact the funds only with their brand & nobody else.
Semi-Closed Wallet
At SemiDot Infotech, our semi-closed wallet development solutions feature multiple functions helpful for online payments including eCommerce purchases, bills, and other contactless payments, be it online or offline shopping. We also provide third-party APIs, QR, NFC, and OTP-based integrations.
Open Wallet Development
Our experts are focused on open wallet development solutions that benefit users to receive and send payments with just one click. These wallets are incorporated with the users' bank accounts right away. Before using these P2P solutions, users have to go through the ID verification process.
Looking for a leading digital wallet development company?
Facilitate your users with a modern way of transacting funds with our eWallet app development solutions.
Get Freed Consultation
Different Panels for e-Wallet Applications
Digital wallet development requires different and dynamic panels to control the app's functions easily. Being a well-known eWallet app development company, we also understand the importance of the right features in the app panels.
User Registration
Be it a custom or white-label digital wallet platform, we include an easy sign-up or registration process via social media accounts, fingerprints, or others. This feature helps to save a lot of time for users.
Link Bank Account
Users must link their bank account with the eWallet application to transfer the funds between bank accounts, merchants, or other users. Our app keeps their data secure following all security compliances.
Add Balance
eWallet app users can add the balance to their created app account to use it for online transactions. This feature allows them to easily pay the bills or send money to their contact by entering the pin.
Money Transfer or Receive
This feature in our eWallet solutions facilitates users with sending or receiving money via the app conveniently. The process can be done by scanning the barcode or entering the registered users' phone numbers.
Real-time Notifications
This feature helps users to get notified about eWallet app subscriptions, received or deducted account balances, cashback & offers, and more. This way users will not miss any important app updates.
Transaction History
Digital wallet users are enabled to view the past transactions they have made to date. Be it sending or receiving the money, they can check any transaction made anytime including details like a unique reference ID.
Simple Dashboard
Semidot Infotech excels in providing eWallet apps with an intuitive dashboard advantageous for merchants to view the overall funds & statistics including product purchases, sales, & transactions.
Add up the Products
Merchants can add up several products with their prices and other details to make the users know about them. During the digital wallet app development, our experts consider this feature to benefit the app owner.
Payment Tracking
We include this feature in our offered online wallet applications allows merchants to track all kinds of payments, be it sending or receiving funds. Businesses can effectively manage their customers.
EMI Payments
Vendors can offer options for EMI payment to application users and can also manage their whole records. Businesses can hire expert digital wallet app developers to enable this feature in their solution.
Unique QR Code
Customers can pay a particular vendor by using their assigned unique QR code. Every merchant can get a direct payment from the customer via this, and it is a must-included feature in the mobile wallet app.
Customer Management
It refers to tracking the customers and their proceed transactions. Being a leading Digital wallet development company, we include this feature to analyze their buying behavior to improve the suggestions.
Interactive Dashboard
We include a personalized dashboard in our digital wallet app development solutions, to manage the app activities & get insights like tracking online transactions by customers.
Bank Management
Users must connect their digital wallet to a bank. Here, the admin is allowed to handle all the added banks and their services along with adding or removing them within the application.
User Management
The app admin has the right to view & track all the app customers' activities including their transaction details. If the admin finds any user unsubstantiated, he/she can remove them.
Merchant Management
Customized offers and dedicated services can be improved for merchants via merchant management system. This feature also enables the app admin to add or delete merchants.
Usage Statistics
Our provided digital wallet solutions allow the admin to observe the app usage statistics to create more beneficial offers, programs, & app aspects to improve the user experience.
User Data Control
A digital wallet app consumes a lot of users' data that has to be removed by the admin. This feature helps to secure & categorize the user data separately and make great use of it.
Common and Advanced Features
Our offered mobile payment app development solutions are loaded with astonishing common and advanced features that guarantee high security and augmented user experience.
Password Protection
Other than app passwords, now users can keep their transactions secured with a one-time password option.
Categorization
This feature facilitates users to select the card type they want to use to add up money or process a transaction.
Check Ewallet Balance
Our digital wallet development solutions add this feature to enable users to often check their account balance.
Digital Receipt
To save the environment go paperless, and get the digital receipt for all your transactions, via email or message.
Backup Feature
Our auto-backup feature allows users to restore and retrieve all the lost data or any detail of the past transaction.
Gift Vouchers
It is a useful approach to boost user engagement as everyone likes getting rewards for each transaction they make.
Referral
Rewarding the user who refers your app to a friend is great to increase your audience base within a short span.
Portability
Digital wallets are easy to carry anywhere as these days no one steps out of their house without their phone.
Tokenization
Now users can easily add money to their eWallet apps from their debit or credit card with a one-time password.
Wearable Integration
Seeing the current trend, our eWallet apps can be easily integrated with all the supported wearable apps.
Cloud Integration
Storage should not be an issue for users using your app, so integrating cloud computing technology is a great option.
Data Synchronization
It facilitates users to link their valuable data from their smartphones and other bank accounts to their eWallet app.
Cloud Back-Up
This is useful to back up the large user database & transaction history automatically in cloud storage.
Near Field Communication
Users can authenticate & process the payment with an easy touch to the POS system via their phone.
iBeacon and Bluetooth
This feature helps users to perform faster & secure online transactions by just accepting the payment request.
Schedule Payments
With this feature, users can schedule payments for bills, mobile recharges, rent, etc. using our eWallet applications.
White-Label Digital Wallet Solution
In the current time, digital wallet app solutions have taken over the traditional payment system where users had to carry cash with them in order to purchase anything. Being the best eWallet app development company, we also deliver white-label digital wallet solutions that play a crucial role in changing the whole situation of cash transactions by benefitting both merchants and users in a certain way. At SemiDot, we offer a broad range of cutting-edge services related to white-label mobile wallet apps for different devices including Android, iOS, and wearables. We have expert and experienced developers who are dedicated and observe the market consistently to provide the best to our clients.
Our team has vast experience in providing efficient white-label eWallet solutions, some of our solutions are based on NFC integrations, Bluetooth & iBeacon technology, hybrid mobile wallets, QR code configuration, cryptocurrency wallets, and others. As a prominent online wallet app development company, we have delivered white-label digital wallet platforms to diverse industries like logistics, healthcare, retail, finance, banking, eCommerce, and many more. You can hire developers from us if you are looking for eWallet app development services now or in the future!
Request A Quote
Our Recent Works
Some of the esteemed projects we worked upon, to give you a glimpse of the way we work.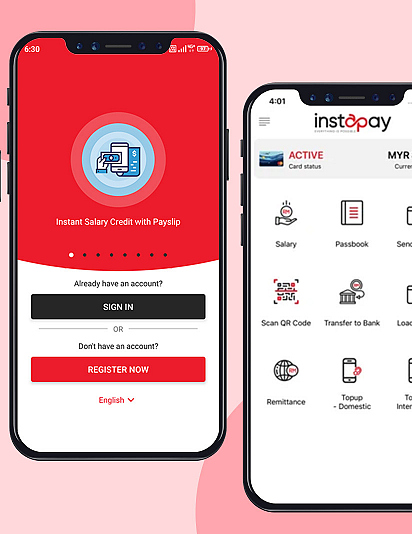 InstaPay
E-wallet and Pre-paid Mastercard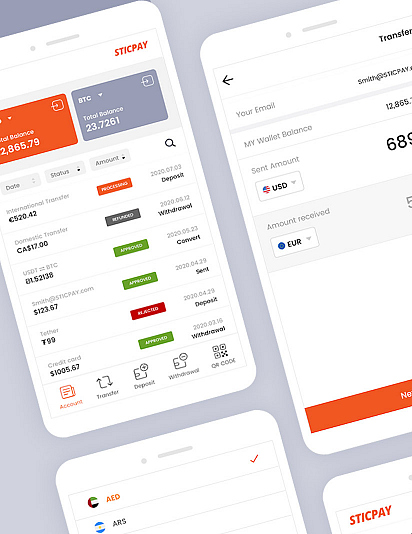 STICPAY E-Wallet
Money Transfer & Online Payments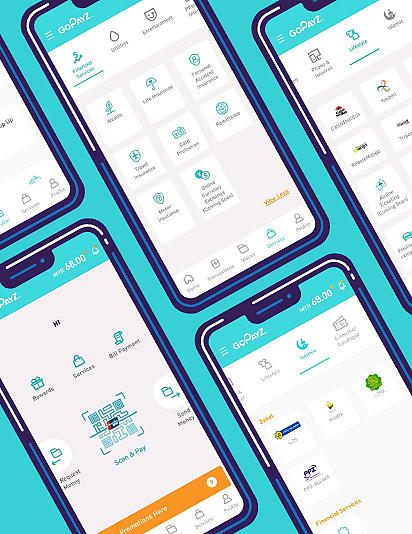 GoPayz
Digital Financial E-Wallet
Let's take this growing relationship to the next level.
View All Work
Step-by-step e-Wallet App Development Process
As a well-known eWallet app development company, we follow a step-by-step process to build a customized or white-label mobile wallet app. Our expert digital wallet app developers adhere to the below steps
Market Evaluation

Our team conducts deep market assessment and monitoring to plan the further digital wallet development process to deliver exceptional results.

App Prototyping & Design

The designer team provides a rough idea about the app design to get the final approval. Then, they work on the UI/UX design for a better experience.

App Development

Our mobile app development team follows a systematic method including back-end, APIs, and front-end to create a feature-rich eWallet solution.

QA Testing

After having the final eWallet app solution, it will be tested on different devices like Android, iOS, tablet, & others to check the bugs & compatibility.

App Launch

With this, the eWallet app will be released on the selected platforms, be it Apple App Store or Google Play store, or both to use by the audiences.

App Maintenance & Support

Our team will keep a constant watch on the app's functioning after the launch for a certain period. In case of any issue, we will solve it quickly.
Technology Stack to Include in e-Wallet App Development
We build highly secure and feature-rich eWallet app solutions with the help of a modern-edge technology stack. The included technologies & tools are helpful to make these apps extremely competitive and profound.
Kotlin

Swift

JavaScript

Dart

Laravel

Python

Node JS

PHP
Flutter

React Native

Xamarin
React.JS

Angular JS

HTML5

Mean
Realm

Firebase

SQLite

MongoDB

PostgreSQL

MySQL
WHY CHOOSE SEMIDOT FOR AN E-WALLET APP DEVELOPMENT SERVICES?
SemiDot Infotech is a prominent digital wallet app development company with the best mobile wallet app developers who strive to create robust eWallet apps and have expertise in both iOS wallet app development and Android wallet app development.
Transparency
Our team believes in establishing a long-lasting relationship with our clients. Therefore, they maintain transparency throughout the process with effective communication while providing eWallet app development solutions.
Secure & Fast Solutions
Our eWallet app developers strive for delivering the eWallet app with utmost security and safety. Thus, they adhere to industry guidelines and security compliances while following the best practices of mobile app development.
Better Time Management
Our team has immense experience and expertise that help them to understand the importance of time. They manage their time and efforts very effectively to design and develop the intuitive and feature-rich eWallet app.
Sign NDA
We always believe it is good to discuss things at the start of the project. Therefore, we sign an NDA between us and our client to avoid any kind of confusion or miscommunication during the eWallet app development procedure.
Expert Development Team
SemiDot owns a set of a skilled digital wallet development team that has delivered hundreds of projects in the past across different industries. We have deep knowledge of the latest technologies to create innovative solutions.
On-time Project Delivery
We completely value the clients' precious time; hence, we never delay our projects. Our dedicated team always acts as per the requirements, and that's the reason why we have always been successful in on-time project delivery.
ENGAGEMENT AND HIRING MODEL
For those business owners to whom budget can be a restrain, we have six different engagement and hiring models.
Onsite Hiring
Onsite hiring is best for people who are looking to get their eWallet apps developed right in front of them at their office.
Offsite Hiring
For those who are not looking to bear those overhead charges and headaches of supervision, this model works the best.
Hybrid Hiring
Hybrid model gives you the benefits of both onsite hiring and offsite hiring, so if you are looking for a mix of both, this is for you.
Fixed Price
Hire mobile wallet app developers to work for you in a fixed time and budget, as this model does not let you spend even a penny extra.
Dedicated Hiring
Hire dedicated mobile wallet app developers to work just on your project so that you can get your eWallet app developed just in time.
Hourly Basis
If you do not want to spend much on your mobile payment app development then this model lets you hire experts on an hourly basis.
Discuss Your Project with Our Specialists
We are interested in a long term partnership. When you hire SemiDot Infotech, you get a reliable partner for all your software development needs.
Let's Talk
FAQs
Most popular questions by our clients, we decided to make a list for easing things at all ends.
SemiDot Infotech assures you that our Digital Wallet app development solutions are secure and better protected. We provide improved security features and customer protection in comparison to standard payment methods. AML and KYC are integrated into the app and the provider can scan both the customer and vendors with the help of anti-fraud methods to alleviate risks. Other than that, we integrate Burp Suite, SOAP or REST protocols, and others to make the app secure.

We comprise beneficial features such as sign-up, bank account integration, add money or wallet top-up, passbook feature, money transaction, receive payment, bill payment, scanner, transaction history, digital receipts, reward management, customer & merchant management, push notifications, and many more into our eWallet apps.

Although eWallet apps are more relevant to the banking and finance sector but nowadays, it is not limited to just one sector. Many leading industries are also adopting mobile wallet app development services to get an effective solution. These industries include logistics, telecommunication, transport, retail, eCommerce, and so on.
We have skilled eWallet app developers who are proficient to develop all kinds of applications. We can develop mobile wallets such as closed, semi-closed, open, IoT, crypto, custom wallets, and others.
The major components that are responsible to vary E-wallet app development cost are UI/UX design, app features, platform, and functionalities. Based upon these, the cost to develop an E-wallet app will be around $10,000 to $40,000. The exact cost can be different as per the diverse requirements.

Being a leading online wallet app development company, we always provide easy-to-use and navigate solutions. To use the app, users must go through these steps-
- Register for the app by entering details.
- Then, enter the card information into the app.
- They can also add money to the app wallet.
- To make a payment, they must scan the merchant's barcode or enter their linked number with their account.
- Then, users can enter their pin or scan the thumbprint or retina to process the payment.
- Merchants can also have their unique barcode to get the payment within their associated bank account with the app.
- All the information of customers and merchants will be secured with the eWallet app.
To develop a scalable and feature-rich mobile wallet app, our expert developers follow the below procedure:
Identify the market and budget planning
App prototyping & UI/UX design
Back-end development
App testing
Launch & maintenance
On average, our professional and skilled eWallet developers take around 2-3 months to create an eWallet application. Further, it depends on the app requirements that can differ the estimated app development time.

Firstly, you should start with taking permission and a relevant license from the appropriate financial compliance authority. Also, set a limit for your project budget. Then, you must choose a reliable eWallet app development firm with years of experience to take services from. After that, you need to cooperate with them in every step of development to launch your digital wallet app successfully.

Interested in working with us?
LET'S TALK AND GET STARTED