eWallet App Development solution
At SemiDot, we offer both customized and on-demand mobile wallet app development solutions that are highly secured. Our team uses the latest tools and technologies and strives to deliver best-in-class mobile wallet services for business of all kinds.
Prepaid Mobile Wallet App Development
We have a top-notch team of proficient eWallet app developers having immense expertise in prepaid mobile app development.
Custom Mobile Wallet Programming
We are known to create customized eWallet app development solutions that are perfectly designed and developed according to your needs.
Cryptocurrency Wallet Developments
We are known to offer the best bitcoin wallet app development services and other cryptocurrency wallet development solutions.
Mobile Wallets for Merchants
For businesses that are looking to offer a hassle-free checkout experience to their users, we create merchant mobile wallets.
Mobile Wallet Integration
Our mobile wallet experts are technically skilled and have extensive knowledge of integrating Near Field Communication and other APIs.
Cross-Platform Mobile Wallet Services
Be it Android wallet app development or iOS wallet app development, we create feature-rich and secured eWallets for both platforms.
For unrestrained user experience
We created 2 different panels with customer centric features
User Management
Analytics
Detailed Cash Report
Intuitive Dashboard
Users Data Control
Contact Management
Change Password
Extensive Support
Add New Features
Block Features
Create Deals and Offers
Verification and Authorization
Profile Creation
Easy Registration
Add Cash
Easy Cash Transfer
Receive Money
Send Money
Link Bank Accounts
Transaction History
Check Balance
Pay Bills
See Offers and Deals
Invite Friends
Mobile Wallet App Development Features
Our mobile payment app development solutions are loaded with astonishing features that ensure maximum security.
Password Protection
Other than app passwords, now users can keep their transactions secured with a one-time password option.
Categorization
The categorization feature allows users to choose the type of card they want to use to add money or any other transaction.
Push Notifications
This feature notifies the users about all the latest offers, promotions, transactions, rewards, or even the slightest activity.
Digital Receipt
To save the environment go paperless, and get the digital receipt for all your transactions, via email or message.
Backup Feature
Our auto-backup feature allows users to restore and retrieve all the lost data or any detail of the past transaction.
Gift Vouchers
This is a great way to increase user engagement, as who does not like getting rewards for every transaction they make.
Referral
By rewarding the user who refers your app to a friend is a great way to increase your user base within a short span.
Portability
Digital wallets are easy to carry anywhere as these days no one can step out of their house without their phones.
Tokenization
Now users can easily add money to their eWallet apps from their debit or credit card with a one-time password.
Wearable Integration
Seeing the current trend, our eWallet apps can be easily integrated with all the supported wearable apps.
Cloud Integration
Storage should not be an issue for users using your app, so integrating cloud computing technology is a great option.
Data Synchronization
This feature facilitates users to sync their important data from their mobile numbers and other accounts to their eWallet app.
Geo-Location
We integrate Geolocation and GPS features in all our eWallet apps so that users can transact easily with their nearby friends.
In-App Camera
The in-app camera lets users easily scan the QR codes to make and receive payments to the merchants and their friends.
Virtual Cards
Just like the actual debit and credit cards, users can now create virtual cards and can use them to make payments.
Schedule Payments
Using our eWallet apps, users may now schedule the payments that they have to make either for bills, mobile recharges, etc.
Our Recent Works
Some of the esteemed projects we worked upon, to give you a glimpse of the way we work.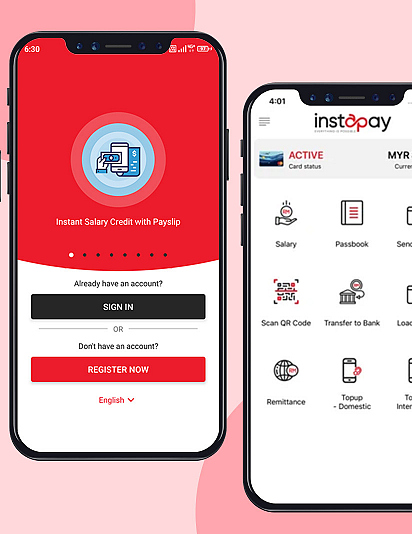 InstaPay
E-wallet and Pre-paid Mastercard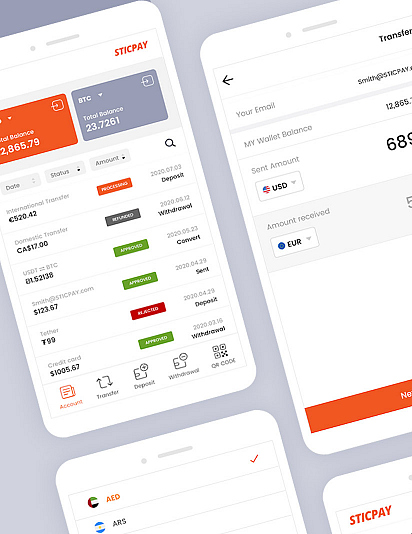 STICPAY E-Wallet
Money Transfer & Online Payments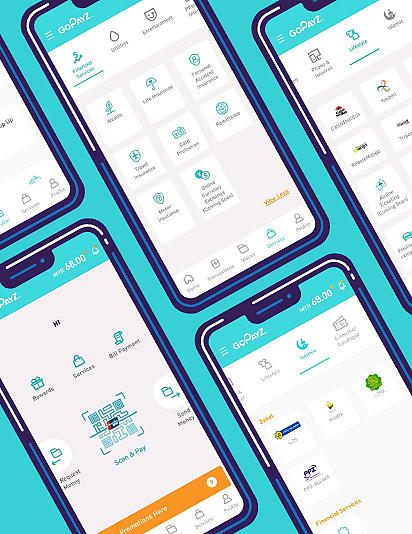 GoPayz
Digital Financial E-Wallet
Let's take this growing relationship to the next level.
View All Work
Why Choose Us for eWallet App Development Solution?
We have some of the best mobile wallet app developers who strive to create robust eWallet apps and have expertise in both iOS wallet app development and Android wallet app development.
Intuitive Interface
Our team endeavors to create an intuitive and user-friendly interface for an enhanced user experience.
Hassle-free Payments
We ensure that all our mobile wallet solutions are free from any error for smooth transactions.
Easy to Use
At SemiDot, we understand the need to create simple yet attractive digital wallet apps that are easy to use.
Transparency
We believe in maximum safety and hence our eWallet app development solutions are transparent and discoverable.
Secure Transactions
Our eWallet app developers strive for utmost security and safety and follow the best practices of app development.
Effective Time Management
Our team has immense experience and expertise and understands the need to develop and deliver your eWallet app on time.
ENGAGEMENT AND HIRING MODEL
For those business owners to whom budget can be a restrain, we have six different engagement and hiring models.
Onsite Hiring
Onsite hiring is best for people who are looking to get their eWallet apps developed right in front of them at their office.
Offsite Hiring
For those who are not looking to bear those overhead charges and headaches of supervision, this model works the best.
Hybrid Hiring
Hybrid model gives you the benefits of both onsite hiring and offsite hiring, so if you are looking for a mix of both, this is for you.
Fixed Price
Hire mobile wallet app developers to work for you in a fixed time and budget, as this model does not let you spend even a penny extra.
Dedicated Hiring
Hire dedicated mobile wallet app developers to work just on your project so that you can get your eWallet app developed just in time.
Hourly Basis
If you do not want to spend much on your mobile payment app development then this model lets you hire experts on an hourly basis.
Discuss Your Project with Our Specialists
We are interested in a long term partnership. When you hire SemiDot Infotech, you get a reliable partner for all your software development needs.
Let's Talk
FAQs
Most popular questions by our clients, we decided to make a list for easing things at all ends.
SemiDot Infotech assure you that our Digital Wallet app development solutions are secure and better protected. We provide improved security features and customer protection in comparison to standard payment methods. AML and KYC are integrated into the app and the provider can scan both the customer and vendors with the help of anti-fraud methods to alleviate risks.

These must-add features comprise sign-up, bank account integration, add money or wallet top-up, passbook feature, money transaction, receive payment, bill payment, scanner, and many more.

Although it is more relevant to the banking and finance sector nowadays, most industries are adopting mobile wallet app development services. These industries include logistics, telecommunication, transport, retail, and so on.
We have skilled eWallet app developers who are proficient to develop all kinds of applications. But some of our specific mobile eWallet solutions are integrated with the QR code, Bluetooth technology, and near communication field (NFC).
The major components that are responsible to vary mobile E-wallet app development costs are UI/UX design, app features, platform, and functionalities. Based upon these, the overall cost of an E-wallet will be around $10,000 to $40,000. The exact cost can be different as per the diverse requirements.

There are various apps in the market developed by our eWallet app development company, and people love to use them and being cashless. These apps are adopted at a large level due to their security and ability to transfer money quickly and easily. Users can also transfer the money to the integrated app wallet.
Client Testimonial
I was pretty skeptical about outsourcing my project to a different country, but SemiDot proved to be even better than some of the companies I have worked with, within Europe. The prices they quoted were pretty decent, so I took the leap, and they delivered perfectly, and in time, what they promised.

Muhanad
Me and Harry (Business head of SDI) clicked instantly, thanks to our common passion towards Blockchain. They are currently working on a blockchain-based game for our company. Overall, Semidot Infotech is a complete package, low prices combined with top quality.

Carol
A Great design requires a team of enthusiasts, and these guys delivered exactly what I hoped for. Looking forward to continuing my partnership with Semidot Infotech. Give this company a try, as soon as you see their portfolio, you will know exactly what I had been talking about.

Bobby
Outsourcing a multi-million-euro project to a small company in India? You guys must be thinking I am joking. Well, I am not, Semidot Infotech is the complete package you would want for your project, they are truly client-centric, something which is very hard to find in today's world.

Neil Degg
We are doctors, and passionate about what we do, so one fine day, we decided to get an app for pregnancy needs. We came across Semidot through a friend who had previously worked with them, they delivered the app in just 2.5 months, which is something truly incredible.

Jamil & Idries
So, I came up with a one of a kind idea, and when most web development companies told me that's impossible in your budget, these guys proved to be my saviours. They not only made the web app per the requirements, but also scaled it, to be used by millions of users, and did all of it, in my budget.

Siegfried Gretzinger
The primary goal behind my project was to take my business online, and I really didn't expect or anticipate this much response from my customers. I have dealt with many web development companies in the past, and I can easily say that they have the expertise and resources to develop a good application.

Mario Thaler
My idea was brought to life with the help of these guys, it is all thanks to them, that my business could take off so smoothly. SemiDot has proved to be a great business partner, and Kapil (CTO of the company) has proved to be one of the greatest mentors I have ever come across.
Benjamin Buren
Our Featured Blogs
Want to know about the latest technology trends? You can find all of them here.
Interested in working with us?
LET'S TALK AND GET STARTED