Reasons to consider

Wearable App Development Services for your business

The world of technology is changing tremendously. Each day marks the beginning of a new invention that helps make our life easy. Wearable apps are one of them. They are currently talk of the town and are loved by everyone, irrespective of the age group. Wearable devices offer a whole new experience and are quite popular in the field of health, fitness, retail, finance, and many more. Smart watches and glasses like Apple Watch, Android Wear, Smart Glass, and Fitness Bands, have taken the world by storm, and their popularity is only increasing with time. With wearable apps getting immense popularity today, there is no doubt in wearable app development services, being in such high demand.

SemiDot is one of the top-rated wearable app development company in the US and globally. Our expertise in the wearable device app development services, along with dedication, knowledge, and willingness to explore new possibilities, helps us to develop unique and innovative apps for our clients. We have a team of highly proficient and experienced wearable app developers, who have excellent command over the same. Our certified experts make sure that the solutions they develop not only help you in making your daily life easy but also, work flawlessly. Our solutions help you to stay ahead of the competition.
Our Wearable App Development Services
As a leading wearable app development company, we have the expertise in developing various wearable app development solutions.
IoT implementation
Hire wearable app developers who have immense expertise in creating fully-functional, robust, scalable, and impeccable wearable apps by implementing and integrating the IoT devices with wearables.
AR Integration
Our experienced wearable app developers can simply translate your ideas to integrate the technology of Artificial Intelligence and create a solution this has distinctive features and engaging functionalities.
WatchOS app development
We are known for best-in-class Apple watch app development services. Our experts create develop engaging and intuitive apps, with some smart features, that help you stay connected with your iOS device.
Wear OS app development
Our wearable app experts create immersive and fully-functional apps, with complex features like call management, notifications, display controls, Bluetooth and many more, which are compatible with your Android devices.
Smart Glass App Development
We have a dedicated team of wearable device developers, which work on Smart Glass App development for devices like Google Glasses, are highly capable of handling any challenges that arise while working on this technology.
Fitness App development
Everyone wants to stay fit and healthy. Our developers have successfully developed fitness apps to monitor your heart rate, calculate the no. of steps, and many more, that are compatible with both Android and iOS devices.
Discuss Your Project with Our Specialists
We are interested in a long term partnership. When you hire SemiDot Infotech, you get a reliable partner for all your software development needs.
Let's Talk
Need for Wearable App Development Services
Wearable devices have made our life a lot simpler. Be it in a field of fitness or smart watches, people love using wearable devices. They are not only loved by the users using these devices, but businesses are also being benefitted by them in a number of ways, here are some reasons why businesses need these solutions.
Portability
People love wearing these wearable devices as they are highly portable and can be carried easily.
Easy-to-use
The development of wearable devices makes it easy for users to use the applications of their choice.
New possibilities
Wearable devices pave the way for a lot of new possibilities for both the users and businesses.
Futuristic Approach
Wearable app development is the futuristic approach and lets you stay updated with the market trends.
Market Presence
They help you stand out from the pool of competitors and expand your business and its market presence.
Increase in Revenue
Now it's not just about smart phones, people love to buy eyewear, smart watches, fitness bands, etc.
Our Recent Works
Some of the esteemed projects we worked upon, to give you a glimpse of the way we work.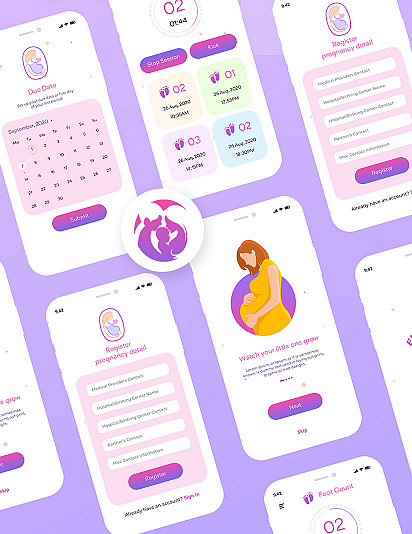 Everything Pregnancy
Your Personal Bump Journey Mobile App
Jack'd
You are Jack'd - Be Yourself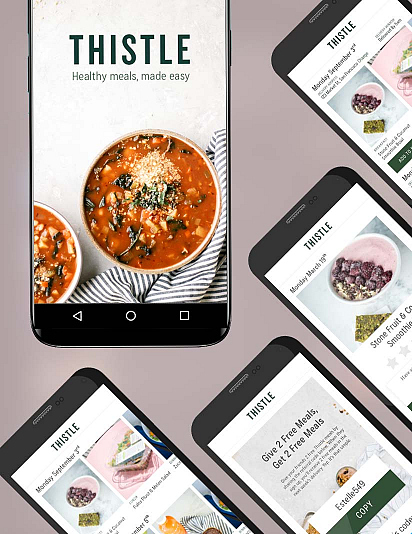 Thistle
Organic Food delivery
Let's take this growing relationship to the next level.
View All Work
Industries We Serve
Our wearable app development services are focused on a number of industries, some of them are:
WHAT MAKES SEMIDOT THE RIGHT CHOICE FOR WEARABLE APP DEVELOPMENT SOLUTIONS
Technology and innovation is what that keeps us ahead of our competitors, and our clients love us for this
Technical Knowledge
Our wearable app developers are highly skilful in creating advance wearable app solutions using the latest technologies.
Competitive Pricing
At SemiDot, our wearable app experts strive to offer best-in-class services, that too at the most competitive prices.
Custom Solutions
We have a team of certified wearable app developers who have years of experience in creating custom wearable solutions.
Least turnaround time
We have expertise in developing even the most complex solutions within the least turnaround time possible.
NDA
Our experts understands the need of keeping all your project details confidential, we have a strict NDA for this.
Post-delivery Support
We offer three months of support and maintenance services to our clients. This is to ensure maximum work quality.
FAQs
For wearable device app development, an extensive research is done by our top wearable app developers.
Wearable app development has taken the world by storm. These devices are very famous among the youth as it makes their daily life easy. This technology is very much famous for health monitoring through fitness devices and apps and for keeping the patients connected with doctors. Now even businesses are investing in these wearable apps to keep a track of their employees and to always staying connected with them.
Wearables are based on sensors that are embedded in devices like watches, glasses, bands, etc. These wearable devices are capable of tracking information on a real-time basis and send the signals and the data to your connected smart app, allowing the user to use it. If you are looking to get a wearable app developed, you can hire wearable app developer, who can help implement your idea into reality.
Wearable apps are those applications that run on the connected wearable devices, just like your mobile apps that are capable of performing specific functions for the users. For example, fitness apps help keep track of your physical activities and measure the parameters such as heart rate, pulse, and more.

The wearable app development cost depends on the complexities involved and the time taken to develop the app that you want to have. Obviously, the cost will be higher if you want a complex app with advanced features, and if you are looking to have a simple and basic app the cost will be comparatively low.

Yes. At SemiDot, we have a dedicated and highly experienced team of wearable app developers who have expertise in creating Android and iOS wear applications. They have successfully developed a number of highly advanced apps, that are compatible with Android and iOS devices, and also experts who have experience in other wearables development.

SemiDot is the top-rated wearable app development company. We house some of the best wearable app developers who have been working in this industry for quite a long time. Our experts are highly efficient and are well acquainted with all the latest technologies and trends. We strive to deliver the project within the stipulated timeframe, that too without any error. To ensure that our solutions are bug-free, and our clients face no issues, we also offer 90 days of support and maintenance service, without charging anything extra.

Client Testimonial
I was pretty skeptical about outsourcing my project to a different country, but SemiDot proved to be even better than some of the companies I have worked with, within Europe. The prices they quoted were pretty decent, so I took the leap, and they delivered perfectly, and in time, what they promised.

Muhanad
Me and Harry (Business head of SDI) clicked instantly, thanks to our common passion towards Blockchain. They are currently working on a blockchain-based game for our company. Overall, Semidot Infotech is a complete package, low prices combined with top quality.

Carol
A Great design requires a team of enthusiasts, and these guys delivered exactly what I hoped for. Looking forward to continuing my partnership with Semidot Infotech. Give this company a try, as soon as you see their portfolio, you will know exactly what I had been talking about.

Bobby
Outsourcing a multi-million-euro project to a small company in India? You guys must be thinking I am joking. Well, I am not, Semidot Infotech is the complete package you would want for your project, they are truly client-centric, something which is very hard to find in today's world.

Neil Degg
We are doctors, and passionate about what we do, so one fine day, we decided to get an app for pregnancy needs. We came across Semidot through a friend who had previously worked with them, they delivered the app in just 2.5 months, which is something truly incredible.

Jamil & Idries
So, I came up with a one of a kind idea, and when most web development companies told me that's impossible in your budget, these guys proved to be my saviours. They not only made the web app per the requirements, but also scaled it, to be used by millions of users, and did all of it, in my budget.

Siegfried Gretzinger
The primary goal behind my project was to take my business online, and I really didn't expect or anticipate this much response from my customers. I have dealt with many web development companies in the past, and I can easily say that they have the expertise and resources to develop a good application.

Mario Thaler
My idea was brought to life with the help of these guys, it is all thanks to them, that my business could take off so smoothly. SemiDot has proved to be a great business partner, and Kapil (CTO of the company) has proved to be one of the greatest mentors I have ever come across.
Benjamin Buren
Our Featured Blogs
Want to know about the latest technology trends? You can find all of them here.
Interested in working with us?
LET'S TALK AND GET STARTED