Video Streaming App

Development Company

SemiDot Infotech houses some of the best video streaming app developers that have expertise in live video streaming app development for both iOS and Android platforms.

Get A Demo
Looking For Video Streaming App?
Our Video On Demand App Development Solutions
We not only aim to create intuitive video streaming app design that is loved by users but also focus on creating high-performing live streaming app development solutions that not only offers impeccable user experience but also can drive revenue.
Transactional Video-on-demand
Our video streaming app development solutions include transactional VOD solutions where users have to pay only for the section.
Advertise Based Video-on-demand
A live-streaming app development solution where users can watch the videos for free and with views instead of paying via money.
Subscription Video-on-demand
We create video streaming apps where users can watch their favorite shown by subscribing to the service for the entire month.
Near Video-on-demand
We have expertise in creating near video-on-demand solution, which facilitates users to watch their favorite and pay-per-view.
Push Video-on-demand
With this mobile streaming app development solution, users can not enjoy downloading their shows and watch them anytime later.
Catch-up TV
Out catch-up TV solution let users watch their favorite TV shows on their live streaming apps without worrying about advertisements.
To enhance the user experience
We created 2 different panels with customer centric features
Upload a single video 
Upload multiple video
Prewatch video
Add Videos and albums
Delete Videos and albums
Edit Videos and albums
User Management
Create Ads
Manage Memberships
Push Notifications
Unlimited video streaming
Create video playlist
Download videos
Like and share videos
In-app purchase 
Search videos
Search by artist name 
Play videos in the background
Create users' profile
Multiple filters
Push Notifications
Online Video Streaming App Development Features
All our live video streaming app solutions are full of outstanding features that ensure maximum engagement and user retention.
Intuitive Design
For both android video streaming app development and iOS streaming app development, we create highly intuitive designs.
Various Categories
We have thousands of categories included in our video streaming app for users to find their favorite videos and enjoy watching.
Advanced Settings
An advanced settings menu that facilitates users to change and set the app settings according to the preferences they like.
Push Notifications
In-app notification to inform users about the new shows, videos, and even the latest deals and discounts on their subscription.
Download Videos
For users to download their favorite videos and watch them later anytime they like is a great feature to have in your app.
Deals and Discounts
If you are planning for media streaming software development giving users deals and discounts is a must-have option.
Security
Allowing users to create their own profile and secure their login credentials with a one-time password can ensure security.
Prime Memberships
You can also offer two types of memberships: basic and prime and give different services to them, prime having some additional benefits.
Cloud Computing Integration
To make your app run better and faster, you need to solve the issue of data storage and what better than cloud computing solutions.
Template Customization
Users love customizing their app based on their preference allowing them to do so is a great feature to offer in your video streaming app.
Child Lock
This is a must-have feature these days as there is a lot of content that is available online, which users do not want their children to watch.
Advanced Filters
Allowing users to search their favorite shows and videos by the name of the artist, category, or even music is a great feature to offer.
Screen Sharing
Screen sharing is a great feature as it makes video streaming much easier, especially for online learning or any video related to tutorials.
Comments Section
Our Video streaming app development solutions have a comment section for users to express their views on the video they watched.
Artificial Intelligence
Integrating AI in your live video streaming app development allows your app to suggest users' videos based on their history and mood.
Social Sharing
Users love sharing their favorite videos and songs with their friends, and this feature lets users share them via social media channels.
Our Recent Works
Some of the esteemed projects we worked upon, to give you a glimpse of the way we work.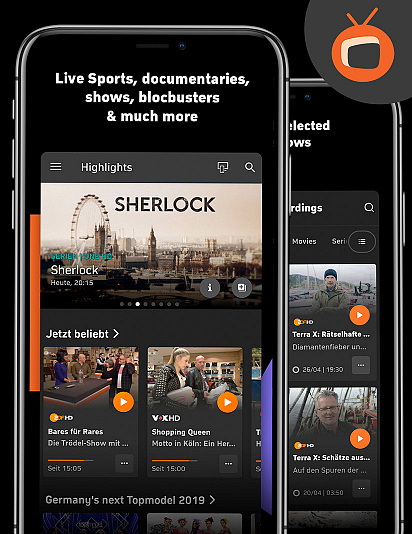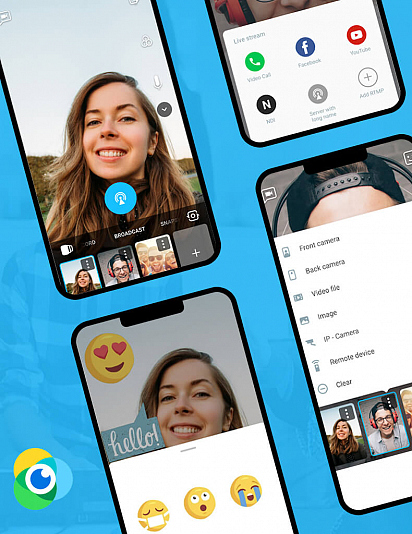 ManyCam
Live video software & Virtual Webcam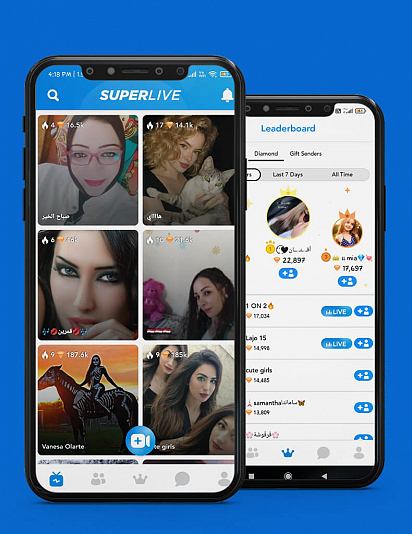 SUPERLIVE
Video-streaming Social Network
Let's take this growing relationship to the next level.
View All Work
Why Choose Us for Live Streaming App Solution?
We house some of the best developers having expertise in both iOS streaming app development and Android streaming app development and can create the apps the way you want.
Video Streaming App like YouTube
We have expertise in creating an app like YouTube so that users can not only view videos but can also upload them.
Video Streaming App like Vimeo
We have developers who have experience in creating apps like Vimeo for users to enjoy high-quality video streaming.
Video Streaming App like Netflix
Apps like Netflix are a huge hit these days and we have a perfect video streaming app development team to create such apps.
E-commerce Live Streaming Development
Looking for the functionality of live video streaming integration into your e-commerce apps, we have a skilled team for this.
Live Video Streaming Apps like Amazon
Amazon Prime has everything that users want to see these days and we can help you in creating an app like Amazon Prime.
TV Streaming Apps
Users like watching their favorite shows on these video streaming apps and we create feature-rich, high revenue apps like these.
VOD App Development
There is a huge demand for on-demand video streaming apps these days and we have a dedicated development team for this.
Video Streaming Apps like Apple TV
Our developers can also help you in developing video streaming apps like Apple TV for users to watch high-quality videos.
Video Streaming Apps like Hotstar
We have expertise in creating apps like Hotstar that not only allow users to watch their favorite videos but download them too.
ENGAGEMENT AND HIRING MODEL
To let you enjoy the benefits of live streaming app development, SemiDot offers various engagement and hiring models.
Onsite Hiring
This model lets you get everything done right from the customization or even getting your app developed, right in front of you.
Offsite Hiring
Do not want to take the burden of getting everything developed at your office, using this model you can outsource the developers.
Hybrid Hiring
Enjoy the benefits of both the onsite and offsite business model and get the video streaming app developed the way you want it.
Fixed Price
Running short of time? This model will allow you to get your live video streaming app developed in a fixed budget and time.
Dedicated Hiring
Hire dedicated video streaming app developers who will be specifically working on your project to ensure speedy development.
Hourly Basis
One of the most preferred models, you can hire live streaming app developers and pay only for the number of hours they work.
Discuss Your Project with Our Specialists
We are interested in a long term partnership. When you hire SemiDot Infotech, you get a reliable partner for all your software development needs.
Let's Talk
FAQs
Most popular questions by our clients, we decided to make a list for easing things at all ends.
The cost evaluation of a video-on-demand app development solution depends upon a lot of different factors and according to them, it can be estimated that the overall cost will be around $15,000 to $50,000. However, it can differ as per the app complexity, location, features, and so on.

Yes, you can integrate live streams into mobile apps by having some of the essential things including selecting an appropriate programming language, having a CDN, choosing the best hosting service, and media processing software.

If you don't want to hire video streaming app developers, then here are the steps to follow to develop a live video streaming app- go for an online video host, download SDK for Android and iOS both if you want both apps, load the SDK to the mobile development software, and just begin the app development by including essential features.

Yes, there are different APIs such as Node.js for adjusting server logic, DaCast's APIs and SDKs are for feature integration in ready-made streaming into the app, and Wowza for optimizing video bitrates. Twilio helps premade entities to provide a live chat option along with users and messages that are also used by developers in our video streaming app development company.

The majority of the people online and prime US TV channels love to upload videos as they are earning more and more with the subscription, paid apps, and other live consultations. These video streaming apps have become their main source of income.

These live video streaming app Development solutions act as a medium between streamers and audiences. It is popular because users can ask their queries and get quick feedback too. Streamers also get a large base of audiences easily with high-quality videos and users get a chance to enjoy their favorite content.

Client Testimonial
I was pretty skeptical about outsourcing my project to a different country, but SemiDot proved to be even better than some of the companies I have worked with, within Europe. The prices they quoted were pretty decent, so I took the leap, and they delivered perfectly, and in time, what they promised.

Muhanad
Me and Harry (Business head of SDI) clicked instantly, thanks to our common passion towards Blockchain. They are currently working on a blockchain-based game for our company. Overall, Semidot Infotech is a complete package, low prices combined with top quality.

Carol
A Great design requires a team of enthusiasts, and these guys delivered exactly what I hoped for. Looking forward to continuing my partnership with Semidot Infotech. Give this company a try, as soon as you see their portfolio, you will know exactly what I had been talking about.

Bobby
Outsourcing a multi-million-euro project to a small company in India? You guys must be thinking I am joking. Well, I am not, Semidot Infotech is the complete package you would want for your project, they are truly client-centric, something which is very hard to find in today's world.

Neil Degg
We are doctors, and passionate about what we do, so one fine day, we decided to get an app for pregnancy needs. We came across Semidot through a friend who had previously worked with them, they delivered the app in just 2.5 months, which is something truly incredible.

Jamil & Idries
So, I came up with a one of a kind idea, and when most web development companies told me that's impossible in your budget, these guys proved to be my saviours. They not only made the web app per the requirements, but also scaled it, to be used by millions of users, and did all of it, in my budget.

Siegfried Gretzinger
The primary goal behind my project was to take my business online, and I really didn't expect or anticipate this much response from my customers. I have dealt with many web development companies in the past, and I can easily say that they have the expertise and resources to develop a good application.

Mario Thaler
My idea was brought to life with the help of these guys, it is all thanks to them, that my business could take off so smoothly. SemiDot has proved to be a great business partner, and Kapil (CTO of the company) has proved to be one of the greatest mentors I have ever come across.
Benjamin Buren
Our Featured Blogs
Want to know about the latest technology trends? You can find all of them here.
Interested in working with us?
LET'S TALK AND GET STARTED