Why we are preferable as a top chat app development company?
With the ongoing demand to stay updated with cutting-edge technologies and solutions, businesses are trying to cope with the latest trends to earn maximum profit. Online messaging app development is providing them a way to get profit by investing in this sector. Enterprises are eagerly looking for a reliable chat app development company that can provide them with proficient solutions. To stay apart from the excessive competition, businesses must add eccentric features & functionalities to their chat app. That is the reason why our marketing team invests most of its time in analyzing the market situation and existing competitors before developing any app.
While having chat app development services from us, we ensure about delivering an empowering app that can strengthen your audiences with outstanding features. These include fast & real-time text messages, different format file sharing, audio exchange, video calling, group chat & call, and many more. If you are looking forward to creating a custom-made instant messaging app, connect with SemiDot Infotech. A well-known experienced app development company where you can hire chat app developers to leverage the best experience while having a competitive messaging app built with advanced technologies.
How an Instant Messaging App is Helpful for Users to Form a Connection?
Unlike old times, nowadays there are various apps used by people to have fast and easy communication with their known ones. With the integration of social media apps and instant messaging apps, it has become way more convenient for users to connect with other people while having a personalized feel. Continuing this, experts at SemiDot also strive to deliver a full-stack messaging app like WhatsApp.
We are providing messaging app development services for years and have delivered efficient solutions with feature-richness, better performance & scalability. Our provided customized chat app solutions include features such as profile settings, voice & video calls, sharing multimedia files, end-to-end encryption, and many more to improve the user experience.
Talk to an Expert Now!
Key Benefits of Instant Messaging App Solutions
Looking to develop a messaging app for android or iOS? Be it anything, just keep in mind that to have as many benefits as you can have. Look at these benefits of messaging apps you can leverage for business purposes.
Light Weight Chat App
We prefer to build lightweight chat apps including all the requirements & functionalities. These solutions store less storage & RAM on mobile phones while being compatible with any system.
Effective & Fast Communication
Instant chat solutions allow users to have fast and smooth communication. Businesses can also track the app's work progress and regular updates to ensure users are enjoying easy communication.
Improved Customer Relationship
Rightly managed mobile chatting app development improves the user experience which leads to better customer relationships by filling the gap. It helps businesses to keep connecting with their clients.
High Security & Privacy
Instant chat applications with high-level security & privacy attract audiences rapidly. We also strengthen our solutions with end-to-end encryption & users' privacy practices to keep their data protected.
Digital Payment Globally
While providing messenger app development, payment gateway integration is necessary to facilitate users with an easy working system. Chat app users can pay a friend nearby or across the world digitally.
Fully Customizable
Looking for an enterprise chat solution, a social media app, or a chat app? We create real-time messaging apps that fulfill all requirements with only one app. You can customize these apps accordingly.
Want to develop a messaging or chat app like WhatsApp, Facebook messenger, or discord?
Hire Our Chat App Developers to Build an Instant Messaging App!
Talk to us Now
Important Features of Messaging App
While creating individual chat apps like WhatsApp, discord, and Snapchat, it becomes necessary to integrate common and advanced features to make the app worth using. Hire messaging app developers from us to get these features accustomed properly.
User-friendly
Our dedicated chat app developers are experts to provide user-friendly & interactive apps that are easy to navigate by the users. We also include the best features as per the targeted users.
Verify the Account
User authentication is essential to integrate into messaging apps like WhatsApp. There will be used a particular algorithm to verify the users via sending them OTP or confirmation mail.
Picture-in-picture
It is useful to develop an app like WhatsApp with this feature. Users can use other apps with the help of a floating window while being in an audio or video call on the chat app.
Voice Note Sharing
Chat app users can send & receive voice notes while messaging with their friends, family, or others. They just have to hold the button and record their voice to send the voice note.
Location Sharing
This feature helps users to share their current or live location for a specific time with any of their contacts. There must be integrated a powerful map to provide exact location results.
Multi-language Support
Get your own messaging app that can support preferred languages with the multi-linguistic keyboard. Here users can convey the information in their native language to each other. seen
Add/remove Contacts
Users can add their contacts on their messaging app if they also have an account on the same app. It is also easy to remove them just by deleting their number from the smartphone.
Share Contacts
Instant messaging app solutions include this feature to share contacts with the other person. With contact sharing, it allows another user can directly save that number in their phone.
Add or Edit the Status
Users are allowed to share images, videos, and customized messages with their friends that will automatically get deleted after 24 hours. It works similarly to Instagram story's function.
Delete Messages
Real-time messaging apps must provide this feature for users' convenience. If they have mistakenly sent a message to any contact, they can delete it immediately or up to 60 hours.
Share Images/videos/Documents
Users can share their valuable moments via multimedia files of different sizes & formats with their friends. It can be anything like images, videos, documents, music files, or others.
Social Media Integration
It is necessary to add this feature to the WhatsApp clone app development solution. It facilitates users to link their different social accounts for multimedia sharing with their friends & others.
Quick Message Search
Via this feature, users can easily find out any specific message just by entering keywords. They only need to open the chat, put the right words into the search bar, and hit enter button.
High Security
Be it Android or iOS chat app development, it is essential to add features like end-to-end encryption for audio & video calls, auto message deletion for instant chat & security review.
Forward Messages
Instant chat apps have this feature so that users can conveniently send or forward one or more messages to their contacts. Alongside messages, they can also forward multimedia files.
Theme Management
There are customized chat app solutions that provide several themes. Users can change their chat theme as per their interest including background colors, brightness, and others.
Wallpaper Management
Individual chat apps like WhatsApp is providing users with the option to change the wallpaper for the chat boxes. Users can also set a particular wallpaper from the gallery for a specific chat.
Tabbed Chat
It is the most important feature of messaging apps like WhatsApp. Users can certainly manage or keep track of their messages or chats with multiple connections in a single window.
Block/Report the Contact
While having social media app development solutions, it is necessary to add this feature. Users can block or report anonymous message senders or unwanted people whenever needed.
Pop-up Messages
This feature allows chat app users to reply to the received text without opening the messaging app. A pop-up will appear on the phone's screen and users can reply by reading the message.
Use GIFs, Stickers, and Emojis
Make the chat interesting by using different emojis, stickers, GIFs, & others. The use of these things provides users amazing messaging experience while making them communicative.
AWS S3 Bucket
This critical feature allows the app administrator to store, categorize, and manage different kinds of data and files. For this, they use an Amazon S3 bucket for an enhanced experience.
Chatbot Facility
Chatbot addition into enterprise chat solutions allows businesses to have easy & smooth interaction with customers. With this, there is no need to have a human representative.
Account Settings
This feature helps users to change the number they are having a current account with. They can also delete their account or can create a new one just by adding their number & verifying it.
Stay Ahead with These Messaging App Panel Features
As an experienced messaging app development company, we understand the importance of incorporating useful features into the app. Hence, below we have defined the required features according to the different panels.
App Register & Login
Users can register themselves with the chat application via their phone number or email ID. They can also use other social media accounts to sign-up & login into the app.
Profile Customization
The instant messaging application facilitates their users to customize or edit their profiles as per their choice. It comprises uploading the image and putting all the details.
Real-time Messaging
It is counted among the core features of messaging app that enables users to receive or send messages to each other in real-time, be it a short distance or long distance.
Voice & Video Calling
Users will be able to connect to the other person via voice & video calling features. They just need an active internet connection for this to happen without any interruption.
Chat Notification
When a user receives any message from another user, the app will inform them via message notification. Users can see that message on their screen through notifications.
Privacy Settings
Instant chat app solutions include privacy settings for users including hiding their online status, last seen, status, about, and other things as per their convenience & safety.
Interactive Dashboard
Instant chat app must include a dashboard in the admin panel to observe and manage all the users' profiles, chat with groups and individuals, and their activities with a few clicks.
User Management
Admin can add or remove any app user's account with a single click. In the instant messaging app, it is the admin's responsibility to verify all the accounts while keeping an eye on them.
App Insights
This feature included in the real-time messaging app helps the admin to view and examine all kinds of details including total & active users, subscribed members, & profile management.
App Update
It enables the admin to execute the newest as well as immediate updates on the app. There are also integrated new features & functionalities if there are any to improve the app.
Manage the App Subscription
Via this feature, the admin allows users to unleash more app functionalities such as having information about a particular group or private chat group, community, or channel.
In-chat Advertisement
Admin can run commercials on the status bar of messaging app, it will be displayed on each user's feed. It provides brands an opportunity to connect with customers directly.
Our Recent Works
Some of the esteemed projects we worked upon, to give you a glimpse of the way we work.
ClickMeeting
Complete Webinar Solution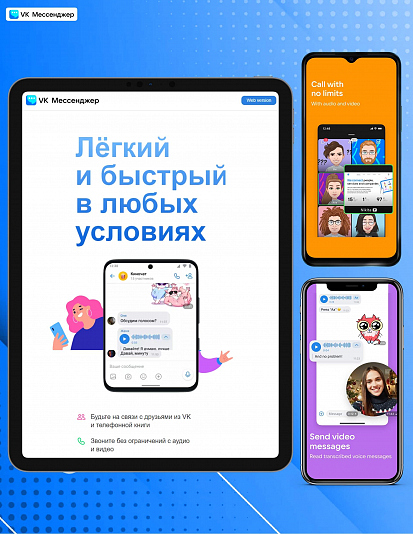 VK Messenger
Chats and calls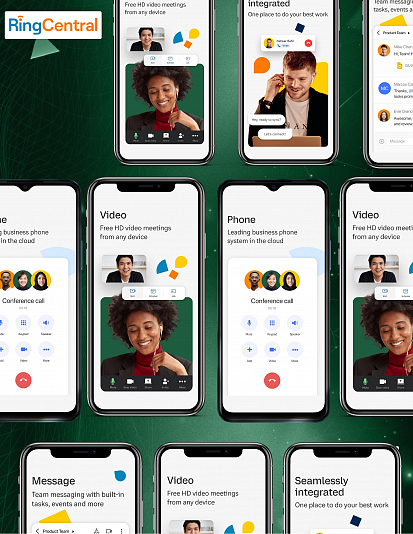 RingCentral
Message. Video. Phone
Let's take this growing relationship to the next level.
View All Work
Get a readymade messaging clone app for real-time social messaging
While developing an instant messaging mobile app, our dedicated chat app developers keep focusing on delivering ready-to-go messaging clone apps to satisfy all the requirements of clients with less time to market.
WhatsApp Clone App
Go for on-demand app development to build a similar chat app like WhatsApp with amazing features & functionalities.
Snapchat Clone App
Acquire an instant messaging app like Snapchat to facilitate users with image sharing, using filters and editing tools.
Facebook Messenger Clone App
Facebook messenger clone app will let your users enjoy a fast & smooth chat experience while using emoticons & stickers.
Line Clone App
Use amazing voice & video call facilities with messaging apps like Line. This app will help you to get enormous benefits.
Discord Clone App
Get your feature-rich & scalable enterprise chat solutions like Discord with the help of a mobile app development company.
Skype Clone App
Develop an app like Skype to experience free calling and messaging with other amazing services, benefits, and features.
Tech Stack of Our Messaging App Development
We have certified chat app developers who have been known to deliver high-quality on-demand solutions with the best designs and unlimited customization possibilities with the help of modern-edge technologies.
Technologie
Kotlin
Java
Android Studio
Android SDK
XML
Testing
Test Rail
Selenium
Apache JMeter
OWASP ZAP
BrowserStack
UI/UX
Photoshop
XD
Figma
Zeplin
Illustrator
InVision
Web & Frontend
MEAN
HTML5
Backbone.JS
Vue.js
Angular.js
React.js
Backend & Databases
Firestore
Room DB
MongoDB
AWS Amplify
PostgreSQL
3rd Party Libraries
Chatbot
Image Processing
Custom views
Socket, Firebase Chat
Dependency
Payment Gateways
Google Pay
Stripe
Apple Pay
PayPal
How Much Does It Cost to Develop an Instant Messaging App?
At SemiDot Infotech, we offer a standard combination of cost-efficient prices with premium quality to ensure the best competitive pricing set. We first analyze the entire project specifics and then, provide an estimated chat app development cost. It is so apparent that the cost assessment is not as easy as sailing the boat as it can have an ensuing effect on the complete development process.
To evaluate the cost, there are various accountable factors such as app complexity, number of features, third-party APIs, UI/UX designs, consumed development time, and so on. If you want to know the overall instant messaging app development cost, click on the button below!
Get Your Messaging App Cost Now!
Get an Overview of Our Application
Industries We Serve
Our mobile app developers' expertise extends to many popular industries, you can find a few of them below:
WHY CHOOSE SEMIDOT INFOTECH FOR CHAT APP DEVELOPMENT?
As the best chat app development company, SemiDot Infotech is creating robust and customized instant messaging apps for years to facilitate different industries and domains.
Access to Source Code
After online messaging app development, we hand over the complete rights of source code to the right owner. So that, they can further make amendments like adding features to the existing code easily.
Highly Secure Solutions
Security is the first thing demanded by chat app users and we always consider it. Get extremely secure & instant chat app solutions in the decided time including all the required features and functions.
Use of Latest Technologies
Our skilled team incorporates modern-edge technologies & tools such as AI, ML, IoT, and others into instant chat app development. Our build solution will be the best example of design & development practices.
Great User Experience
Be it an instant chat app solution or social media app, our delivered solutions always come with a guarantee of a better user experience. We largely focus on providing the best messaging solution to respective businesses.
High Customer Satisfaction
It is our responsibility to satisfy all the requirements of our valuable clients. We have a 100% client retention rate because our dedicated chat app developers always go ahead of their mindsets to create the best app.
On-time Project Delivery
Experts and professionals at SemiDot take care of project deadlines at the time of instant messaging app development. They never fail to deliver a project on the decided time by incorporating the required functions.
FAQs
Blockchain is new, and so are cryptocurrencies, here are the most popular enquires by our clients.
Instant messaging apps allow users to chat with other people directly no matter where they are. These solutions come with various features such as audio and video calls, the use of emojis & stickers, multimedia sharing, and others.

The estimated social messaging app development cost will be around $15,000 to $50,000 but it can vary based on different factors. These include app platforms, features, development time, hired team, and many more..

To create an online chat app, a team of skilled developers takes around 5 to 8 months basically. Further, it largely depends on the occurred requirements and circumstances, the estimated time can differ, and it can take more than 8 months.

Instant messaging app development will be helpful to boost your business sales, and conversion rates, improve customer retention rates, enhance the user experience, and many more.

It completely depends on your business requirements and what you choose. If you don't want several changes or customization in the existing app, you can go for the WhatsApp clone app and if you want to build the app according to your choice, then you should go for developing the chat app from scratch.

Yes, we do. Our support and executive team will help you with every issue and maintenance service related to the messaging app for 3 months. After that, you can extend this support by paying specific charges.

Client Testimonial
I was pretty skeptical about outsourcing my project to a different country, but SemiDot proved to be even better than some of the companies I have worked with, within Europe. The prices they quoted were pretty decent, so I took the leap, and they delivered perfectly, and in time, what they promised.

Muhanad
Me and Harry (Business head of SDI) clicked instantly, thanks to our common passion towards Blockchain. They are currently working on a blockchain-based game for our company. Overall, Semidot Infotech is a complete package, low prices combined with top quality.

Carol
A Great design requires a team of enthusiasts, and these guys delivered exactly what I hoped for. Looking forward to continuing my partnership with Semidot Infotech. Give this company a try, as soon as you see their portfolio, you will know exactly what I had been talking about.

Bobby
Outsourcing a multi-million-euro project to a small company in India? You guys must be thinking I am joking. Well, I am not, Semidot Infotech is the complete package you would want for your project, they are truly client-centric, something which is very hard to find in today's world.

Neil Degg
We are doctors, and passionate about what we do, so one fine day, we decided to get an app for pregnancy needs. We came across Semidot through a friend who had previously worked with them, they delivered the app in just 2.5 months, which is something truly incredible.

Jamil & Idries
So, I came up with a one of a kind idea, and when most web development companies told me that's impossible in your budget, these guys proved to be my saviours. They not only made the web app per the requirements, but also scaled it, to be used by millions of users, and did all of it, in my budget.

Siegfried Gretzinger
The primary goal behind my project was to take my business online, and I really didn't expect or anticipate this much response from my customers. I have dealt with many web development companies in the past, and I can easily say that they have the expertise and resources to develop a good application.

Mario Thaler
My idea was brought to life with the help of these guys, it is all thanks to them, that my business could take off so smoothly. SemiDot has proved to be a great business partner, and Kapil (CTO of the company) has proved to be one of the greatest mentors I have ever come across.
Benjamin Buren
Our Featured Blogs
Want to know about the latest technology trends? You can find all of them here.
Interested in working with us?
LET'S TALK AND GET STARTED