E-Learning App Development Solutions
Being an e-learning app development company, SemiDot provides efficient eLearning app development services & solutions with advanced features. These engaging & interactive solutions help students to gain knowledge without going anywhere.
Live Streaming
We have a highly proficient and skilled team of education app developers that have created several high-quality live audio and video streaming e-learning apps to date for helping students at the time of live sessions.
Group Conferencing
We have experienced and expert developers who create interactive e-learning solutions like group conferencing, which allows multiple users to study together in groups. These solutions help them in the better study by solving queries.
Non-restrictive Learning
E-learning applications let you study at your convenience, irrespective of the time, subject, and location of the classes. We offer interactive asynchronous learning solutions that allow students to study without any hurdle in-between.
Interactive Training
Our efficient e-learning app developers provide easy-to-use & engaging e-learning applications, which can be used to record different lectures and provide training to your users. Users can also take help later from those recorded videos.
Assessments
Our dedicated team ensures to make learning a fun task with efficient & easy-to-use educational app development solutions. You can easily create your questions or mock exams to test your ability & knowledge using these apps.
E-commerce
Being a top-notch educational app development company, we have immense expertise in integrating secure e-commerce platforms with e-learning apps. This way you can easily sell study material, class notes, videos, lectures, etc.
To deliver optimum experience for students and teachers
We created 3 different panels with customer centric features
User Management
Group creation and management
Easy Subscription
E-commerce platform integration
Chat management
Subject management
Schedule class Sessions
Content Management
Easy profile creation
Profile management
Connectivity with students
Video chat facility
Change the account settings
Feedbacks
Reviews and ratings
Individual assessment
Easy registration
Attend online classes
Live Video conferencing
Online group studies
Easy connectivity with the tutor
Ask questions via chat
Take mock tests
Choose teachers of your choice
Features you will get
All our E-Learning apps comes loaded with features, they will ensure maximum learning, while ensuring maximum manageability.
Lecture Scheduling
This feature allows the users to schedule the class or lecture of their choice according to the time which suits them the best.
Forums
Forums give you the platform to connect with multiple users having the same interest, and you can have a clear discussion over the topics.
Assignments
Users can get the assignment based on the selected subjects they want to learn. This makes online learning easy, interactive, and effective for them.
Integrating Leaderboards
Integrating leaderboards facility in your e-learning app is a great way to bring out the competitive spirit amongst students and teachers.
Sharing Document
Users can easily upload and share important documents, PDF files, presentations, and, a lot more via these e-learning solutions.
Audio Streaming
This feature allows the admin to share the audio files with their users. This makes learning via online sessions a lot more interactive and engaging.
Video Conferencing
This feature not only allows you to connect, with your users via video call, but also, you can connect with multiple users at the same time.
Notifications
Get timely notified about any new lectures, documents, assignments or any other events, within the same app, via push notification.
Multiple Languages
Study material & notes can be uploaded in several languages and hence, users can enjoy their favorite courses; in the language they prefer.
Analytics
Our e-learning developers are known to integrate features that facilitate real-time tracking of the engagement rate, scores, and much more of the users.
Chat Support
Our e-learning mobile app development team builds highly functional apps and offers 24 hours a day and 7 days a week chat support to clear all your doubts.
Easy Interface
We integrate smart and easy-to-use CRMs to upload and manage the content on your e-learning mobile application for better engagement.
Payment Integration
Payment integration is an added advantage for your mobile app. This allows users to make payments related to the services, conveniently.
Interactive Graphics
Being the top-rated e-learning software development company, we integrate interactive and appealing graphics to make the app attractive for users.
Performance Tracker
This feature tracks the complete performance of your e-learning app. It also tells you about the areas of improvement in your app.
Cloud Computing
Our integrated cloud computing feature allows users to store and save their data online so that they can access it anytime and anywhere they want to.
Our Recent Works
Some of the esteemed projects we worked upon, to give you a glimpse of the way we work.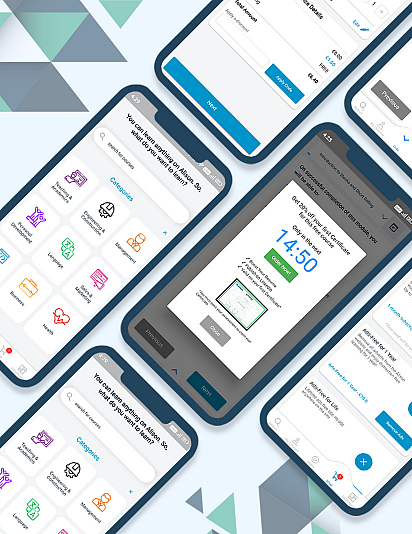 Alison
Free Online Courses with Certificates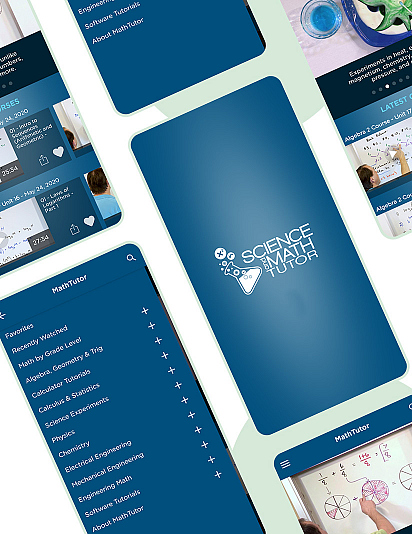 Math & Science Tutor
Our Courses Eliminate Frustration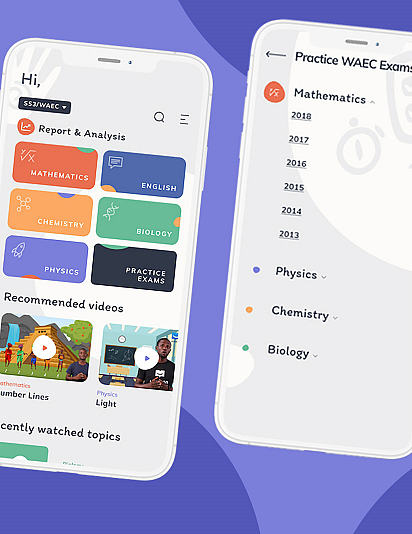 uLesson
eLearning App For Better School Grades
Let's take this growing relationship to the next level.
View All Work
Why Choose SemiDot for E-learning App Development Services
At SemiDot, we have a team of some amazing and talented education app developers, that works dedicatedly on your project and develop it, just the way you imagined it to be.
Innovative Designs
We have highly experienced UI/UX designers that create immersive, attractive, & engaging e-learning mobile app development solutions. These responsive apps are helpful as they are an efficient way to entice a wide range of users.
Effective Communication
We assign a dedicated project manager, who is responsible for sharing all the updates, related to your project. During the entire process of educational mobile app development, the project manager keeps in touch with the client.
On-Time Delivery
We have a highly efficient team that understands the importance of delivering the project in the least turnaround time. That's why we never delay any project due to any reason and have delivered all the projects on time to the date.
Creativity
The e-learning apps developed by our skilled developers are profoundly creative & impressive as well that can draw the attention of your users. These are advantageous to attract a new audience base to your e-learning app.
Flexible Hiring Models
SemiDot InfoTech offers different business hiring models to our clients that are suitable to their business needs and budget. They can choose among these hiring models such as offsite, onsite, hybrid, or fixed price according to their suitability.
NDA
We have an experienced and knowledgeable team that understands all the specific needs of the client, even if it is all about keeping all the project details confidential. We sign NDA with the client to maintain project privacy.
Engagement and Hiring Model
At SemiDot, we offer various engagement and hiring models, so that you can choose the best suitable way for your project development.
Onsite
This engagement and hiring model allow you to have our best e-learning app developers come to your corporate office and work on your project.
Offsite
We have a team of certified developers who dedicatedly work on your project, at our office and keep you informed about all the project related updates.
Hybrid
Enjoy the benefit of both the above models by hiring the management team to work at your location, and let the implementation work done at our center.
Fixed Price
If you are running on a tight budget or looking to get an e-learning app developed at a fixed price, you can go for our fixed price business hiring model.
Dedicated Hiring
If you are looking for a dedicated team to work upon your project, then you should definitely go for a dedicated hiring business model.
Hourly Basis
For all the large-scale projects or projects that may require a lot of changes in the future, hiring a team of experts, on an hourly basis is the best method.
Discuss Your Project with Our Specialists
We are interested in a long term partnership. When you hire SemiDot Infotech, you get a reliable partner for all your software development needs.
Let's Talk
FAQs
Most popular questions by our clients, we decided to make a list for easing things at all ends.
SemiDot is a renowned e-learning app development company for years, so we have experience in building all kinds of e-learning apps including learning management, ERP, interactive VR Classroom, CRM, book reading, fun learning, and many others.
Yes, we do. We provide e-learning apps for all kind of businesses- right from the start-ups to large-scale enterprises to help them in achieving their vision. Our professionals will guide you at every step of the app development.
To know the cost of on-demand e-learning app development, you have to analyze some of the factors that are app size, number of features, app platform, development team, location, and others. An estimation of cost to develop eLearning app will be around $10,000 to $50,000 but it can vary as per requirements and customization.
Our eLearning app developers and designers do some market research about the project needs and scope. After knowing about the project goals, vision, and many other things, it is easy for us to decide what will be the right technology stack for the app development. Generally, we use Kotlin for Android app and Swift 5 for iOS.
Education software development solutions are beneficial for Students, teachers, and learners as they can learn a lot of new things in an effective way. It helps all the people to educate themselves by sitting at home. Through fun content, it is easy to adapt new things easily by educational apps.
If you want to have a skilled team of professionals, then you can get appropriate services from us. SemiDot Infotech is a well-known eLearning application development company in the market and always deliver quality project. Our results are up-to-mark and we are ready to serve you the best whenever you want.

Client Testimonial
I was pretty skeptical about outsourcing my project to a different country, but SemiDot proved to be even better than some of the companies I have worked with, within Europe. The prices they quoted were pretty decent, so I took the leap, and they delivered perfectly, and in time, what they promised.

Muhanad
Me and Harry (Business head of SDI) clicked instantly, thanks to our common passion towards Blockchain. They are currently working on a blockchain-based game for our company. Overall, Semidot Infotech is a complete package, low prices combined with top quality.

Carol
A Great design requires a team of enthusiasts, and these guys delivered exactly what I hoped for. Looking forward to continuing my partnership with Semidot Infotech. Give this company a try, as soon as you see their portfolio, you will know exactly what I had been talking about.

Bobby
Outsourcing a multi-million-euro project to a small company in India? You guys must be thinking I am joking. Well, I am not, Semidot Infotech is the complete package you would want for your project, they are truly client-centric, something which is very hard to find in today's world.

Neil Degg
We are doctors, and passionate about what we do, so one fine day, we decided to get an app for pregnancy needs. We came across Semidot through a friend who had previously worked with them, they delivered the app in just 2.5 months, which is something truly incredible.

Jamil & Idries
So, I came up with a one of a kind idea, and when most web development companies told me that's impossible in your budget, these guys proved to be my saviours. They not only made the web app per the requirements, but also scaled it, to be used by millions of users, and did all of it, in my budget.

Siegfried Gretzinger
The primary goal behind my project was to take my business online, and I really didn't expect or anticipate this much response from my customers. I have dealt with many web development companies in the past, and I can easily say that they have the expertise and resources to develop a good application.

Mario Thaler
My idea was brought to life with the help of these guys, it is all thanks to them, that my business could take off so smoothly. SemiDot has proved to be a great business partner, and Kapil (CTO of the company) has proved to be one of the greatest mentors I have ever come across.
Benjamin Buren
Our Featured Blogs
Want to know about the latest technology trends? You can find all of them here.
Interested in working with us?
LET'S TALK AND GET STARTED