Sports Betting App Development Company
Looking forward to getting an intuitive, user-friendly, and tech-incorporated sports betting app? With hands-on experience in 150+ applications, SemiDot Infotech is a renowned sports betting app development company that has professional and technical expertise in developing future-ready and high-quality sports betting apps for sports enthusiasts and businesses.
Discuss Your Project
Sports Betting App & Software Development
SemiDot Infotech stands tall as an award-winning sports betting software development company known for delivering solutions by leveraging advanced technologies. We provide sports betting app development services that make your solution stand out in the market and are customized with cutting-edge technology to help you leverage the multi-billion sports industry easily.
We create extraordinary sports betting software solutions by following the proper industry approach including ideation, custom UI/UX, development, testing, deploying, and after-support to make sure the solutions never go lower in terms of ranking for being outdated.
Nowadays, sports betting apps are catching popularity among users which has increased the demand for baseball, cricket, and soccer betting app development as well as for other sports too. After all, Betting sports app solutions has become a viable option to enjoy revenue for businesses. To help you out, we have seasoned experts who can develop proficient solutions that are cross-platform and run efficiently despite the operating system. We build solutions that take the market by storm once it's launched and make users love to spend their time on it.
Sports Betting App Solutions
Look no further for exceptional sports betting app solutions, SemiDot Infotech builds a variety of solutions ranging from cricket, and baseball, to many more. Our built solutions are user-engaging with out-of-the-box features and modern architecture.
Crypto Sports Betting

It is a new way for users to earn money through betting with lower fees and easy withdrawal, based on leading cryptocurrencies like Bitcoins.

Money line Betting

Easy and conventional form of sports betting. The punters place bets on a team or individual assuming to win a particular game.

Blockchain Sports Betting

Blockchain is a trending and fast-growing technology that provides a secure and immutable platform where players can place bets for sporting activities.
Parlay Betting

It involves betting where users make groups to bet into a single wager by combining bets and placing them on different events to win.

Teaser Betting

Teaser Betting is followed in football and basketball and is a form of sports betting where punters can alter the point spread or total of a game in their favor.

Head-to-Head Betting

Bettors can increase their chance of winning by placing their bet on a team or individual with an assumption of the outcome of the event.
Our betting app development services
Turning your idea into a real-world solution is our supreme goal. Whether you are a startup or a well-established venture in the sports industry, we are here to push the boundaries by thinking creatively for your business. By opting for our sports betting app development services, we will spare no efforts from our side to deploy the application with the utmost professionalism and up-to-date functionalities to make you a never-seen-before brand.
Soccer Betting App
Soccer has a huge fan following, for many it's more than just a game. We offer top-class soccer betting app development services that can open doors to new opportunities to leverage the betting market.
Rugby Betting App
For rugby lovers and businesses, our sports betting app developers will build a proficient Rugby Betting App that will help you grow in this dynamic market.
Hockey Betting App
Hockey is among the most-loved sports. For hockey lovers, we develop a Hockey betting app that is loaded with advanced features and the latest technological advancement to make sure you stay ahead of your competition.
Cricket Betting App
Cricket is among the most profitable sport option to earn great revenue. We offer top-class cricket betting app development services that will allow your user to enjoy amazing features and connect them with like-minded people.
Horse Racing Betting App
We develop a proficient and innovative horse-racing betting app that gives your user a delightful experience. With online updates and matches, your users can enter many live betting options through our platform and enjoy them.
Basketball Betting App
Basketball Betting App is a thoughtful revenue model that can help you earn big. By utilizing present-day features, our developers can build an exquisite basketball betting app platform that can help you stay on top in this dynamic market.
Tennis Betting App
Tennis is a top sport and earning from it is a fantastic opportunity that one shouldn't miss. Our sports betting software developers help to build top-class solutions that will enhance your customer experience.
Baseball Betting App
Baseball betting app is an astonishing way to make money in the betting industry. With next-gen features and top solutions, we offer top Baseball betting App development services to enjoy betting from anywhere.
Golf Betting App
We develop a flexible and world-class golf betting app where players can track their scores, games, and more. Our experts make sure that the solutions delivered help in getting the best results for your business.
Boxing Betting App
Boxing is a well-known sport and a viable option to make money. The experts of SemiDot Infotech make sure to design your Boxing betting app comprising of the best technology, and latest features.
Badminton Betting App
If you're interested in a badminton betting app, then we can help you by delivering a successful solution that exceeds your expectations. Obtain our badminton betting app development solutions to enjoy a result-oriented platform.
Motorsports Betting App
We take extreme pride in delivering exquisite motorsports betting apps with seamless UI/UX that makes them look good on any platform. Our solution will surely make you find long-term success in this industry.
Looking forward to leveraging the multi-billion sports betting industry?
Ready to take our scalable and smart sports betting app development service? Kickstart your dream with SemiDot Infotech.
Discuss Your Project
Our Recent Works
Some of the esteemed projects we worked upon, to give you a glimpse of the way we work.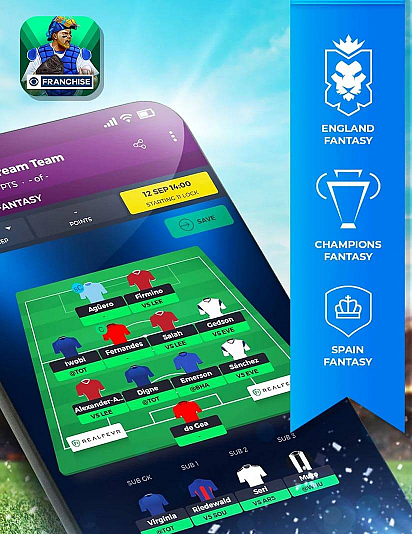 RealFevr - Fantasy Sports 2021
Enjoy The Best Fantasy Football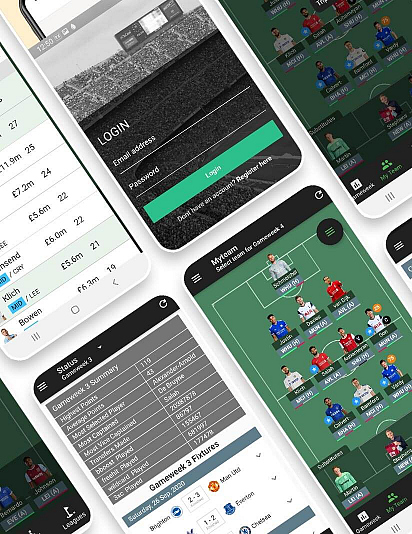 FPL - Fantasy Football for Premier League
Fantasy Football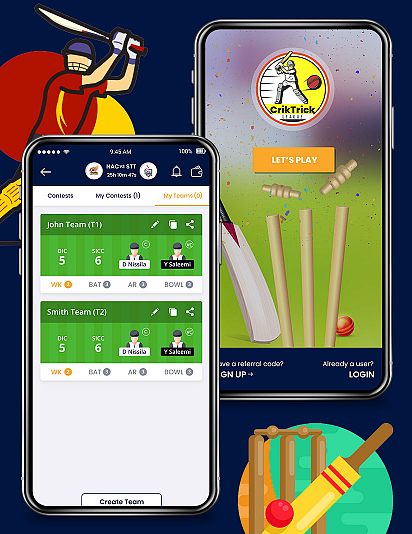 CrickTrick
Fantasy Cricket App
Let's take this growing relationship to the next level.
View All Work
Unique Features in Our Betting App Solutions
SemiDot Infotech is a top-rated sports betting app development company worldwide known for solutions with cutting-edge features. We take pride in crafting feature-rich solutions that are seamless and user-engaging.
Cryptocurrency betting
It is just like regular betting but with the use of cryptocurrency that helps to replace fiat-based traditional methods and make betting more enjoyable.
Utility Token
SemiDot offers to integrate Utility token that provides various benefits to the user including lower transaction fees. This will stimulate the demand for your app in the future.
Cryptocurrency converter
Users can simply convert, settle, and withdraw their rewards with a cryptocurrency converter, this replaced the traditional method ensuring ease and convenience for bookies and punters.
Listing Initial Exchange Offering
SemiDot makes sure to give premium support during the listing process of your betting game app via Initial Exchange Offering possibly increasing capital by attracting investors.
Enable token trading with other crypto exchange
You can allow your user to convert their native token into different cryptocurrencies of their choice. This will make your sports betting game application more fun and engaging.
Referral Program
Incorporate referral programs that provide commissions to the administrator. This can be achieved by rewarding each referral made by their punters.
Sports Betting App Panels
SemiDot Infotech is your one-stop solution for your all needs in online sports betting app development. Our developers are ready to serve you with top-notch features, easy configuration, and user-friendly designs that keep your user engaged, all within affordable cost to develop a betting app.
User Account

Live Feed

In-App purchase

Instinctive navigation

Virtual and Real Money Bet

Betting Tips

Calendar and Schedule

Anti-fraud system

Results Notifications

Rewards and Bonuses

Event Listing

Referral History
Bookmaker Account

User Management

Change Availability

Providing Availability

Send Betting tips

Providing Live feed

Odds from major bookies

Send Notification

Schedules and Calendars

Customer support

Revealing Dashboard

Real-time Odds
Dashboard

User Account Management

Game Management

Marketing Management

Live Feed Management

Risk Management

Bookmaker Management

Transaction Management

Live-Feed Management

Customer Support

Player/Player's Management

Content Management System
White-Label Sports Betting Software Development
When it comes to top white-label sports betting software development, our name is enough. SemiDot Infotech provides Effective white label sports betting software development services that can bring revolution to the gaming industry. We deliver a perfect mixture of proficient and modern solutions that always work towards providing user satisfaction and getting desired goals. Utilizing many features like Live score, Dashboard, Cash out, Retail batting, and Payment integration, we build applications with extreme care, prevailing standards, and best-in-class features.
We offer to deliver leading-edge solutions with a seamless blend of advanced features that helps in enhancing user experience. As a leading sports betting app development company, SemiDot Infotech offers functional, scalable, and interactive white-label betting software that is rich in features. Our lightning-quick solution can fulfill your organization's needs ensuring the best results in no time without breaking the bank.
Request A Quote
Benefits of White-Label Betting Software Development
App Localization
SemiDot offers first-class sports betting app development solutions that have an appealing user interface and functionality that perfectly aligns with your target audience.
Accessibility
We develop interactive and convenient betting app solutions for sports fans to bet easily and they can access the sports betting app solution from anywhere.
Wide-ranging Market
At SemiDot Infotech, we aim to provide a fun-driven solution in a wide-ranging sports market including football, baseball, horse racing, rugby, and more.
Reliable Odds
Make your sports betting app more appealing and fascinating by getting remarkable odds constituted in your solution that users love.
Risk Management Tools
Provide your users with our safe and secure sports betting platform integrated with top fraud risk management systems to persuade them of the security of any transaction.
Attractive User-Interface
At SemiDot, we offer online sports betting software development with an interactive user interface that makes your user experience fun and delightful.
Smart Contractual Aids
SemiDot offers to power up your sports betting mobile app development by integrating smart contracts to make your solution secure & tamper-proof.
Post-Launch Support
Being a top sports betting website development company, we provide post-launch support to make sure the solution works seamlessly for users.
Willing to develop a top-notch solution with an exact cost for your business?
Transform your eagerness into a reality by exploring our solution with our expert betting app developers
Get a Quote
Hire Betting App Developer
At SemiDot Infotech, we have certified experts and professionals who can offer the highest quality sports betting mobile app development services by leveraging contemporary features and new technologies that make your app much more fun and entertaining. Being the finest front-runner and top betting website development company, we have certified experts with ample years of experience that assist businesses to enjoy success in the digital realm with our highest quality solution.
Betting has become a revenue-generating business after being legalized in different countries around the globe. If you are looking to take a step forward and get a virtual sports betting app development, you can put your faith in our all-inclusive sports-betting apps built by our developers with specialized ideas, and curated procedures with advanced technologies. We aim to provide a result-oriented solution that your users can't stop using. Our group of developers aced at providing technically sound solutions with the latest advancements right from planning, designing, developing, and deploying to maintenance. We are the partner you are searching to develop a cutting-edge, faultless, and appealing platform that attracts millions of people as soon as it hits the market.
Sports Betting App Development Process
SemiDot Infotech has made its name for developing eye-catching sports betting application that aims to make your presence big with trending features and reliable code that work flawlessly on any platform.
1
Planning
Get-together requirements
Aim of your app
SRS and SDD
Assigning Teams
2
Design UI/UX
Creating Wireframe & Prototyping
User-interface designing
Design Implementation
UI/UX assessment
3
Development
Back-end development
Front-end development
API & Cloud Integration
Reviewing codes
4
Testing
Unit-code testing
Debugging
QA and testing
Quality Assessment
5
Deployment
Feedback and User acceptance testing
App Deployment
App store launch
Delivering the project
6
Maintenance
Fixing errors and bugs
Performance Optimization
Security Updates
Analysis and Reporting
Why choose SemiDot Infotech for Betting App Development?
Sports betting app is one of the most profitable industries in terms of growing user base and new opportunity. To get the upper hand, SemiDot Infotech can help you with its top-tier result-oriented solution that are robust and scalable and help clients to generate better outcomes.
Safety and Security
To make sure your user has a safe encounter with your application, we provide solutions with cybersecurity measures including 2-FA and Blockchain.
Enhanced User-Experience
Our solutions have numerous benefits, top user experience is among one of them. We make sure users have a fun and thrilling experience with the app.
24/7 Support & Assistance
Our experts are always ready to take the extra mile in times of need by offering 24/7 technical support to ensure seamless working of the application.
Modern Technologies
We provide solutions integrated with the latest technologies like Blockchain, Artificial Intelligence, RPA, AR, VR, and many more.
Flexible Engagement Models
We work closely with our client's requirements and allow them to choose from different flexible engagement models suited to their needs.
Timely Delivery
We focus on agile methodologies practices to accelerate the progress and keep you updated. Our prime focus is to deliver the best quality solution.
FAQs
To provide clarity for any potential questions our clients may have, we have compiled a list of some FAQs and given corresponding answers for them.
SemiDot Infotech has immense experience and years of expertise to build betting sports apps. We take care of client requirements right from the planning stage to deployment and provide them complete after-support to make sure they don't lack anywhere in the market making us the best sports app development company.

We provide wide-ranging betting app development solutions including sports betting software solutions, sportsbook software integration, AmTote Betting software solutions and integration, Pari-Mutuel Betting software services, and many more.

We ensure the security of your sports betting app by implementing many strong measures such as SSL certificates, data encryption, and regular security audits. Protecting user data, financials, and the integrity of the platform is our number one priority.

The development timeline for a sports betting app can take around 6 to 10 months. But it depends on your requirements which can typically decrease or increase the time for a fully-functional app.

There is no precise number to develop sports betting apps, several factors impact the cost. Such factors include development costs, the experience of the company, features in the betting app, and many more. But, on average, the cost of developing a sports betting app can vary from $20,000 to $40,000 which can go up or down as per your requirements.

Based on your requirements, you can get as many as customized features. But some key features include real-time odds, live betting, score updates, multiple betting options, User-interface and security & safety.

As an eminent sports betting software development company, SemiDot Infotech offers services to empower businesses by elevating user engagement. We make sure to help you customize your solution to target large audiences.

There are several sports you can get in your betting software solutions including Football, baseball, basketball, Rugby, Horse racing, NBA, tennis, and many more on which punters can place bets.

There are numerous advanced technologies that you can use in your sports betting solutions. Our range of advanced technologies includes cryptocurrency integration, VR experiences, Big Data analytics, automation systems, and more. By leveraging these innovations, we promise you a distinct competitive edge in the market.

Client Testimonial
I was pretty skeptical about outsourcing my project to a different country, but SemiDot proved to be even better than some of the companies I have worked with, within Europe. The prices they quoted were pretty decent, so I took the leap, and they delivered perfectly, and in time, what they promised.

Muhanad
Me and Harry (Business head of SDI) clicked instantly, thanks to our common passion towards Blockchain. They are currently working on a blockchain-based game for our company. Overall, Semidot Infotech is a complete package, low prices combined with top quality.

Carol
A Great design requires a team of enthusiasts, and these guys delivered exactly what I hoped for. Looking forward to continuing my partnership with Semidot Infotech. Give this company a try, as soon as you see their portfolio, you will know exactly what I had been talking about.

Bobby
Outsourcing a multi-million-euro project to a small company in India? You guys must be thinking I am joking. Well, I am not, Semidot Infotech is the complete package you would want for your project, they are truly client-centric, something which is very hard to find in today's world.

Neil Degg
We are doctors, and passionate about what we do, so one fine day, we decided to get an app for pregnancy needs. We came across Semidot through a friend who had previously worked with them, they delivered the app in just 2.5 months, which is something truly incredible.

Jamil & Idries
So, I came up with a one of a kind idea, and when most web development companies told me that's impossible in your budget, these guys proved to be my saviours. They not only made the web app per the requirements, but also scaled it, to be used by millions of users, and did all of it, in my budget.

Siegfried Gretzinger
The primary goal behind my project was to take my business online, and I really didn't expect or anticipate this much response from my customers. I have dealt with many web development companies in the past, and I can easily say that they have the expertise and resources to develop a good application.

Mario Thaler
My idea was brought to life with the help of these guys, it is all thanks to them, that my business could take off so smoothly. SemiDot has proved to be a great business partner, and Kapil (CTO of the company) has proved to be one of the greatest mentors I have ever come across.
Benjamin Buren
Our Featured Blogs
Want to know about the latest technology trends? You can find all of them here.
Interested in working with us?
LET'S TALK AND GET STARTED