Our Restaurant Mobile App Solutions
Our restaurant app solutions help various businesses to get new customers and retain the old ones. Obtain all the possible benefits through different restaurant solutions and serve your guests with great hospitality services.
Restaurant Managers Solution
Managers hold complete responsibilities of the business comprising table booking system, credentials, table allotment to stewards, and others. These all can be done via management solutions along with the restaurant inventory management to check resource availability.
Waiter Management Solution
Want to treat your customers in a better way? Apply this amplified waiter management solution is much beneficial to remove a lot of dependencies of waiters. This solution includes an improved order management system that will help waiters better serve the customers.
Customer-friendly Order System
Reap all the benefits of this smart restaurant solution along with the restaurant CRM solution to get customer loyalty. It will help food & restaurant businesses in decreasing the labor requirements & costs and enhancing the customer experience by making them feel special.
Smart Kitchen Solution
Our developed complete kitchen management solution will assist you in managing all the kitchen inventory and its processes like getting an order, making it, and then serving it. This solution has integrated all the essentials to observe and manage all the orders of the restaurant.
Restaurant Table Booking App
Restaurant table booking app development solutions facilitate users to book a table for their family or friends on a special occasion or simply going for dine-in. Through this, they can escape themselves from the inconvenience of not getting a table in a crowded restaurant.
Restaurant Finder App Development
Lives have been easier with the restaurant finder app solution as it helps people to find nearby restaurants instantly. It is most helpful when you are at a new place, just enter the zip code or address, and it will browse the restaurant's address, contact number, reviews, and all.
ADVANCED TECH SOLUTIONS WE USE IN RESTAURANT APP DEVELOPMENT
SemiDot Infotech provides high-tech restaurant app development services to businesses that delight their valuable customers. These restaurant IT solutions also alleviate the challenges faced by restaurants to remain in the competitive market.
Cloud
SemiDot provides cloud-based kitchen & restaurant solutions to help businesses for acquiring efficient data helpful in improving business decisions, data security, and brand identity. These cloud-integrated restaurant solutions also provide flexibility to comply with the industry norms and providing better customer services. You can run your food business smoothly with the help of these solutions as there are minimum operational cost & time included, along with the chance of technology upgradation in future.
Blockchain
Our developers have expertise in creating blockchain integrated solutions to provide services such as food traceability, better food safety, food transparency, and protection to confidential aspects including payment transactions, recipes, and customer information. Blockchain technology is helpful to secure valuable data and fasten the restaurant management process. There are numerous food chains and restaurant start-ups who have already adopted these solutions to meet certain standards and make their venture shine out.
AI Solutions
AI-enabled restaurant mobility solutions help ventures to advance their sales & marketing procedure for better operational efficiency and earning the highest revenue. It includes features like voice ordering, traffic forecasting, easy scheduling, and customer behaviour analysis. AI powered restaurant POS solutions allow businesses to include new modules to the software and add it with the primary software. You can control the whole inventory with it, and the department head or the head office.
AR/VR
We use advanced technologies like AR/VR to develop restaurant solutions so that businesses can offer an advanced customer experience. It is also helpful in attracting more users with improved marketing & advertising, and lessen the cost of employee training. With the help of it, businesses can aware customers about the nutritional value of the food. AR/VR integrated solutions are transforming the restaurant sector in terms of improved user experience, earnings, and better employee productivity.
Chatbot
Chatbot integration into restaurant mobile app solutions has a positive impact on the customers along with decreasing operational cost & human effort. It provides 24*7 support and bespoke response to users that lead to the augmented customer experience. Users are more attracted to such apps that can provide them with more personalized experience. Most of the customers who believe in communicating via messages or texts have positive imitations of the experience.
Our Recent Works
Some of the esteemed projects we worked upon, to give you a glimpse of the way we work.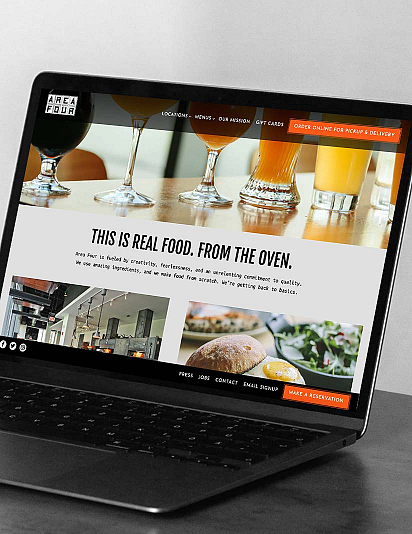 Area Four
Online Pizza delivery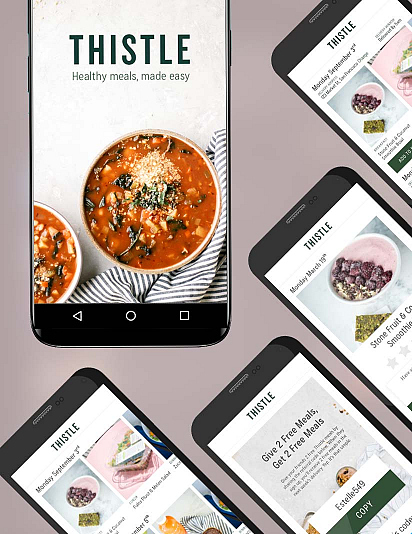 Thistle
Organic Food delivery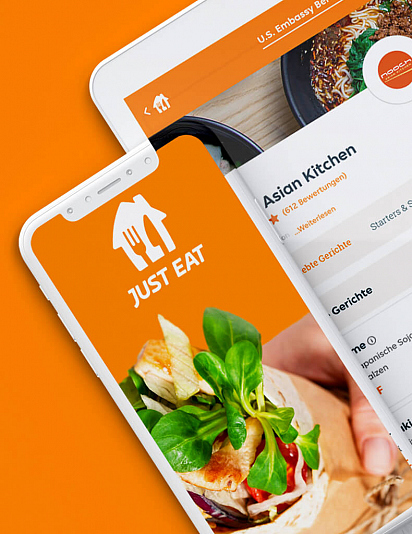 JUST EAT
Order Food Online
Let's take this growing relationship to the next level.
View All Work
Features We Integrate in Our Restaurant App
Social Media Login
Search & Filters
Food Menu
Real-Time Notifications
Rating & Reviews
Mark Favorite Order
Live-Order Tracking
Multi-Payment Methods
Multi-Language Option
Offers & Discounts
Order History
Help & Support
Request Management
Navigation
Menu Management
Order Confirm/Reject
Track Delivery Executives
Offer Management
Toggle Availability
Profile Management
In-App Calling
Ad-Management
Dispatch Management
Detailed Reports
Looking for amazing restaurant app development services for your business?
Get your hands on smart restaurant IT solutions?
Let's Connect
Benefits You will Get in Our Restaurant App
SemiDot Infotech is a leading restaurant app development company that provides amazing benefits to businesses through power-packed & scalable restaurant app solutions. Treat your customers with excellent hospitality services by adopting these solutions.
Referral Feature
Our created restaurant mobility solutions will help you to have a referral system to increase brand reputation and customer loyalty along with generating high revenue. It will help the customers to earn bonus points so that they can get a discount in your restaurant.
Entrenched Media Content
Businesses can embed high-density video, pictures, gifs, and other content into web & mobile restaurant solutions to attract the visitor's traffic and enhance the customer base & loyalty. They can also add restaurant images, food menus, nearby landmarks, and many more things.
Payment integrations
Varied payment options with proper security make the customers happy and relaxed in terms of making payments for services. They can pay through different ways like online banking, e-wallets, cards, or applying coupon codes, and it provides them a better experience.
Real-Time Notifications
Real-time push notifications make the restaurant businesses able to send instant information to users about any new offer, special discounts, personalized messages, or reminders about some special day. This is the best way to make your customers feel special and remembered.
Platform Compatibility
In this tech-driven world, it is necessary to have a competitive app that has a better reach to the audiences, be it iOS or Android users. Our cross-platform restaurant app solutions are compatible enough to stand out in the market irrespective of devices, & screen sizes.
Raise Location-Based Deals
Our developed restaurant mobility solutions are integrated with GPS that makes it a brilliant marketing tool undoubtedly. You can send deals based on locations and to the users who have that app, and they will get reservation options and working commands on their app.
Who Can Get Benefit with Our Restaurant App Solutions?
SemiDot Infotech is providing turnkey restaurant app development services to automate the entire restaurant procedure and help businesses with different niches. Right from order management to restaurant revenue analytics, our built solution is capable of everything.
Hotels, Inns & Resorts
Small & Big Restaurants
Brewery Business
Food Trucks
Membership Clubs
Night Clubs
Bar & Pub
Cafeteria
Why Choose SemiDot Infotech for Restaurant App Development Services?
Food & restaurant app developers at SemiDot Infotech have expertise in crafting different restaurant app solutions leveraged with the power of technology. In this modern world, we are here to cater to all your demands with our efficient mobility solutions.
Dedicated Team Work
Hire restaurant app developers from us and you will never regret your choice. Along with modernized and feature-rich restaurant solutions, we provide you every update time-to-time, so that you won't have any problems later.
High-quality & Satisfied Solutions
Client' satisfaction is the major thing, why we go beyond our limits. We never compromise on the solution's quality and consider each of the details and requirements, while discussing with the clients, and that makes us stand apart.
In-expensive Services
We are a well-established custom restaurant app development company because we develop valuable solutions at a lower cost compared to other service providers. We never give a chance to clients complaining about service quality & cost.
Hasty Expert Consultation
At the time of development or after it, we welcome our clients in case of any query they have or if they want consultation or suggestions about anything. It is our responsibility to make them pleased and assured about our services.
Flexible Hiring Models
We offer amazing restaurant app development services with different & suitable hiring models. It provides flexibility to clients to choose services as per their decided budget and make their dream come true with all the required elements.
Support & Maintenance
SemiDot Infotech believes in long-term relationships with the clients, hence we provide them support & maintenance for a specific time, in case they have project-related issues in the future. It is our way to show concern for them.
Discuss Your Project with Our Specialists
We are interested in a long term partnership. When you hire restaurant app developers from SemiDot Infotech, you get a reliable partner for all your app development needs.
Let's Talk
FAQs
To take the confusion out of the air, we decided to make a short list of the most popular FAQs by our clients.
Different restaurant businesses have different requirements; therefore, you should choose accordingly. You can opt for restaurant app solutions provided by us if you have a limited budget, and if you go for a well-design, interactive, and responsive website with app also, that will also be beneficial for your business.
Of course. Being a top restaurant app development company for years, we provide all the possible things including rights of entire source code. We do it as clients might need it later to make any changes in the app or website.
Although, our team works hard and dedicatedly to meet the desired timeline and wrap up the entire work as soon as possible. But depending on the requirements, development can take around 2 to 3 months generally.
A lot of food & restaurant businesses are going for restaurant booking app development, management app development, and many other. The reason behind it is a lot of benefits offered by these solutions. It includes real-time user access, notifications, streamlines processes, in-app payment, and various others that help restaurants to manage their operations as well as customers.
You need nothing only a desktop system or PC that will work as an admin PC. This admin PC will have complete control and also, can access and monitor all the restaurant operations simply.
Client Testimonial
I was pretty skeptical about outsourcing my project to a different country, but SemiDot proved to be even better than some of the companies I have worked with, within Europe. The prices they quoted were pretty decent, so I took the leap, and they delivered perfectly, and in time, what they promised.

Muhanad
Me and Harry (Business head of SDI) clicked instantly, thanks to our common passion towards Blockchain. They are currently working on a blockchain-based game for our company. Overall, Semidot Infotech is a complete package, low prices combined with top quality.

Carol
A Great design requires a team of enthusiasts, and these guys delivered exactly what I hoped for. Looking forward to continuing my partnership with Semidot Infotech. Give this company a try, as soon as you see their portfolio, you will know exactly what I had been talking about.

Bobby
Outsourcing a multi-million-euro project to a small company in India? You guys must be thinking I am joking. Well, I am not, Semidot Infotech is the complete package you would want for your project, they are truly client-centric, something which is very hard to find in today's world.

Neil Degg
We are doctors, and passionate about what we do, so one fine day, we decided to get an app for pregnancy needs. We came across Semidot through a friend who had previously worked with them, they delivered the app in just 2.5 months, which is something truly incredible.

Jamil & Idries
So, I came up with a one of a kind idea, and when most web development companies told me that's impossible in your budget, these guys proved to be my saviours. They not only made the web app per the requirements, but also scaled it, to be used by millions of users, and did all of it, in my budget.

Siegfried Gretzinger
The primary goal behind my project was to take my business online, and I really didn't expect or anticipate this much response from my customers. I have dealt with many web development companies in the past, and I can easily say that they have the expertise and resources to develop a good application.

Mario Thaler
My idea was brought to life with the help of these guys, it is all thanks to them, that my business could take off so smoothly. SemiDot has proved to be a great business partner, and Kapil (CTO of the company) has proved to be one of the greatest mentors I have ever come across.
Benjamin Buren
Our Featured Blogs
Want to know about the latest technology trends? You can find all of them here.
Interested in working with us?
LET'S TALK AND GET STARTED