Proficient Dating App Design & Development Services
SemiDot Infotech holds a set of best dating app developers who have rich experience in crafting dating app solutions according to the business requirements. Our creative dating app solutions are jammed with comprehensive & attractive features and amazing UI/UX that is appropriate to stay competitive in the market. Being a top dating app development company, we offer an extensive range of services related to dating apps for those who are willing to invest in this sector. With years of experience, our team has provided efficient dating app design & development services to help businesses gain a large customer base. Be it a custom, readymade, or white-label dating application, we provide result-oriented solutions that help businesses to get higher revenue and other profits.
From custom dating app development to dating website development, we offer everything including designing and deployment services with high quality. With over 10 years of experience, SemiDot Infotech is providing help to build Android and iOS dating mobile apps. We offer a broad range of services including readymade, customized, and white label dating app development solutions that are helpful to take your venture to new heights. While having any of these solutions, our developers will assist you at every step, be it app functionalities, customization, app designing, developing, or deployment. Our team of professionals and experts are always up to date with the latest technologies & tools as implementing them makes a dating app easy to use, secure, efficient & fast performing.
We Offer Dating App Clone Solutions
Hire dating app developers from SemiDot Infotech to develop popular dating apps like Tinder, Bumble, or Hinge. We provide feature-packed dating clone app solutions with less time-to-market to enable businesses to have a large customer base and huge profits.
Tinder Clone App
We provide Tinder like app development solutions to help ventures while stepping into the online dating app market. Our solutions include matching algorithms, intuitive designs, & wonderful features, with the use of modern-edge technologies.
Bumble Clone App
Bumble is most popular dating app with outstanding features. The only difference is women have to make their first move here by messaging or calling the other person. Acquire the Bumble clone app development solution from us to meet the users' requirements.
Hinge Clone App
If you are looking for Hinge clone app solution, SemiDot Infotech is here to help you with the effective Hinge-like dating app. This solution provides more chances to the users for starting a conversation or having matches according to their desires.
Hire Dating App Developers
SemiDot Infotech is working as a top-notch dating mobile app development company for over 10 years. Our development team has profound skills in providing dating apps, dating websites, and dating software development solutions. Businesses can hire dating app developers from us to get different kinds of dating solutions developed by considering the needs of target audiences. We follow the approach to put the clients' requirements first while conducting market research to provide dating app development services.
We offer world-class solutions built by our best dating app developers including an advanced technology stack. SemiDot Infotech is a global tech service provider that has successfully delivered 700+ projects to worldwide clientele by following a standard development process. Whether it is customized, white-label, or readymade dating app solutions, we always try our best to make them reliable, scalable, and secure.
Mobile Dating App Development Services
We have a proficient team of developers that have expertise in providing a variety of online dating app development services. Our team offers custom integrations and executions for mobile dating app development solutions to make them outstanding in the market.
iOS Dating App Development
At SemiDot, we house some of the best iOS developers who are capable of developing highly scalable and powerful dating apps for iOS users. Our delivered iOS dating apps support most of the smart devices to provide flexibility to users.
Android Dating App Development
Just like iOS dating app development, we also have the best team of developers who can create unique and innovative dating apps for Android users. We provide Android app development solutions as per your targeted users and competition.
LGBTQ Dating App Development
Finding a partner shouldn't have any gender barriers, therefore, we provide LGBTQ dating app solutions. These solutions facilitate businesses to help people with any kind of gender preference to find a suitable partner with all the desired qualities.
Match-Making Dating App
Our efficient dating app developers create apps that allow users to find the people according to their likings, compatibility, and proximity. Users can enter the details of the person they desire to meet and will have suggestions accordingly.
Community-Based Dating App
SemiDot provides diverse mobile dating app development services that comprise dating apps to help people who are looking for a partner in a particular caste or community. Users can filter the suggestions and find out a suitable match.
Astrology Dating App
We have skilled dating app developers who can even create an astrology dating app that shows the matches according to the user's zodiac sign or horoscope. Users can also search for their partners as per the way their planets are situated or aligned.
To make things hassle-free
We created 2 different panels with customer centric features
Profile Management
User Management
Payment Management
Subscriptions
User match list
Push Notifications
Content Management
Language support and Translators
Revenue Tracking
Advance Settings
Easy Registration
Like/Dislike Profiles
Profile Management
See Images
Send messages
In-app Video call
Profile match Percentage
Send Smileys
Advanced Filters
Easy Membership
Custom Online Dating App Development Features
We are known to create highly scalable and innovative social dating app development solutions for users of every taste.
Video Call
Our dating apps have the latest features like in-app video calling to know the person better before going out and meeting in person. The video call will provide users an idea about the appearance of the person they are going to meet.
Social Media Integration
Our online dating mobile app development solutions can be easily integrated with your social media accounts for convenience. You can know the other person in a better way by checking out their social media handles or online profiles.
Multiple Images
With our online dating solution, users can upload multiple images at a time on their accounts to enhance the profile's visibility. This feature is also comprised into dating mobile app development solutions for increasing the authenticity of the user's account.
Easy Registration
Being the expert in mobile dating app development for so long, we create solutions with an easy registration process. Users can create the account just by entering details such as email, mobile number or can link it with another social media account.
Filters
Advanced filters integrated into the dating app solution facilitate users to find their perfect match and the kind of person they are looking to meet. They can submit their requirements regarding their partner by applying the filters on the suggestions they get.
Push Notifications
For every matched profile or if someone has rejected your profile, get notified within the app through our provided real-time push notification feature. This feature is beneficial to receive instant information about your matches or the most suitable recommendations.
Virtual Gifts
To make things real and exciting for the users, our developers have integrated virtual gifts feature to woo and impress the users. These virtual gifts are given to users when they use the app in excess or they have some of the plans offered by the dating app.
Undo Option
This is an important feature to incorporate as there are times when you have changed your mind for the person you sent interest. Thus, with this option, you can immediately undo your sent request to that person and he/she won't get any notification.
Profile Management
We offer easy dashboards in our custom dating app development solutions. It helps users to easily manage and modify every information related to them. Users can change their display picture, bio, user name, or other things anytime they want.
Featured Profile
Featured profile facilitates users or app members to display their profile in a much interesting way for increased visibility of their account. Through this way, the user's profile will have better reach to other members and it will show on the top of the feed.
Custom Design
We have high expertise in creating innovative, captivating, and custom designs for all dating mobile app development solutions. These impressive custom-designed apps attract a large user base with their cutting-edge features & functionalities.
Location Filter
This is one of the best options as it is used to find the location of your most suitable match and get mingle with him/her who is living nearest to your location. This location filter will facilitate you a lot to have a partner even in the locality of less than 1 Kilometer.
Memberships
Users can now choose the kind of membership they want and pay via multiple payment options integrated into the app. This feature within the app unlocks various advanced features for the app users such as private photo albums and others.
Cloud Integration
Through cloud integration into your dating app, we ensure maximum safety and security of the user's profile. The cloud integration permits us to manage streaming, online, and batch processing. We use this data for the content highlighted for the user's profile.
Video Upload
This is a great feature to have where users can upload a small introduction video to make their profile more interesting to other users. This way users can be more interactive and will have more matches and requests from the app members.
Real Face Detection
This feature allows the dating app to detect the real face of the person who wants to make an account. This eliminates the chances of spamming and reveal the real identity of the user, so you can better recognize and send the request if you like him/her.
Our Recent Works
Some of the esteemed projects we worked upon, to give you a glimpse of the way we work.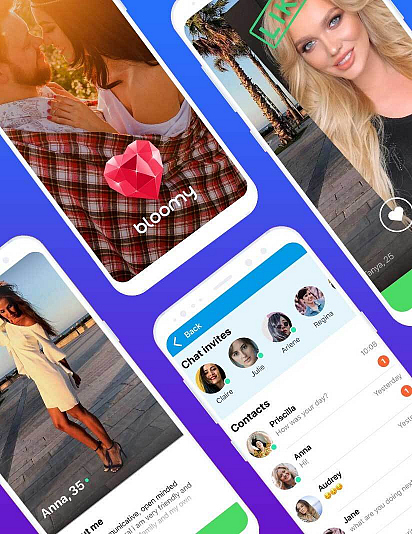 Bloomy
Dating Messenger App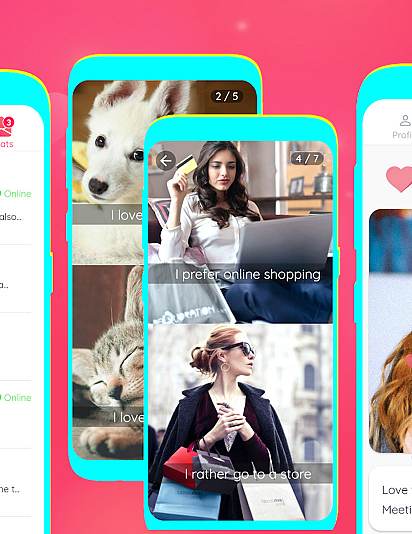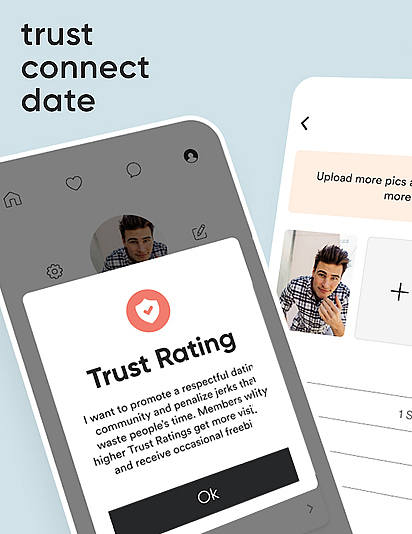 Let's take this growing relationship to the next level.
View All Work
Why Choose Semidot for Dating App Development
At Semidot, we have talented dating app developers having immense experience in creating custom and ready-made dating app solutions.
Experience
Our qualified and skilled dating app developers have years of experience in creating dating apps for iOS and Android users. They have the expertise and rich knowledge in providing diverse dating app development services.
Custom Design
Users get easily attracted to intuitive and captivating dating apps and here at SemiDot, our UI/UX designers work dedicatedly on that. We provide such intuitive and striking app designs that users can't resist themselves by using the app.
Effective Communication
We know that you are always worried about what's going on in your project and our team always keeps you updated. For this, we provide you with a project manager who will be a mediator between you and our team to provide you all the updates.
On-Time Delivery
Launching the app in the market just when the users need it most is the key to success and that's why we ensure on-time delivery. Our developers work dedicatedly on the project so that they can deliver it at the right time.
Security
For our company, security is of the utmost importance and all our dating app solutions are highly secure for your users to use them. We provide safe payment modes along with full privacy settings to the user's profile to protect it from spammers.
Post Delivery Support
Development is not an only and one-time process. The app must be maintained regularly and we offer post-delivery support too. It is because we want to provide you an app with the best and smooth functionality persistently.
ENGAGEMENT AND HIRING MODEL
Budget is one of the major hindrances when it comes to social dating app development. We have six different models to choose from.
Onsite
Hiring the developers from a top dating app development company and calling them to work at your office premise.
Offsite
If you do not want to call our dating app developers to your office, this offsite model lets you outsource them.
Hybrid
Hybrid is one of the best hiring models for those who are looking for the benefits of both onsite and offsite models.
Fixed Price
There are entrepreneurs who want to get the dating app developed in a fixed budget and this model is for them.
Dedicated Hiring
For business owners who are looking for speedy and agile hooking app development, this is the perfect hiring for them.
Hourly Basis
For businesses who are looking to hire dating app developers on an hourly basis, this is the perfect model for them.
Discuss Your Project with Our Specialists
We are interested in a long term partnership. When you hire SemiDot Infotech, you get a reliable partner for all your software development needs.
Let's Talk
FAQs
Most popular questions by our clients, we decided to make a list for easing things at all ends.
Gradually, the demand for online dating apps is increasing and these dating apps are making place among other top apps. Dating app is also beneficial when it comes to the high revenue, and getting a huge customer base.
Dating mobile app development is a good choice to make high revenue via providing virtual gifts to users. You can also show other brand's ads and convince users to take subscription to have better option while searching for a partner.
Hiring dating app developer from a top company and using app builder are two different things. If you use app builder, you will end up having an app with core features not with advanced features. Also, app builder won't provide you with IP-rights of app source code.
The estimated dating app development cost will be around $10,000 to $25,000. However, it is not the exact cost as it can differ based upon various factors such as app type, app complexity, platform, features, and others.
Being a dating app development company, it is our responsibility to provide solutions to clients as soon as possible. We take three to four months to develop an app, but sometimes it depends upon the features and complexity.
Although there are various features to include in the dating app but some of them are- age group match, profile builder, geo location, chat option, social media linking, and image & video sharing.

Here is the process of building a dating app-
- Analyze the market and competitors.
- Decide the set of features and functions.
- Work on prototyping and wireframing
- UI/UX design
- Build an MVP
- App testing
- Launch the app
To build a dating app, it is necessary to first hire a dating app development company with an expert team that can look after every phase of development. As the starting phase of building a dating app, it is needed to understand the targeted group, business goal, market requirements, and analysis of competitors. After that, there will be created prototype & wireframing to design the app followed by the development, testing, and launch.

It is necessary to choose an appropriate business model to develop a tinder-like dating app. Then explore the market and find out to add the necessary features and functionalities and choose the right tech stack to integrate them. You also have to apply the revenue model to the app to make more profit.

Client Testimonial
I was pretty skeptical about outsourcing my project to a different country, but SemiDot proved to be even better than some of the companies I have worked with, within Europe. The prices they quoted were pretty decent, so I took the leap, and they delivered perfectly, and in time, what they promised.

Muhanad
Me and Harry (Business head of SDI) clicked instantly, thanks to our common passion towards Blockchain. They are currently working on a blockchain-based game for our company. Overall, Semidot Infotech is a complete package, low prices combined with top quality.

Carol
A Great design requires a team of enthusiasts, and these guys delivered exactly what I hoped for. Looking forward to continuing my partnership with Semidot Infotech. Give this company a try, as soon as you see their portfolio, you will know exactly what I had been talking about.

Bobby
Outsourcing a multi-million-euro project to a small company in India? You guys must be thinking I am joking. Well, I am not, Semidot Infotech is the complete package you would want for your project, they are truly client-centric, something which is very hard to find in today's world.

Neil Degg
We are doctors, and passionate about what we do, so one fine day, we decided to get an app for pregnancy needs. We came across Semidot through a friend who had previously worked with them, they delivered the app in just 2.5 months, which is something truly incredible.

Jamil & Idries
So, I came up with a one of a kind idea, and when most web development companies told me that's impossible in your budget, these guys proved to be my saviours. They not only made the web app per the requirements, but also scaled it, to be used by millions of users, and did all of it, in my budget.

Siegfried Gretzinger
The primary goal behind my project was to take my business online, and I really didn't expect or anticipate this much response from my customers. I have dealt with many web development companies in the past, and I can easily say that they have the expertise and resources to develop a good application.

Mario Thaler
My idea was brought to life with the help of these guys, it is all thanks to them, that my business could take off so smoothly. SemiDot has proved to be a great business partner, and Kapil (CTO of the company) has proved to be one of the greatest mentors I have ever come across.
Benjamin Buren
Interested in working with us?
LET'S TALK AND GET STARTED