"Skyrocketing Global Fuel Prices Threaten Livelihoods and Social Stability"– NewYork Times, July 2022.
It is not just the headline of the article published in the New York Times; it has lots of meaning to everybody. In response to the rapid rise in fuel prices, people are looking for alternatives. On the other side, governments are looking for ways by which they can reduce fuel consumption to restrict carbon emissions to save the environment.
What do you think is the best option available for all of us where we can reduce our fuel costs, including an eco-friendly lifestyle?
The best answer is electric vehicles, but again there is a question- Which one is the most suitable option for all?
A perfect answer to this question is – Electric Scooter or E Scooter.
Public transport is going through a rapid change nowadays, where electric vehicles are replacing fuel-based vehicles. What do you think is the reason? Why electric scooters are gaining popularity?
One of the top reasons is its eco-friendliness. Electric scooters run on batteries, so there is no need to burn fuel to drive them. Another reason for their popularity is that you can take them wherever you like. However, these devices are built to cover short distances. But these are the saviors that can save you from traffic jams and the money you spend on fuel.
The most significant cause behind introducing e-scooters is overcoming the fuel price difficulty, where negligible carbon emission occurs as the most crucial advantage. Due to the high rise in electric two-wheelers, electric scooter businesses are blooming and helping people commute effectively.
The involvement of e-scooters in our life is a rapid change, and these are trending now. Some scooter-sharing apps like Bird, Lime, Spin, Tier, and others are providing micro-mobility solutions to a more extensive audience base.
So, by keeping all these things in mind, here, we have created a complete guide to start an electric scooter business. The motivation behind creating this guide is to help the interested ones to form an electric scooter business. Here we will also cover the points that will reveal how much it will cost to start an escooter business with the help of a mobile application.
This guide will take you through all the related aspects. If you are planning on starting a electric scooter business, then it is a great idea. There might be questions in your mind while thinking about starting an electric scooter business like:
How much does it cost to start an escooter business?
Is the electric scooter business profitable?
How to get electric scooter franchise?
How much do electric scooter owners make?
How much does it cost to build an escooter app?
You will get answers to all these questions, and we have tried to make the guide interesting so you can have the right idea to start the electric scooter business at the right time. Besides the scooters, you can also think about e-bikes and all.
But one thing is for sure that e-scooters or electric scooters are the most popular vehicles nowadays as they are very easy to handle and maintain. Everyone can ride on it very quickly.
What is the Electric Scooter Business?
This question has lots of meaning to you as you are looking to start an electric scooter business and its starting cost. There are two ways of doing it; one is that you can start selling e-scooters to people, but it requires a huge investment.
Electric scooters have been around for a long time, but their growth is still increasing. They are extremely useful and can be considered a good investment. They are convenient for commuters because they are very fast and have high maneuverability.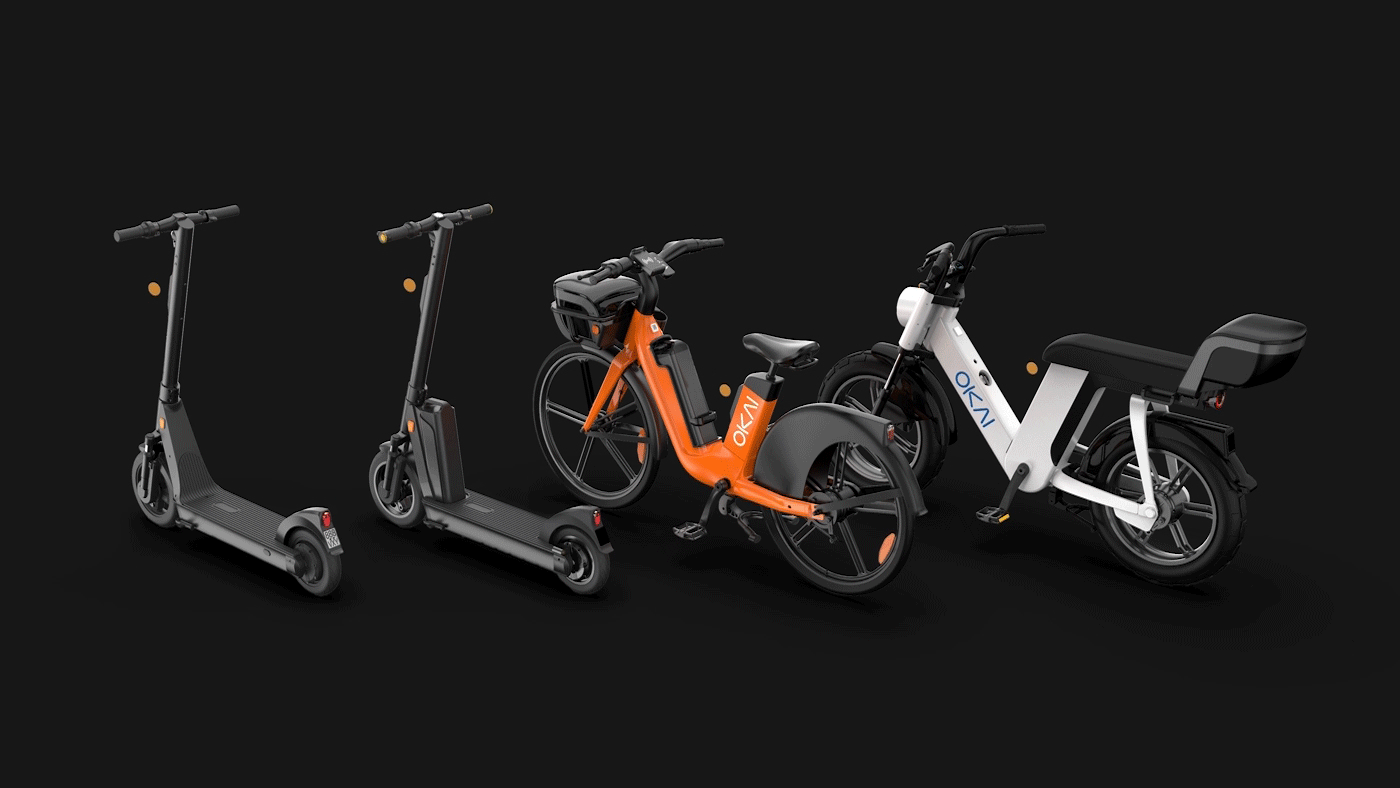 As the electric scooter business grows, so do the opportunities for those who are looking to get involved. Whether you're looking to start your own electric scooter business or invest in an existing one, you should keep a few things in mind.
First and foremost, the electric scooter business is still in its infancy, so there is much room for growth. The e-vehicle industry is expected to continue to grow at a rapid pace, so now is a great time to get involved.
As with any new industry, you may face a few challenges along the way. In this reference, electric scooters are still relatively new in the market, which can be expensive to buy and maintain.
Additionally, there is a lack of infrastructure in many areas, which can make it difficult to find a place to charge your scooters. So, the best & cost-effective idea is to start an escooter rental business.
Despite these challenges, the electric scooter business is an excellent opportunity for those looking to get involved in a growing industry. With a bit of research and planning, you can be on your way to success in this rapidly growing field.
Why Choose the Electric Scooter Business?
Before we reach a revelation about- Why you should choose electric scooter business? Look at the stats that we have mentioned here. These are taken from best market survey sites such as Statista, and from other authentic sources.
Including the electric vehicle sale, there is a huge demand for escooter sharing app (s). That allows businesses to earn by renting their escooter for some specific time. Its segment (escooter sharing) is expected to reach $1588 million by 2022 (CAGR 2022-26 15.42%).
Another interesting fact about escooter/electric scooter sharing is that, by 2026, the number of users will be expected to be 124.8 million.
By 2026, electric scooter sharing's 100% revenue will be generated via online sales. That makes the escooter rental business one of the profitable ones.
By 2024, electric two-wheeler sales are expected to be more than 55 million USD. That makes it a motivation for individuals who are looking to start an electric scooter business.
There are several advantages to starting an electric scooter business on a real-ground basis. You can understand it as the urban cities are growing in area and population. There is an ample need for seamless transportation, which is environmentally friendly and easy to maintain.
From the traffic point of view, the users find it very easy to overcome the issues such as traffic jams, unnecessary delta, etc. while commuting from one point to another, parking troubles, and many more. One of the best things that attracts the users is they can choose their route from turn to turn or street to street. You can quickly drive it in a crowded market.
By starting the business, you can cater to the demand of a large population and participate in the growth of smart cities. From the investment point of view, you can start your business within $50k, including an electric scooter fleet and a mobile app that a user can use easily. There are several electric scooter manufacturers in the USA. From them, you can buy multiple electric scooters for business.
Some of the top manufacturers in the USA are:
Razor E90
Ninebot ES2
Swagtron-5
Glion Dolly
Hover-1 Eagle
Micro Merlin
Mi e-scooter pro
Mercane Wide Wheel Pro – 2020
And so on.
The next step is you can take help from a mobile application development company that can provide you with the right resources to build and launch your escooter sharing app.
The Rise of Worldwide E-Scooters Market Over the Years
This section is dedicated to the rise of the Global e-scooter market over the years. The point is the environment is alarming us about the pollution we have created for our comforts, such as carbon emission, plastic footprint, use of toxic chemicals for agriculture, and more.
From the air pollution point of view, carbon emissions have dangerous environmental effects, and the consequences will be more hazardous in the future. That is a top reason behind the rise of the Global escooter market over the years and the rapid growth in the electric scooter business or escooter app development.
The best way to have great insight into electric scooter market growth is to look at the following stats we have gathered from reporting and analytics sites such as Grand View Research, Polaris Market Research, Global News Wire, Meticulous Research, Fortune Business Insight, Statista, and more.
Global escooter market revenue in 2019 was $18.6 billion, estimated to reach 20.78 billion in 2021 with a compound annual growth rate of 7.8%, 2022-2030.
Reasons behind increasing stats are rapidly growing demand for fuel consumption, concern about reducing greenhouse gasses, and the requirement to decrease carbon emissions. In this manner, Hero electric scooters are doing better than any other option.
Especially if we talk about the USA, then in 2020, the electric scooter market was $1.3 billion, which raised $1.4 billion in 2021.
The scooter-sharing business came into existence in 2018, and the rest of the history is in front of the world.
E-scooter sharing users are expected to surpass 124.8 million worldwide by 2026, and the average revenue per user(ARPU) is expected to be $20.60 by 2022.
The experts also reported that in escooter sharing, 100% of revenue will be generated via online sales by 2026.
In 2022, most revenue will be generated by USA e-scooter sharing users, which is $615.80 million.
If we go in terms of brands, Bird and Lime are counted as unicorns of the escooter industry. Both are providing escooter sharing services and promoting micro mobility in a real-time sense.
Bird's revenue in the first quarter of 2022 is $38 million, with an increase of 48%, which was $25.7 in the first quarter of 2021.
Currently, Lime's estimated annual revenue is $169.1 million. They are dealing in two products; one is an electric scooter, and another is an e-bike. Their mobile app is counted as one of the leading apps in the escooter sharing segment.
These stats indicate a positive direction regarding the growth of the worldwide electric scooter sharing market. The regions such as the Americas, Asia Pacific, Europe, Middle East & Africa are potential markets for starting an electric scooter business.
One of the leading news websites, GlobalNewsWire, reported that the global e-scooter market will be worth $38.88 billion by 2027(CAGR 8.82). Although it is based on their individual research, it is believable as no one can deny it.
While you search about how to start an electric scooter business, you may find many stats about the global market growth. For example, there is another research site called Meticulous Research. It is claiming shocking stats. It says that-
By 2028, the electric scooter market is projected to reach $644.5 billion at a CAGR of 29.4% and the forecast period is 2021-2028.
Have you found one thing common in all that there is huge growth in the e-scooter market and its business? So, if you are looking at it as a great business opportunity, then you are on the right path.
How Much Does It Cost to Setup Escooter Business?
There is plentiful need for scooter-sharing solutions and locations where people can find the vehicle for their ride with all available options. So, to facilitate the users, there is a need for investment to start an electric scooter business.
Let's see the cost breakdown of how it works.
1. Software Development Cost
There is tough competition outside, so you need software & systems that can help you to grow your business. It will save your time in many aspects. It includes hosting services, e-mail marketing tools, communication tools, social media tools, mobile application development tools & others. So, here maximum investment for software is approx. $1600-$2000.
2. Office Space Cost
It is up to you whether you want to set up the office or not. If you have limited funds, then you can start it from your garage, and it will be a big cost saving. But if you want to set up office space, then it will cost you around $5,000-$6,000.
3. Inventory Cost
Including the escooter rental business, if you want to sell the goods, then for better livestock management, you need an inventory that will cost you around $3000-$8000 approx.
4. Mobile App Development Cost
Launching a mobile app is such a brighter idea for any business, so the same is applied to the escooter business. If you want to know the cost to develop an app like Lime, then it may cost you around $10,000-$20,000.
5. Website Development Cost
Having an escooter sharing app is a good idea, but the inclusion of a website is a much better idea than this; it will help you to do your business promotion seamlessly. For the same, you can hire a website development company. Excluding the hiring cost for web hosting and domain name registration, you need the minimum amount of $500-$600.
Note: The hiring cost of web developers depends upon your requirements.
6. Advertising & Marketing Cost
Brand promotion is much needed in this competitive world, so the cost is also involved here. The investment for branding can cost you around $1000-$2000 approx.
So based on all factors mentioned above average cost to setup escooter business will be $30,000 initially. The rest of the things depend on the current conditions of the market, which is far better than the thoughts.
For more interesting points about this guide cum blog about e-scooter rental business service, move to the upcoming section about the benefits of the escooter business.
What Are the Benefits of The Electric Scooter business?
While many people think of the electric scooter business as a way to get around town, there are actually many benefits to owning one. In addition to the environmental friendliness of electric scooters, they don't emit any greenhouse gases, so they can help to reduce pollution levels. Moreover, they are also cheaper to operate and maintain than petrol scooters
People love to ride on e-scooters, and these devices are gaining rapid popularity. You can leverage this trend by offering a unique experience with your e-scooter ride-sharing services, where the returns will be higher than your expectations.
Let's check what the potential benefits of starting an electric scooter business are!
1. Quick Start with Business
Once you have made your fleet, you can start with an e-scooter sharing app developed with the help of an escooter application development company. The experts will not only help you to develop your e scooter sharing app based on your specific requirements also to launch and maintain your app for seamless experience.
2. Market Popularity
One of the amazing facts is that in 2023, 8% of two-wheelers will be scooters, and the advantages you already know are that there is no fuel cost associated with it, and driving is easy. Electric scooters have a huge craze, especially in the USA, United Kingdom, and other big countries.
Escooter market worth in following countries are:
The USA $200-$300 billion
Europe $100-$150
China's $30-$50 billion
By 2026, worldwide escooter users will be 124.8 million, indicating its popularity.
From the revenue point of view, it is one of the advantageous businesses that you can run with the help of escooter devices and a mobile app. As a business owner, you will find it very easy to maintain the vehicle. There is less cost associated with it. From the costing point of view, you can start it with $20k-$30k approx.
3. Ecologically Sustainable
Worldwide, governments are achieving micro mobility with the help of scooters, where one of the biggest advantages is reduced carbon emission and downgrading fossil fuel consumption.
If your question is – Are electric scooters sustainable?
The answer is yes, and no one can deny it as it is totally based on electric charging and does not produce any carbon footprints. Multiple times it has been proved that electric scooters do not produce CO2 and other polluting chemicals.
So, suppose you are going to start an electric scooter business. In that case, it will be your contribution to society and the environment. On the other hand, you will help the government to regulate their environmental policies and overcome transportation challenges.
4. Growing Environment Awareness
By starting your escooter sharing business, you can grow awareness about the environment in public. When people see that electric scooter services are available in their area effectively, they will definitely choose it as a pocket-friendly commuting option. It takes a few bucks to rent an escooter from moving one point to another with ease.
In the USA, the escooter rent is around $1-$2/minute. For example, Bird and Lime charge $1.15/ per minute to rent a scooter, which is an affordable price. Everyone can rent a scooter via escooter apps. It works like they just need to scan the QR code, pay the amount and get ready for the ride.
5. Comparatively Lower Maintenance Cost
In terms of maintenance, escooter maintenance is so much easier and cost-effective compared to the vehicles that run on fuel. The maintenance cost of escooter comes around hardly $2-$10 initially, which includes repairing or battery charging.
Using combustion engine vehicles, you need to take care of the engine, engine oil, brake oil, carburetor, clutch, brake pads, and other parts. So, there is a heavy maintenance cost. On the other hand, in escooters, you need to take care of battery life and braking. That can be happened by investing the cost up to $5-$10 initially.
6. High Profitability
The escooter business is booming. It has a very high potential for growth. There are many reasons for this boom in the escooter business. The demand for this fun-loving machine is high. Many people like to ride on a scooter.
In business terms, it is a business that you can start with low investment where high profit or return is guaranteed. The best idea to start an electric scooter business is to launch an escooter sharing app like Lime or Bird that offers multiple options for scooter rental.
7. Cost Effective
The price of these machines is low because they are designed to be able to do just about everything that you can imagine doing with a bike or a skateboard.
The electric scooter sharing business is cost-effective in all terms. For example, it helps people save money on transportation and contribute to the protection of the environment. For an e-scooter sharing business owner, it is very easy to maintain the fleet.
A good strategy will help you do everything you need to attract more users and make more money. As a business owner, you can take the help of social media platforms to promote your business with less cost.
8. High Business Scalability
E-scooters are becoming more and more popular. They are fun and convenient to use, but they also have a lot of benefits. Companies like Uber, Lyft, etc., provide a service that allows people to hire e-scooters for short rides from their office or home to the nearest point of interest. But there is no need for these people to pay for the e-scooter themselves.
You can leverage this trend to make your escooter or electric scooter business scalable. First, you need to start your business and then identify the area where you can promote and expand your business. With low investment, anyone can do it, making escooter business highly scalable.
9. Easily Accessible
The scooters are easily accessible, which is one of the biggest reasons behind their popularity. If we talk about the user's point of view, users need to install only a mobile app that allows them to scan the QR code at the kiosk for payment and booking the ride.
From a businessperson's point of view, you do not need to be concerned about physical arrangements except by setting up a point where a user can approach renting the scooter. The system will be on click on your handheld device. You can choose the platform on which you want to launch your app. You can go with Android application development or iPhone app development.
10. Unlimited Income Potential
The best part of starting an electric scooter business is that there is no 'income limit'. You can earn as much as possible. For example, an app like Bird is operating in 30 countries and continues the expansion of its service. Although your starting will be from one area, you can take it to millions of customers due to high scalability.
11. Time Saver
For initiating the escooter rental business, you only need to invest your time in marketing and brand promotion instead of setting up an ample space, office interior, arranging a team, and other infrastructural facilities. You only need a space where you can showcase your fleet and a mobile app to provide the facility to the users. So, they can come there to scan from their mobile and take the scooter on the rent after payment.
12. Fitness Oriented
After reading the heading of this point, a question might come to your mind – Is riding an electric scooter can keep me fit?
Then the answer is- Yes. But how?
It works as a rider; you need to balance the escooter on any turn or bumpy roads. It would help if you stabled on it while riding. So, the efforts you put into it will improve your back strength.
Although, as a business owner, you have to manage the escooter sharing business, indirectly, you are promoting health practices. You can promote it as that an escooter is good for health as well as for the pocket as well.
13. Low App Maintenance Cost
Many businesses are running on a maintenance model. But e-scooter sharing businesses don't need to apply changes to their app for months or years at a time. It is because they have an infrastructure that is always running and ready to be used.
The fuel-consuming vehicle business is forced to spend hours trying to fix problems with their software as well as the machinery, which they can never find in the first place. They also cannot afford the cost of upgrading their systems as they will lose revenue if things go wrong with them.
14. License Free
The escooter business is one of the most popular and fastest growing industries. It is a very fast-growing industry, and there are millions of people that use the service in their daily lives. If you are looking to start an electric scooter business, you will be surprised that it is a license-free business.
You only need to take nominal permission via casual formalities with the government. There is no life threat in using scooters, so there is no licensing required. Even school kids can enjoy the ride.
15. Easily Parkable
Due to the exponentially rising crowd in bigger cities, parking is a big concern of citizens as well as governments. Here an escooter comes as a great savior. Suppose you have an e-scooter, then you need a very little space to park it.
In simple terms, in the area of five cycle parking, you can put ten escooters. So, there is not any issue. You can provide escooter sharing services with less than a shop space.
16. Quickly Chargeable
A scooter is a vehicle designed to be charged from an external source, usually a battery. Electric scooters are quickly becoming popular among urban riders who want to reduce their carbon footprint and have the convenience of having a personal vehicle for everyday use.
These devices are significantly more efficient than the internal combustion engine-powered versions, which must be refueled frequently. It takes a few bucks to charge with the electricity. So, within less amount, you can charge your whole fleet.
What are the Business Models of Electric scooter business?
In the beginning, electric scooters were a niche market. They were used by people who wanted to get from point A to point B more cheaply and efficiently than a regular car. But as time went on, electric scooters found their way into the mainstream. They have become a common sight in cities and suburbs across the world.
Nowadays, the electric scooter business is booming and has made quite an impact on many industries. The biggest ones are, of course, the automobile industry. As escooters are in demand, people want more and better options that you can also cater to.
The best idea is to choose a business model. Including it, you can also take the help of an on demand app development company to build an app based on your business model and requirements.
So, let's check out what are the escooter business models available that you can consider for your business.
1. Rent-Based Model
The rent-based model is one of the best business models to start an electric scooter business. It is becoming increasingly popular as cities look for new and innovative ways to provide transportation options for their residents.
One of the main benefits of the e-scooter rental business model is that it can help to reduce traffic congestion in cities. This is because people are able to use e-scooters to get around without having to use their cars. This can help to reduce the number of cars on the road, which can help to reduce traffic congestion.
Another benefit of the e-scooter rental business model is that it can help to reduce pollution in cities. This is because e-scooters do not produce any emissions, so they are much more environmentally friendly than cars. By reducing the amount of pollution in cities, e-scooter rental businesses can help to make cities cleaner and healthier places to live.
It is a unique and innovative way to provide transportation options for cities. If you're looking for a new and exciting business venture, then an e-scooter rental business may be right for you.
2. Subscription-Based Model
The subscription-based escooter business model is also a fantastic way to generate revenue. It is a model where users or individuals can subscribe to use an electric scooter on a recurring basis, usually monthly or annually.
As a business owner, you can provide a better user experience of services. You can offer them various subscription packages so they can choose accordingly.
If we talk about affordability, an eScooter subscription-based model is much more affordable than traditional transportation methods such as cars or taxis. With an eScooter, users only need to pay for what they use, and there are no additional costs such as petrol or parking fees.
In terms of convenience, then it is super convenient. With an eScooter, you can ride through traffic and avoid the hassle of public transport.
3. Demand-Based Model
Demand-based model or on-demand-based model is dependent on the mobile app. The users can book their rides via the app you have launched with the help of an escooter app development company. This model offers super flexibility to the users to choose what they want.
One of the best real-life examples is Uber Electric Scooters. It is a US-based e-scooter app and is considered one of the successful demand-based escooter business models. It put its first step in the escooter business in 2018. For using its devices, it takes $1 to unlock, and ride charges are $0.15 to $0.30 per minute.
Challenges And Opportunities of Escooter Business
While the electric scooter business has many benefits, there are also some drawbacks. One of the biggest problems with electric scooters is that they can be challenging to find. Unlike fuel scooters, which are available at several places, electric scooters are only available at a few locations. This can make it difficult to find an electric scooter when you need one.
Despite the drawbacks, electric scooters offer many benefits that make them a great choice for many people. If you are looking for a way to save money and help the environment, an electric scooter may be the right choice for you.
Although there are challenges associated with the escooter business, it is a rapidly growing segment. As per a study done by Boston Consulting Group, by 2025 electric scooter market will reach $50 billion, and consumer usage will be 50% in the USA and Europe.
Let's explore the challenges and opportunities to have a better insight.
Challenge 1: Limited Range
After charging the battery fully, an escooter can go a maximum of up to 100 kilometers in standard conditions. It is one of the drawbacks compared to petrol scooters. On the side, it is not a full-time convenience that you can use as a replacement for the combustion engine vehicle.
Opportunity- Continuous Improvement
Although efforts are going on to make it better and developing high-performing escooters that can cover a big range of distance is in continuous progress. If all is good, then very soon they can replace the traditional transportation.
Challenge 2: Poor Satisfaction of Early Adopters
The early adopters of escooters ended up with poor-quality Chinese vehicles available back in 2015. So, as a business owner, your biggest task is to convince them back that escooters are available with much better quality compared to their previous versions.
Opportunity – New Versions Are Heart Winning
New versions of electric scooters are winning the hearts of users. They are coming up with better build and stability, better battery quality, and other specifications the users are becoming overwhelmed with. You can leverage this trend for business.
Challenge 3: A Limited Legality
There are some regions in which driving e-scooters are illegal. In one article published on STEWARTS, electric scooters are legally prohibited on public roads. There are trial areas where you can drive these only. It is one of the biggest challenges if you are looking to start an electric scooter business in the UK. There may be more areas where the legal availability of these devices is limited.
Opportunity- Bring the Change
You can bring the change to the areas where e-scooters are legally limited, but they are planning to revoke the ban or increase the limit in the future. After identifying those areas, you can offer scooter rental solutions with permission and try to convince the authority that it is the most suitable option for all, such as people and the environment.
Challenge 4: Uncertainty
The electric scooter market is rising, but there is uncertainty also exists. In the study, BCG revealed that in 2015 only 15% of users were using escooters; that was raised up to 36% by 2018. By 2025 the market will be $50 billion. The challenge is still considerable consumer demand is not fulfilled now. There is doubt whether it will replace the current transportation practice or not.
Opportunity- A Solution Can Clear the Smog
If you are able to identify the area where you can start escooter sharing services, then you will be the one who conquered the peak there as a leading escooter rental service provider. Year by Year, you can increase your revenue by creating trust. You can hire mobile app developers to develop an escooter sharing app and launch it for more benefit of you and your users.
Challenge 5: Short Life Span of Device
The life span of the escooter device is 3-4 months and after this particular time, they started downgrading and ended at scarp as multiple users use these accordingly. So, it is the biggest challenge for a business owner to maintain it in the longer run. On the other hand, battery life is also a big concern due to multiple time charging.
Opportunity- Improved Latest Devices
The latest devices are improved and promising. They are providing great results. With trust, you can make a fleet of the latest device for your business. Compared to the earlier devices, escooters are working better up to six months or later with improved battery and hardware.
Challenge 6: Having A Place in The List of Top E-scooter Market Contributors
In the worldwide market, there are some brands such as Lime (net worth: $510 million), Bird (net worth: $597 billion), Spin (total funding amount $8 million) already in the market, and others are progressing rapidly. Initially, it is very tough to beat the competition.
Opportunity- Chances Are Everywhere
If you are an electric scooter sharing startup, then it does not mean that you can't make it on the list of escooter rental business companies. There are ample chances for growth; only you need to find a way with your strategy.
How to Start an Electric Scooter Business?
If you are looking about how to start an electric scooter business and how much does it cost? Then you are on the right path. By following some crucial steps, you can start owning an escooter rental business or escooter sharing business. So, let's check out what these are.
Step 1: Appropriate Planning to Start Escooter Rental Business
If you want to reach a leading position, then at the starting phase, it would be much better to create a foolproof plan by keeping all aspects such as scalability and sustainability in mind.
The better idea to make a plan is to conduct extensive competitor research, market trends & stats, and rules and regulation of the country where you are living or going to launch the business.
While planning, you need to find out the answers to the following questions:
How much does it cost to start an escooter business?
Who are the targeted customers of the escooter rental business?
How does an electric scooter business generate revenue?
How can I make my escooter business profitable?
Step 2: Form A Legal Entity
To do business in a legal way, you need to make your business legal. It is your choice that you want to go with the options such as sole proprietorship, partnership, limited liability company (LLC), and corporation. Making your business a legal entity will save you from any legal difficulty.
Step 3: Register For Taxes and Open Legal Bank Account
Different countries follow different tax laws, so you need to register accordingly. You need to obtain an EIN Number to start the business. It is essential for state and federal taxes law. Your next move will be opening up a company's legal bank account, including a credit card, for the protection of personal assets.
Step 4: Obtain Permits
To do business in a legal way, you need to obtain the permit(s) from the authority. Different states or countries have different rules. It would be better to check it with local authorities. You can also search regulations over the internet via accessing official web portals.
Step 5: Choose Business Model
After doing all the formalities with authorities, the next step is to choose a business model. Although we have already mentioned the business model in this blog. But again, here we are sharing the types of business models that you can choose from accordingly.
Rent-Based Model: A user can take an escooter on rent.
Subscription-Based Model: A user can subscribe escooter ride-sharing service for one month or two or can choose a subscription plan for more than that.
On-demand Based Model: A user can take a scooter for rent with the help of a mobile app.
Step 6: Identify The Area of Services
Now, the next step is to identify the area where you can launch your electric scooter business. As per the expert's advice, initially, you should choose the locality where limited options are available. There you will get ample opportunities to promote your business.
Step 7: Collaborate With Electric Scooter Manufacturers or Suppliers
For starting an electric scooter business, you need two things, one is an escooter sharing mobile appand other is escooters. You can build escooter app with the help of a mobile or software development company, but for devices, it would be best to collaborate with escooter manufacturers so you can buy scooters in bulk at an optimized price.
Step 8: Make Your Spot
Now the next step is making a spot from there; a user can rent the scooter. The best part is that there is no need for bigger space. You can start it with a neighboring place such as a bus or metro station. There you can find more customers.
Step 9: Branding & Promotion
Now you are on the final step to starting your business which is branding and promotion. The better idea for branding and promotion is using the help of digital marketing services or social media channels where you can spread the launching or news of your brand with ease.
Referring to some real-life examples is always beneficial, so in the upcoming section of this blog, here we have arranged information on top-five electric scooter famous apps or brands. So, let's proceed.
Top 5 Famous Electric Scooter Apps
Here are the top-5 escooter sharing apps which are famous worldwide. You can consider these as a great reference.
1. BIRD
It is a leading escooter sharing service provider company and an app that has nearly 4 million rides. Bird escooter's products are Ride on, BirdBikeShare, Bird Three, BirdBike, and Birdair(you can shop it from the site).
Details:
Annual Revenue: $175M per year
Headquarter: Los Angeles, CA, USA
Total Funding: $833 Million
2. LIME
Here comes another leading brand, and that is Lime. It is one of the largest electric scooter vehicles sharing companies and has a mission to build futuristic transportation that is affordable, shareable, and carbon-free. It has offered more than 11.5 million E-scooters to date.
Details:
Annual Revenue: $169.1M per year
Headquarters: San Francisco, CA, USA
Total Funding: $1.5 Billion
3. SPIN
Spin electric scooter is also a legendary brand that has a presence in more than 70+ campuses and cities globally. They have planned to attain carbon negative by 2025. Their working principle is based on accessibility, affordability, and sustainability.
Details:
Annual Revenue: $81.4M per year
Headquarters: San Francisco, CA, USA
Total Funding: $8 Million
4. TIER
Tier is also a fantastic electric scooter sharing app, and its tagline is – Change Mobility for Good. It is one of the biggest micromobility solution providers, and people use its app for taking escooter on the rent.
Details:
Annual Revenue: $226.3M per year
Headquarters: Berlin, Germany
Total Funding: $660 Million (in equity)
5. WIND
Wind Mobility is one of the premium brands that offer escooter sharing services. They claim that a user will get a superpower scooter for Ride to zoom through the city. Their specialty is carbon -neutral operations, swappable battery, and durability.
Details:
Annual Revenue: $11.2M per year
Headquarters: Barcelona, Spain
Total Funding: $72 Million
These top-five apps are such an inspirational model for all individuals who want to start an electric scooter business. Now, move to one of the most important sections of this blog, which is all about the setup cost. Here you will find the answer to how much it cost to start an electric scooter business.
Conclusion
We have mentioned all the key aspects in this blog for you that are needed when you are thinking of starting an E-scooter business. If we go to the point, then the transportation industry is in a rapidly progressing phase, and the whole world's eyes are on electric vehicles.
Everyone is now keen to find a replacement for fuel-oriented vehicles as prices are surging day by day. That is the main concern of everyone. On the other hand, if we want to save the earth, then we have to be carbon negative as soon as possible. Here escooters occur as a great option.
There is a huge craze among users about escooters sharing apps, especially youngsters and teenagers have gone gaga over it. These apps help people commute better without any burden on their pockets, where refraining from traffic jams is the best advantage.
To create the best user experience, it is recommended to take the help of experts. So, the perfect way is to hire dedicated developers which are known for their expertise to develop high-quality apps or software.
You or anyone can leverage this trend to set up an escooter rental business to have great growth ahead. It is the business that promises more return than investment. We hope, this blog will work as a useful guide that can help you to start an electric scooter business.
FAQs
To get clarity about the essentials of starting an escooter business, you need to get through these below FAQs. Have a look-
How to start an electric scooter business?

For starting an electric scooter business, you need to follow some key steps, which are:

1. Idea generation
2. Market research
3. Competitor research
4. Planning & strategy
5. Collaboration with escooter manufacturers
6. Escooter app development
7. Branding & promotion

Do You Need a License for An Electric Scooter?

No, there is no license required to drive an escooter, but if you are looking to start the business of electric scooters, then you need to perform some formalities and take permissions as per compliance and law.

How Do I Get My E-Scooter License?

Usually, e-scooters do not fall under the category of motor vehicles, so there is no need for a license. Still, if you want it, then you can check it on the official sites of your state authorities.

Are Electric Scooters in Demand?

Yes, there is a huge demand for electric scooters worldwide. You will be shocked to know that by 2026, the number of escooter users will be 128 million, and near around half of the population will use an electric vehicle.

Is E-Scooter Business Profitable?

Yes, the escooter business is profitable in all terms. You can have a great return with a low investment. Although things also depend on a business model that you have chosen, such as rent based model, subscription-based model, and demand-based model. The key factors that can influence revenue are maintenance costs, charging costs, marketing, customer support, and more.

How Much Does It Cost to Start a Escooter Business?

The cost to start an electric scooter business depends on your requirements. However, you can start from $10,000 initially, where the maximum can go up to $50,000. The rest of the things depend on your fleet size and version of a mobile app (basic or advanced).

How Much Does an Electric Scooter Franchise Cost?

Overall electric scooter franchise cost depends on the size of your business. You can take a franchise under the investment of $10,000-$15,000 initially, and it can go more than $50k if you want to start with a bigger fleet of electric scooters.